The seller of the BMW 2002ti featured two weeks ago has come to us at German Cars for Sale Blog with another stellar example of an oft favored BMW classic: the 1988 BMW M5. This car needs no introduction, as it was this vehicle, along with the original M6 and M3 that really begun to put the Motorsports brand on the map, after the demise of the M1 supercar in 1981.
This is a US model M5 residing in Canada, with Euro bumpers (which, in my opinion, clean up the look of the car). Overall, a nicely presented, well taken care of first generation M5.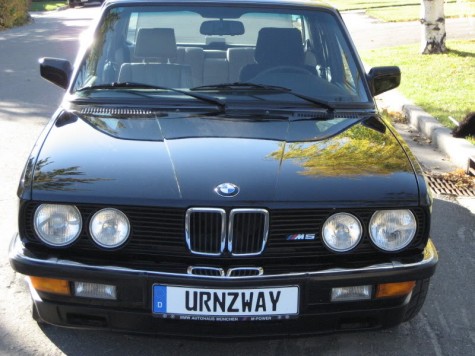 I've found that with the E12 M535i that I recently purchased and the fact that it is winter in Calgary 11.5 months a year, I am not using the M5 enough and it's too nice to let it just sit. The highlights are:

• 88,500 miles – sort of. The previous owner advised that the odometer was inoperative for a period but estimated that he drove less than 1000 miles in that time. No way of knowing for sure but he is the U.S. Attorney for North Carolina so I'm prepared to give him the benefit of the doubt.
• All original panels and paint. The only flaw in the paint is some touch up work done on a scratch near the door handle on the right front door. Very hard to see but it's there.
• Euro M5 headers, jet hot coated.
• UUC stainless steel exhaust with Fahey track pipe.
• Timing chain, guides and all related components replaced at 80,000 miles, including cylinder head gasket, ignition wires. No issues – PO was very big into preventative maintenance
• Within the last 6000 miles or so the car has had new OEM leather dashboard and door caps, windshield, emblems inside and outside, Euro grills and headlights, taillights, steering wheel, rear window roller blind and rear package shelf, oil pan skid plate, front door cards, left and right, fire extinguisher and shift boot
• Dinan chip
• Fahey crank hub and cam gear
• New aluminum radiator from the recent group buy
• All suspension bushings replaced
• All interior seals replaced – windows, sunroof, trunk, etc.
• UUC pedal set
• Cross-drilled brake rotors
• Mason Engineering front strut bar.
• OEM rear strut bar (from trailer hitch package)
• Powerflex urethane sway bar bushings
• SLS system removed and replaced with Bilstein shocks/struts and MTechnic springs (original parts retained)
• North American bumpers removed and replaced with chrome Euro bumpers (original parts retained)
• New OEM front valance and Euro M5 airdam (original pieces retained)
• New Dunlop Direzza Sport Z1 Star Spec tires
– Valve adjustment within the last 500 miles.

Here is a link to some photos I've accumulated – you'll see that photography is not high on my skill set but if anyone wants a shot of something specific, please let me know.

http://s71.photobucket.com/albums/i152/grbbenny/M5/

When I bought the car I had a PPI done at MPowered Automotive in Cary, NC – the tech was a Board member here. I'm happy to share that with anyone who'd like to see it. I can also send PDF copy of the receipts from the last seven years or so, when most of the expensive work has been performed.

This car is nearly flawless – fast, tight, rust free and, with the Euro bumpers, a great looking car. For the purists in the crowd, I retained everything needed to put the car back to US Spec if you so desire.

While the car is in Canada, it is a US car and therefore returning it to the US should be no problem. If you live in a state that tests for emissions, you are going to need to install a catalytic converter.

Price? I'm buried so deep in this car I'll never see the light of day (you're crying inside, I know you are) but given the low mileage, maintenance history and desirable upgrades, I'm going to say CDN $28,000.
If interested, please contact the seller here: grbennett@shaw.ca
-Paul