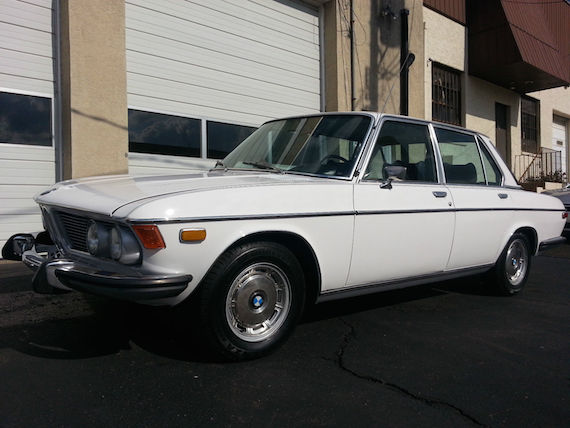 Following on to the S-Class Double Take we featured earlier today, here's another pair highlighting that car's competition: the BMW E3, or New Six. After the success of the smaller New Class, BMW decided to try its hand at luxury vehicles once again. These larger sedans, powered by straight six engines, would be a decided departure from the luxury sedan formula, adding a dash of sport into the equation. Unique to the US market was the Bavaria, priced more in line with the 2500 model but with the larger engine of the 2800. Eventually the engine would increase in size to 3.0 liters in 1972 and the Bavaria would continue on, slotted beneath the 3.0S.
To start, we'll take a look at this restored Bavaria for sale in Pennsylvania.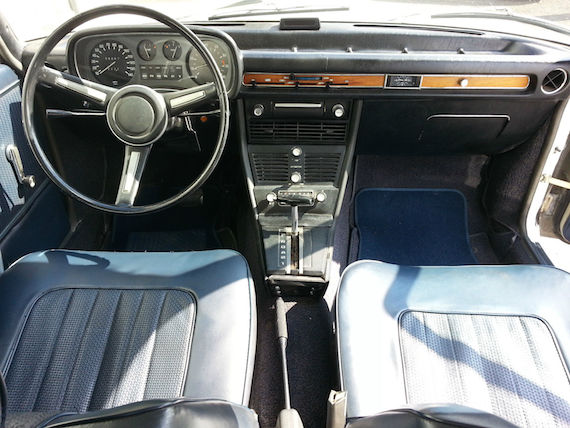 Year: 1973
Model: Bavaria
Engine: 3.0 liter inline-6
Transmission: 3-speed automatic
Mileage: 108,800 mi
Price: No reserve auction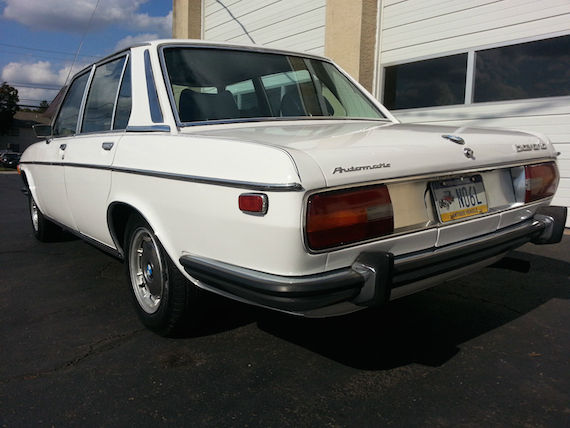 NO RESERVE.

Here is one of the best driving cars ever built. The BMW bavaria was the answer to the 280SE, and is without argument a faster, better handling car. Basically a four door 2002tii, the E3 and E9 are the beginning of the E28. Very similar to the 525 528, but much cooler.

This car just had a cosmetic restoration, that was paint, and going through all of the cars systems. Never rusted, all metal is original and unprepared. I have records from the last owner who spent tens of thousands of dollars on the brakes, suspension, and engine. The car has a like new motor, the previous owner had the motor rebuilt, the receipt is in the paperwork. It starts and runs perfect and makes full power like you would expect from a bmw thoroughbred. The Dual twin chock ZEnith downdraft original carburetors were rebuilt by the PO, and work great, high idle works, perfect low idle, lots of power and great fuel economy. I should mention that the have the classic Zenith hesitation right out of idle that goes away instantly as you press on the pedal.

New brakes, new discs new calipers all around.
New exhaust system.
New shocks.
Restored wheels, with new Bridgestone Potenza tires, make it a superb and tight driver.
Everything in the car works as it should, including the air conditioning.
The car is absolutely brilliant in every way. You can drive this car daily and any distance.

PLEASE only serious bidders. Please make an appointment Before the end of the auction to inspect vehicle.
Thank you and good luck.

NO RESERVE.

Legal Statement:
As usual in the state of Pennsylvania, this used vehicle is sold AS IS, WHERE IS with no warranty or Guarantee whatsoever, implied or otherwise. Seller is the owner of vehicle, and has a Pennsylvania vehicle title to his name.
Auction is NO RESERVE; Therefore the high bidder wins the car ands enters a Legally Binding Contract with the Seller. Your bid is binding once the auction ends! Please make arrangement to inspect vehicle BEFORE the end of the auction. Inspections post auction will not be permitted. $500 Non refundable Deposit is due immediately after the end of the auction. Payment is due within 3 day post auction's end, and can be a check, or a wire transfer IF you are willing to wait for the funds to clear before taking possession of vehicle. You can pick up Vehicle IMMEDIATELY after the Auction's end with CASH.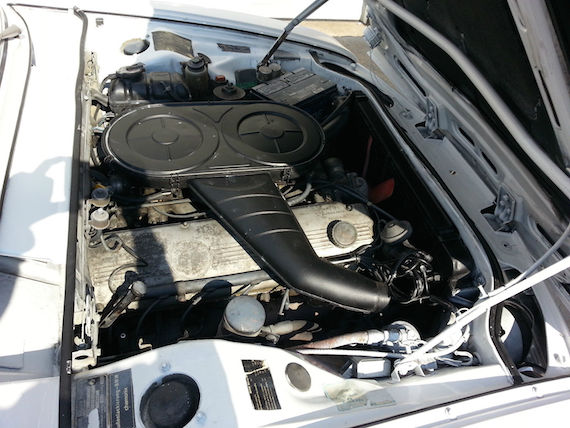 There's something about a BMW in white, even of this vintage. It just looks right. For someone who may want a bit of a relaxed cruiser more than an outright sport sedan, this Bavaria would fit the bill with the automatic gearbox. These E3s are still rather affordable, with a Bavaria of this type in good shape usually bringing around $11,000 to $13,000 roughly, with excellent examples reaching a bit past $15,000 these days.
Next up, we have a Bavaria similar in color to the 3.0S that former First Lady Jacqueline Onassis used with which to tool around the streets of New York City.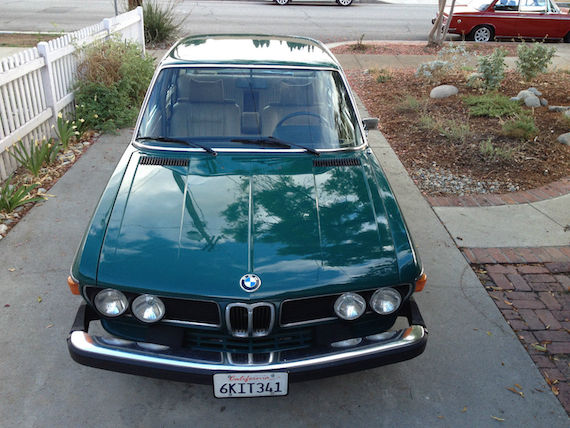 Year: 1974
Model: Bavaria
Engine: 3.5 liter inline-6
Transmission: 5-speed manual
Mileage: 145,000 mi
Price: Reserve auction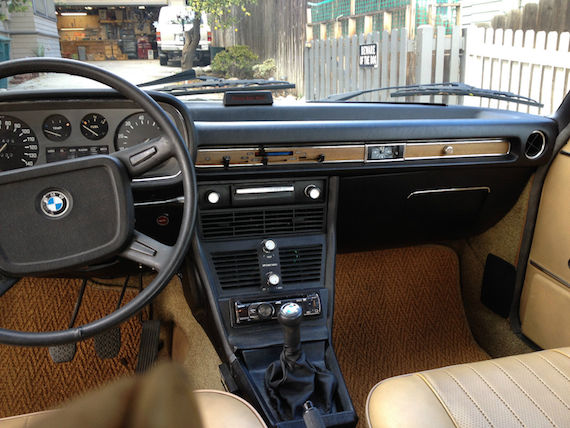 Original paint and interior, comes with a set of euro chrome bumpers. This car has been upgraded with a strong M30B34 with 1.3 Motronic DME, a Getrag 5-speed, Bilstiens, H&R springs and ST Anti-Sway bars. Rebuilt 134a A/C, and a terrific sound systerm. It's fast, powerful and a blast to drive. It hugs the road incredibly well, yet the suspension is somewhat civilized and surprisingly smooth. This was the "Driver's Choice" Award winner at the So Cal Vintage meet in 2010.

I'm selling the car because I have a new love. She's sleek and sexy, younger and more beautiful, but she's high maintenance, very demanding, and won't tolerate sharing her garage with other bimmers. She's a shark – a 1988 M6. She's the object of my desire, and I'm going to devote the rest of my life to keeping her happy. I have no interest in the Bavaria any more, so she's got to go.

History: I'm the third owner. I purchased the car in 2009 from a gentleman in the state of Washington, who bought it from the estate of the original owner. The car was not running when the P.O. bought it. Apparently it had overheated, the head warped, then the car was parked and not run for many years. The P.O. installed a used engine, which turned out to be bad, and so was the original automatic slush box. He acquired a low mileage (80+ thousand miles) M30B34 from a wrecked L6 (VIN WBABC8409H0614687), and a donor 5-speed from a 5-series. Unfortunately, the niggling issues associated with such a conversion haunted him. After spending a few thousand installing the drivetrain, it still didn't run right. He then spent another $5k with Pacific Motorsports in Portland (I have the receipt) to sort out the mess. Spending this fortune merely bought him a barely drivable car. There were still many issues that needed to be addressed. He came to his senses and realized he was over his head and decided to cut his losses.

This is where I came in to continue the unfettered spending…
I've spent approximately another $4000 upgrading the suspension, completely re-doing the A/C, installing the sound system, and sorting through the myriad little issues. What we have now is a terrific, reliable driver. Yes, it still needs a few things which I'll carefully describe below.

Exterior: The car is a gorgeous Amazonasgrun (Amazon Green) – original paint! It still shines up beautifully, but it has a dent in the left rear quarterpanel, and a dent in the right passenger door that is partly into the front fender. They're not really too bad, see pics. The car has several door dings, scratches, minor indentations and other blemishes. The right rear quarterpanel has obviously been repaired. There's some rust, but not in the fenders, doors or rockers. There's rust under the deck lid in the hole where the strike cushion fits. The hole is enlarged due to rust, but the lid seems very stable, it closes fine and doesn't rattle. There's one small rust hole in the spare tire well, smaller than a dime. There's also rust around where the gas tank mounts. It's not visible unless you remove the gas tank. The door seals are original and in remarkably good shape. The trunk seal is cracked and should be replaced. All doors are perfectly adjusted and close and open as they should.

Windshield was brand new when I bought the car, but it has a very small, hardly noticeable star crack. All other glass is believed to be original and in good shape.

Headlights are upgraded to H1 and H4s, with a new fuse and relay harness. They are awesome! This was a great upgrade that significantly enhances the driving experience. One of the high beam lenses has a small crack.
Bumpers: A complete set of Euro chrome bumpers is provided. The front bumpers are rechromed, still in the wrap. These are show quality. The rear bumper was picked from pick-a-part, it was like new, but be aware that new bumpers are not as good as the quality of the re-chromed front bumpers. New rubber for the rear is provided, the front rubber is in excellent condition. One of the rubber overriders is new and in the package, the other is NLA. The old one is usable, but you'll have to massage it a bit unless you can find a new one somewhere. All miscellaneous parts are here, but you might need a few metric nuts and bolts. See the pic that's provided and ask questions.

Interior: Interior is original, except that the seats have been re-stuffed. There's one small tear in the drivers seat. The door pockets have some tears near the bottom. There are two or three very small cracks in the dashboard. The original steering wheel has been leather wrapped, and the shift boot is leather also. The seats are very comfortable. All seat belts work properly.

A/C has been completely reworked with a new R134a system. I installed the largest cross-flow condenser that would fit, with a large Flexlite electric fan, a fan controller, and a new Sanden Compressor with all new custom-made hoses with o-ring seals. There are still a couple of flare fittings at the evaporator. The A/C was blowing very cold, but unfortunately it leaks. I suspect the leak is the flare fittings in the evaporator. You can almost get through the entire summer on a charge. Another problem is the squirrel cage motor might be missing a thrust washer/spacer. It makes some noise from time to time. You can make it go away by pushing the axle slightly with a small screwdriver from the inlet on the drivers side of the console. I keep a device handy to do just that. The clock works, but doesn't keep accurate time (North Hollywood Speedometer can fix it for a reasonable fee). The blower switch doesn't work, but I installed a two-speed bypass using a three position toggle switch near the ignition key. You can fix all this stuff at one time when you take the console out.

I installed three more auxiliary toggle switches. One is for the coolant solenoid from an E28 that's mounted on the firewall. This keeps the hot coolant out of the plenum. If you're familiar with Bavarias, you know what I'm talking about. There's another switch that disables the Hirshman power antenna to compensate for the design flaw with the JVC head unit. The JVC antenna lead powers the antenna even when the head unit is turned on, even when you're listening to a CD or iPod via the USB port. The switch lowers the antenna. The third toggle switch is an electric fan override. It works, but I never use it.

Engine and mechanicals: The engine now has appx 110k miles. The Motronics was upgraded from the 1.0 to the 1.3 version with appropriate harness that was used with the M30B35 motor, and it is "chipped" – I forgot what kind of chip, I got it from Ireland Engineering. There's not much to say, it's really powerful, has gobs of low-end torque and is very drivable. It starts instantly, runs great cold or hot, and pulls hard and steady throughout the entire rpm range to redline. I cannot say enough about how driveable this car is. Whether you're in the neighborhood, in mountain curves, or cruising at 95-100 mph, it's all fantastic! It burns very little oil, I may put in a half quart between changes. I use Mobil-1 15w-50 and I change it once a year whether it needs it or not.

The clutch is perfect – silky smooth, no chatter whatsoever. The Getrag 5-speed shifts solidly and cleanly.
Suspension: I installed H&R Springs, Bilstein Sport shocks, and ST Sway bars. As a result, the car handles unbelievably well. Other front end components such as tie rods and ball joints were installed by the PO. Everything is in outstanding shape.

Brakes: Brakes are excellent, pads have a lot of life left and the rotors are smooth. The master cylinder is new (The MC and booster are from a 2002 to make room for the B34 intake manifold. The MC is the tii version)Tires and wheels: The original stock wheels are on the car, with Kelly radials that have only a few thousand miles on them. The hubcaps are in outstanding condition, but not perfect. They shine really well, but have a few minor indentations, not bad enough to call a dent or ding. The aluminum outer rings are decent, given that they are very delicate and if you look at them wrong, they'll dent and distort. That being said, they're in remarkable condition considering their age and fragility.

I have two additional sets of wheels and tires if you would like to buy them, they are not included in the auction. One are gold centered cross-spoke imitations. They are not BBS. The tires have only about 25-30% life left on them. The other set are from a 5 series. These are fitted with Michelins, and have at least 80-85% life left on them. Both sets of wheels are in Excellent condition. You can have either or both for $200 a set.

Sound System: JVC Head Unit with Bluetooth and front and back USB. Since it's now five years old, It's a bit temperamental, but it works fine. Front speakers are Infinity, I think they're 3X5's, and they sound fantastic. The rear are junkyard speakers from an E30. I made platforms for them and they just sit on the parcel shelf. I intended to install Infinity 6X9's but never got around to it. Under the passenger seat, there's a Kenwood low profile sub-woofer that really rounds out the sound. There is also an 850W amp under the back seat. I don't remember the brand, but if you really want to know I'll dig out the papers and tell you.

Other Problems: Oil oozes out of the front somewhere. It will leave a couple of drops on the garage floor. The undercarriage is pretty clean, because I'll get under there when I change the oil and do some detail work. The tranny leaks a bit too, I suspect from the shift selector shaft. The backup lights do not work, I don't know why. The differential oozes also, but not enough to leave a drip on the floor. The exhaust system isn't the greatest. It's solid and fairly quiet, but it hangs a bit too low.

Other notes regarding the Auction: If you have a history of retracting bids, don't bother bidding. If you have zero feedback, you'll need to contact me and convince me that you're serious. All initial communication will be through e-bay. All questions and answers about specific issues with the car will be posted for all to see. Do not bother trying to do a deal outside of ebay. I am not advertising this car anywhere else, but I do reserve the right to end the auction early, but only according to ebay rules, so please familiarize yourself with the rules, and ask questions if you want clarification. The car is sold as-is. I have tried to represent the car fairly and accurately, but there are likely to be minor flaws that have slipped my mind. Remember, this is an unrestored 40 year old car. Please do whatever you need to do to satisfy yourself that you know what you are bidding on. I will answer all questions quickly and thoroughly. I encourage you to see and drive the car for yourself, or have a representative do so. I sincerely want you to be satisfied with your purchase. If you want more pics, I'll be glad to provide. Please see my photobucket folder for additional pics and videos.

The reserve is set very low. If the car sells at or close to the reserve, someone is going to get a hell of a deal, especially considering that a Bavaria just sold on the Bring-a-Trailer auction site for over $8,000. My reserve is WAY below that. I encourage you to compare this car with that one to help you achieve a valuation. Bid often and early, because if you're planning on sniping in the last minute of the auction, you may be disappointed, as I reserve the right to end the auction early consistent with ebay's rules.

Additional pics can be found here:
http://s108.photobucket.com/user/jpcapoc/library/Cars/Bavaria

Happy bidding!
-John Capoccia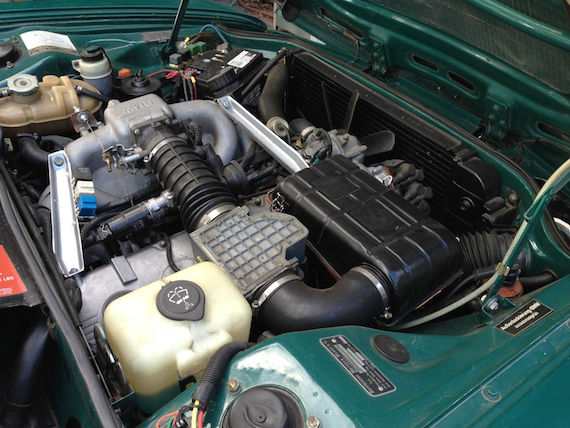 It's curious the owner decided to keep the "automatic" badge on the trunk lid of this car. Maybe he left it for originality sake, but I probably would have done away with it myself. The more modern inline-6 and 5-speed manual no doubt make this an awesome touring machine, which is why I would prefer this modified example out of the pair. That said, I prefer the look of the white one with the slim bumpers. But…you can't have it all, I guess. Pound for pound, these E3s are still a good value and were light years ahead of other cars of the period in terms of performance and economy. Look up practical classic in the dictionary and you might as well have a picture of an E3 slotted right next to the entry.
-Paul