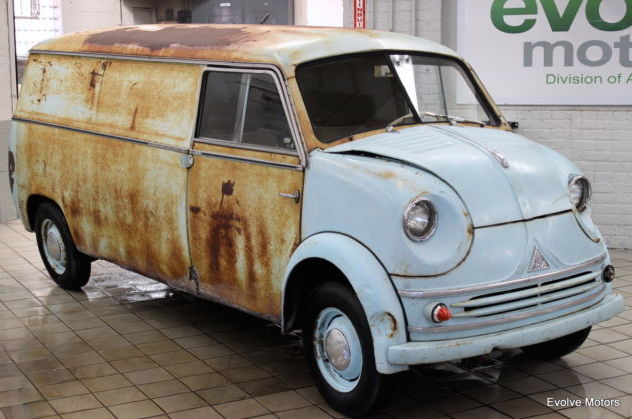 Microcars have witnessed a revival in the past few years, with good examples of cars like the BMW Isetta and Messerschmidt bring big dollars at auctions. Now that the popular models have taken off in price, it a good time to look around at some of the lesser known models, such as this Lloyd LT600 for sale by our friends at Evolve Motors. It's what could best be classified as a fixer upper, but is complete and would make a great runabout for an urban business looking to catch some attention on the streets.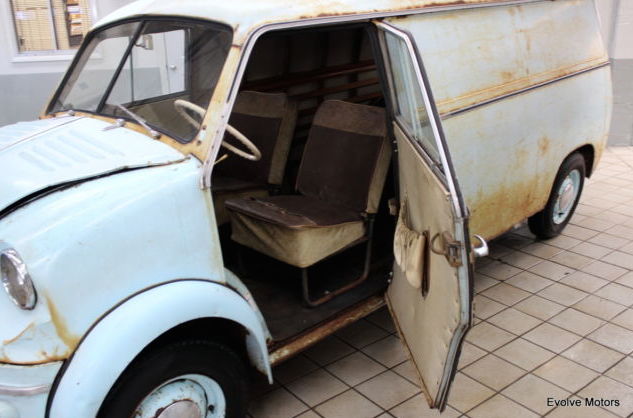 Year: 1960
Model: LT600
Engine: 600cc twin cylinder
Transmission: 4-speed manual
Mileage: 8,014 mi
Price: Reserve auction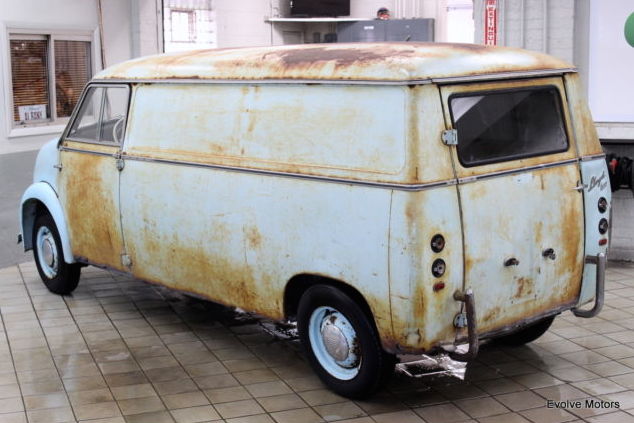 1960 Lloyd LT 600

8,014 All Original Miles!!

Rare Panel Van Model!!

Frame Solid & Straight

Starts, Runs, and Drives

2 Cylinder w/19HP

Spare parts too!!

Founded in 1908, and owned by Norddeutsche Lloyd Shipping Lines, Lloyd became the brand name of Norddeutsche Automobile und Motoren GmbH of Bremen Germany. By 1950, after decades of successful and prolific production, the Lloyd Motoren Werke began mass-production of several notable models. Competing head-on with Volkswagen and Opel a Lloyd was a viable, inexpensive, small car. Unfortunately, Lloyd never gained a foothold in the market and by 1963 the company was bankrupt.

Hard to find, these Lloyd 600's are becoming increasingly rare. The most recent public sale was by RM in 2013 in which a Lloyd LT 600 transporter for Pan Am was sold at almost $50,000. That van was in the same mechanical condition as ours. It did, however, have a slightly better cosmetic condition as we have spoken to the previous caretakers of said van. Other vans have sold through private sales but none with these low miles or those that were panel versions. We have not been able to find any panels that have recently sold or are available anywhere!! Presented with plenty of patina, this 1960 Lloyd LT 600 Microvan is a true barn find. Stored in a dry Midwestern barn for sometime, the body of this Lloyd shows little rust; only in the usual areas, along the edges of the floor boards, at the rear wheel wells. Light surface rust can be found across the entire body and can be left for the rat rod/surf van look or cleaned up for a complete restoration. Indicator lamps are mostly intact along with trim pieces across the body. All three doors work and latch correctly with the passenger door sounding very crisp when closed. Inward, the wood dash is intact housing the original gauge panel and switches. The wood bracing in the cargo area is in stunning condition and a true testiment to how well this Lloyd was stored. Even the original vinyl floor covering is in good shape, Lloyd logo and all.

The drive train for the Lloyd LT 600 is simple and effective. A fan cooled, 596cc, 2 cylinder is the heart, producing 19 horsepower. The power gets to the ground through a front wheel drive trans axle and 4 speed manual gear box found on the steering column. This LT 600 will fire up and drive down the street, however, it does need to be gone through to make all systems current. The brakes do not function correctly and clutch condition is unknown. Yet, it will drive down the street and shift through all gears. The exhaust manifold is missing and will need to be replaced but the rest of the exhaust is with the van. The period correct tires do hold air but need to be replaced due to age. Included in the sale are rare shop manuals, owners manuals, marketing pamphlets, etc.

Extremely rare, and highly sought after, these Lloyd Microvans are being snatched up and shipped over seas left and right. Even more rare is the fact that this has only 8,014 original miles and is a windowless panel version!! Do not miss the opportunity to own this Lloyd LT 600, because the chance will doubtfully pop up again!! Please call us with any questions, concerns, or offers.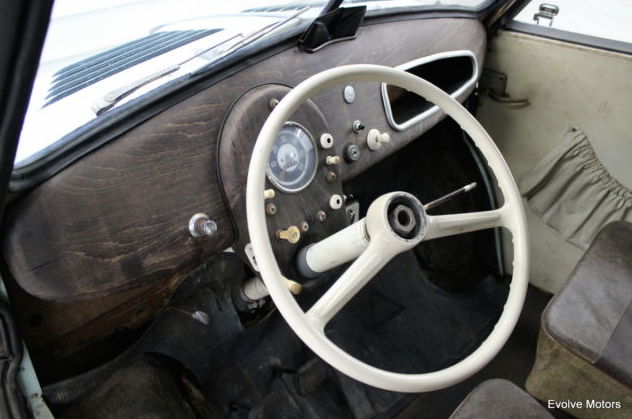 Competing in the inexpensive end of the market, especially against an offering like the Volkswagen Type 2 Transporter, the Lloyd had a big task in front of it in the sales race. Not surprising then that its life was short lived and relatively few were built in comparison to offerings from more well-known marques. The market for a small van like this is limited in comparison to some of the usual German classics we feature. For someone with the time and vision, however, the potential this piece holds is almost limitless.
-Paul