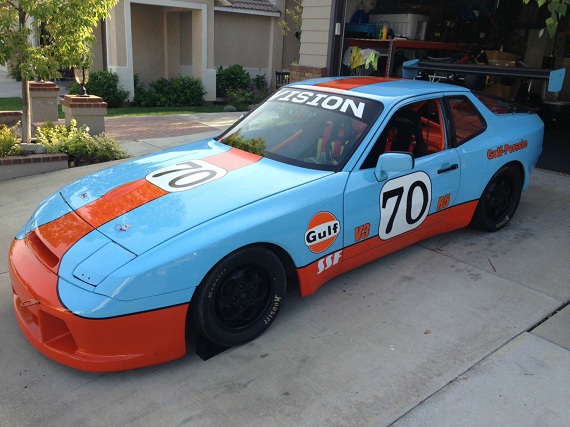 The Porsche 944 and BMW E30 are two of the most popular chassis to use in drivers events and club racing. Cheap, plentiful and effective, they're usually turned up with race suspension, cages, and once you've run out of gusto, it's not uncommon to see them get greater motivation. Generally for the 944, this means looking towards the turbocharged variant of the 2.5 liter inline-4 that was available from Porsche themselves; similarly, E30s receive a great swath of later Munich-based motors including the S50, S52 and even S54 if you're really racey. But today there are two lesser-used mills powering this pair of perennial favorites. Which is the one for your sporting needs? Let's start with the 944: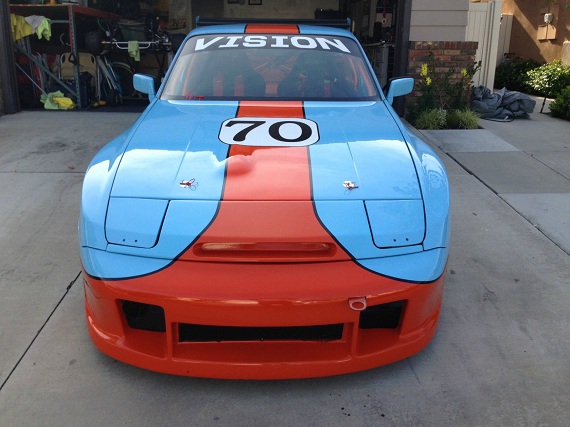 Year: 1987
Model: 944
Engine: 3.0 liter inline-4
Transmission: 5-speed manual
Mileage: "250" mi
Price: $25,000 Buy It Now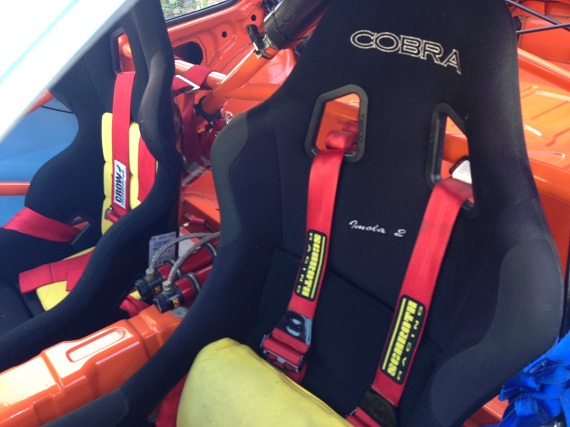 Up for sale is a pretty much new Porsche 944 track car. Built by Dwain at Vision Motorsports, this car has been out once since I have owned it. Just not using it as much as I wish so, I have decided to let it go. Build sheet as follows: 2300 pound car, built on a euro 87 tub with no sunroof, 968 3.0 liter motor with approx 4 hours, 944 S trany with limited slip, cockpit adjustable jrz shocks, 2 sets of 15 inch phone dials, all tubular front Vision control arms, lexan back window, stock calipers and rotors, Aim dashboard and data system, full nascar roll cage, air oil seperator, custom cam gears and timing, 2 racing seats and harnesses, rothsport quick release steering wheel system, capable of 1:26 on big track Willow Springs. This car is very well sorted and ready to run, it is not somebodies old piece of junk, but rather fresh new, no rock chips, stunning Gulf Livery paint, and ready to go POC or PCA club racing ! Class V3 and R4. Vin number is not correct – but they made me put something down for the auction to go thru – there is no title on this car.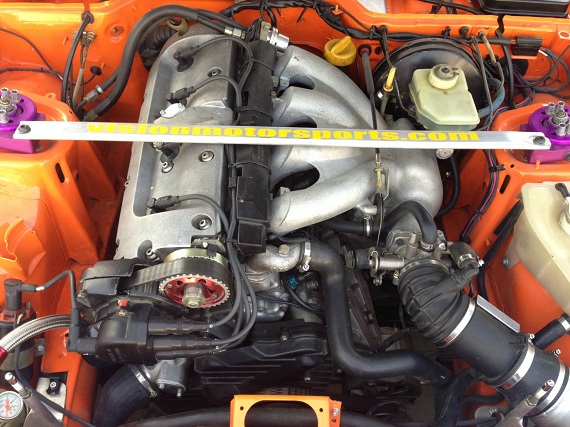 The Gulf livery is one of the most popular on Porsches of any generation, and doesn't look out of place on the 944. What does, to my mind anyway, is the later "GT3" style bumper that sits on the front. Not generally known for cooling issues, my immediate thought was that this must be a Turbo; but no, underneath is has the stellar 3.0 inline-4 twin cam out of a 968. It's not a swap many undertake but suits the lighter early 944 well. Outside of that modification are the normal top-shelf race products in a lighter European tub. The claimed 2300 lb weight is possible but requires a lot of work to get to in a 944; with over 200 horsepower this gives it a power to weight ratio very close to a Lotus Elise with near perfect weight distribution. If you total all of the bills from the build, they'll likely exceed the asking price – but in this case I can't really consider the car too much of a deal. You can get pretty well sorted and built 944 Turbos for significantly less than this asking price, and they'll be quicker – though not likely less money to run. Besides, if you need more motivation, why not look towards a V8 instead?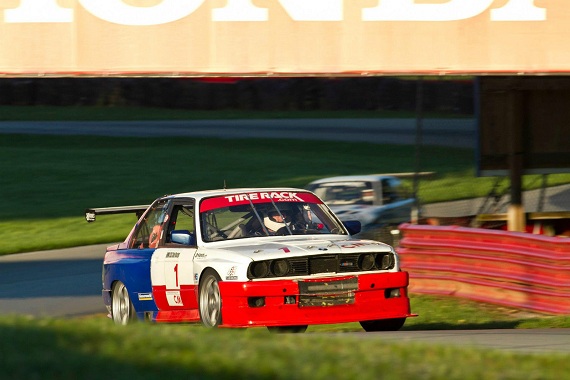 Generally you wouldn't think V8 and E30 in the same breath, but the all-aluminum S65 V8 out of the E92 M3 is quite a motor. Drop over a thousand pounds off the curb weight of what it's planted in and suddenly you can start to see the performance potential on par with supercars. Plus, it's been lobbed into an E30 M3 which makes it perfect for anyone wishing to catch up with the bandwagon!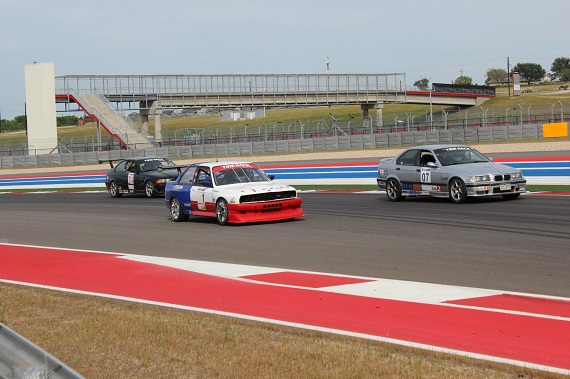 Year: 1988
Model: M3
Engine: 4.0 liter V8
Transmission: 6-speed manual
Mileage: Not Listed
Price: $49,900 Buy It Now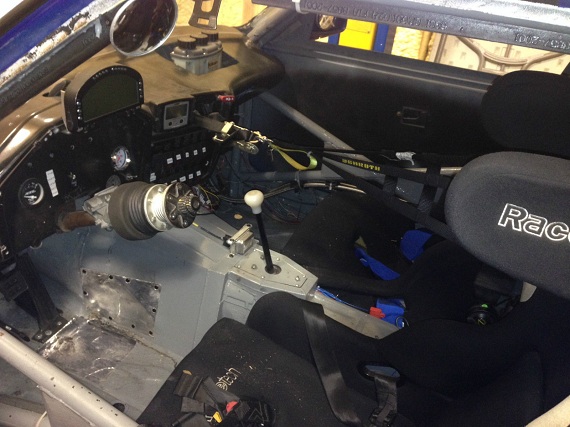 This might be the only running E30 M3 with an S65 in the US (there are pictures of others in progress in other parts of the world, but this motor swap will not be common.

This car was originally bought by me in 2004 as a non running street car. I originally put a Euro E36 M3 3.2 I6 in it, then swapped to an S54 and now the S65

This car has a log book for BMW CCA Club racing in BM. It should have no problem getting a log box in NASA- would be right at the top of GTS5 on slicks depending on driver weight. It dynoed on a Dynojet with SAE correction at 379 RWHP and 261 torque. The torque curve is pretty flat from 2800 to 7400 where it is still making 250 torque. At 8500 it is still making at least 235 torque. All on 93 pump gas.

The car is located 2 hours East of Dallas, TX

engine/driveline
-stock 2008 S65 engine and 6MT from a 41k mile wrecked car
-bearings were replaced with stock bearings with WPC treatment
-rod bolts replaced with ARP
-EPIC Motorsports standalone conversion to stock ECU with EPIC motorsports race tune for S65 (for 93 pump gas- makes 379 RWHP, would make more if you chose to use race gas)
-2 oil coolers- one small Setrab behind the passenger headlight, a larger in front of the radiator
-triple pass all aluminum radiator
-the 4th cylinder exhaust port was modified to clear the steering column
-custom head back exhaust with dual mufflers and dual side exits (just in front of rear wheels)
-custom shortened and rebuilt E30 M3 driveshaft
-Diffs online 4.10 custom diff with Z3 M coupe cover (bought used, don't know the exact details on the diff)
-Z3 M coupe halfshafts
-18 gallon custom ATL fuel cell- conforms to FIA FT3 standards- built 3/2009, recertified in 3/14 and is good for 2 more years
-ATL fuel cell fuel level gauge
-stock E46 M3 fuel filter and FPR
-additional SPX fuel filter in the engine bay
-DTM replica shifter from Markus
-stock flywheel and clutch

Chassis
-1988 M3
-FG front bumper (Fiber Artz copy but highly modified from there- widened and integrated splitter)- this will be a new piece the buyer will have to mount, prep and paint
-FG hood with Competition Concepts hood vent. Custom power dome to clear the intake plenum
-Competition Concepts CF widened front fenders and rockers (have been cut back for tire clearance)
-Fiber Artz FG doors
-Flossman (I think) copy widened rear quarters
-Fiber Artz rear deck lid
-Fiber Artz rear bumper
-Lexan windows all around
-Brooks Motorsports rear wing (deck lid is sandwiched between wing and understructure in trunk
-Sunroof skin fixed in place
-8 point cage (2 bars to front struts)- with gussets to A and B pillars- built with 1.5×0.095 cromolly tubing TIG welded
-front strut hats reinforced (double thickness on top)
-rear parcel shelf has been removed and replaced with aluminum sheet
-no headlights are installed
-firewall has been heavily modified when the S54 was put in moved back, only minor work was done to the driver's side and the steering column to get the S65 to fit. The transmission tunnel was heavily modified to get the S65 transmission to fit.
-interior was painted gray PPG urethane and is easy to wipe off
-FG dash
-weighs around 2500 full of fuel (less driver, ready to race)
– car has a wrap on it, but was painted after I bought it (originally was diamondschwartz)

Wheels/brakes/suspension/steering
-2 sets of 17×9 ARC-8 ET 41 rims- 4 have used Hoosier 265/630 17 slicks. Additionally there are 2 rims and Hoosier slicks. 2 rims have flatspotted tires due to an ABS issue (since corrected). All 8 rims were new in early 2013
-front brakes are AP Racing 4 pistons with floating rotors
-rear brakes are stock Z3 M coupe
-brake pads are PFC 01s all around
-tilton pedal box for brake pedal and clutch
-triple Tilton master cylinders (inside mount)
-suspension is ProTrac Double adjustable with remote reservoirs on all 4 corners- front cannisters mounted in engine bay, rears mounted in passenger compartment
-spacers all 4 corners to fit the offset of the rims
-Z3 M coupe trailing arms
-Ireland Engineering rear camber and toe correction kits
-800 pound springs on all 4 corners
-Speedway engineering front sway bar (only way to get a front sway bar with the S65)
-no rear sway bar
-Motorforce (pre-Vorshlag camber plates- frotn perches recently rebuilt by Vorshlag)
-Treehouse Racing Eyeball arms (new Oct 2011)
-rebuilt Z3 steering rack with Mercedes A class PS pump (sourced from Alex at ABLorginalparts.com)
-E46 M3 CSL/ZCP ABS system is in an operational and is fantastic

electrical/data acquisition
-Moroso circuit breaker and switches for ignition, fuel pump, ABS, dash, radiator fan, cool shirt pump, wipers, helmet blower
-AIM MXL Pista Dash
-sensors for dash- cooling system pressure, oil pressure, oil temp, front and rear brake pressure, oil temp, tranny temp
-Dash also gets data from ECU via CAN BUS
-Smarty Cam hooked into dash with GPS unit
-Odyssey PC680 battery mounted in passenger seat area
-AMB hardwired 260x transponder
-AMB DisplayIT
-mechanical oil pressure gauge

Safety
-Schroth Hybrid Profi 2 HANS 6 point harness (FIA certified thru 2016)
-window net (good til 2016)
-Schroth center net (expired)
-Racetech 4009WTHR (wide tall head restraint seat) not FIA certified but has seat back brace
-high density foam on roll cage around driver
-Longacre 14″ convex mirror
-2 circular spot mirrors in addition to stock mirrors
-circuit breaker type main electrical cutoff switch
-SPA mechanical fire system with a nozzle at fuel cell in trunk, 2 on driver, 2 towards engine
-Motorola base unit radio in car- with all other in car parts for car to pit communication, no crew headset is included
-BMW CCA CR log book
-passenger Sparco seat with Team Dynamics belts

Misc
-coolshirt system with water to air intercooler to reduce air temps to helmet blower

After the S65 went it, it is a diamond in the rough. The weight increased over the S54 that was in it and the suspension settings are not exactly right now. It needs somebody to start at ground zero with the suspension setting (spring rates and shock valving) to get it to be a beast. With a non competitive driver (me) and the S54 (less 50 RWHP and about 150 pounds) it ran 1:36 at Mid Ohio, 1:49 at Texas World Speedway, and 1:34 at Road Atlanta.

The car had a minor off the last time out and the front bumper was destroyed. I have another one coming that will need to be installed, prepped and painted.

The rear deck lid had the wing changed a few years ago and the mounting system was supposed to temporary but I never got to redoing it. A new FG decklid is included.

Fuel cell is certified thru early 2016. After that a new one will need to be purchased to keep it legal. It is a custom 18 gallon size from ATL.

Considering all of the above and that there is work that needs to be done to get it to be competitive (it runs as is), I will start the bidding at $35k. The motor and transmission and mounting was at least $20K.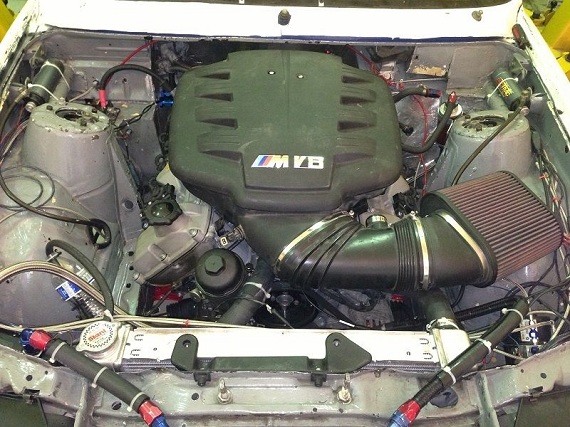 380 rear wheel horsepower is nearly double what the 944 3.0 is putting out, but the weight isn't much different. This is a whole other level of performance and the bills that go along with it. I have to say, though I imagine this car is pretty fast in anyone's hands, I just don't find it particularly appealing. The 944 is to me a stripped out racer that while expensive in 944 terms is relatively cheap in terms of fully-build German race cars. This E30 looks like it still needs a fair amount of work but the owner is trying to grab some of the E30 headlines. I can't imagine there won't be a fair amount of headaches to accompany that V8, and let's be honest – though the E30 was a stout racing car in its day do you really want to be doing 170 mph in one on a race track today? It may be less exciting and overpriced, but of the two I'd take the simpler 944 here and put the 24,000 in savings into a solid tow vehicle and trailer setup and plug away at my driving skills rather than my skill at hanging on for the ride.
-Carter