The nice reader ride Aaron featured earlier this week was a very nice 323i, a car pleasantly unfettered by the rapidly increasing BMW numerical system. There was a 323i for the very first 3-series as well, but while the E46 323 was the base engine, in 1979 it was the top-of-the-line with an M20 pushing out a healthy 143 bhp. While the E21 320i's shortcomings made the following E30 that much more awesome, the Euro-only 323i brought some fun party favors like Bosch fuel injection, 4-wheel discs, and an optional limited-slip differential. Today's beautiful white example was imported from Germany and federalized at the beginning of its life in 1980 and is looking as good as new with tidy bumpers, great paint, and perfect Alpina open-lug wheels. We've had some steep E21s here with asking prices as high as $14k, so $4500 for this uber-ur-3-series with 125k miles seems like a solid deal.
1979 BMW 323i for sale on Craigslist Colorado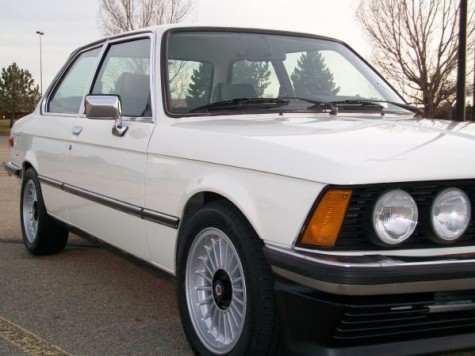 From the seller:
This is a great running and looking 1979 BMW 323i model for Germany. Imported and federalized in 1980. Have all records back to 1980 documenting extensive maintenance and low mileage of 125k (201,000 kilometers) Recent maintenance includes timing belt and water pump, wheels and tires, fuel pump, injectors, plugs, filters, distrubuter, coil. Has the 2.3l 6 cyl engine, 4 wheel disc brakes,and improved suspension compared to the 320i available in the US at the time. Air conditioning, 4 speed manual, Recaro cloth seats. $4500 obo.
I really dig this little car. The E21 will always be the underdog of BMWs, but with power and style, this one can hold its head high. I don't really understand the long VW-esque pea shooters out the back, but that's nothing a hacksaw couldn't fix in about 5 minutes. Alpinas, small bumpers, and some bonus rarity make this low-mile import worth it.
-NR