80s German cars are wonderful in their simplicity, and accordingly, are best modified with restraint and cleanliness. Today's GTI is a fantastic example of these concepts. Plenty of work has gone into making this GTI quick and beautiful, yet it remains so subtle and unostentatious that the uneducated would still pass it off as an ignorable 80s econocar. But the details make it special for VW fans, from the single-round headlights to the badgeless grill, the shaved moulding to the BBS RMs, not to mention the extensive work under the hood. It's Volkswagen enthusiasm at its finest, resulting in a car that epitomizes the clean styling of the 80s while going the extra mile to make it special.
1985 Volkswagen GTI for sale on eBay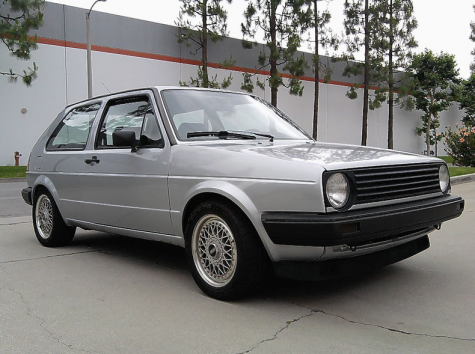 A complete description from a very invested seller:
Up for sale is a clean Volkswagen GTI 16v. As you can see in the photos, this car has been taken care of. Please take the time to appreciate some of its features:

Engine: 4cyl. 2 Ltr 16v (refreshed by Dynamic Racing Solutions about 45k miles ago). 1.8 16v head, ported. Always used high end oil like Motul, Redline, or Lubromolly.

Intake Manifold: European 50mm.

Transmission: 5 speed manual (3.67 RP, Velocity bolt-on LSD upgrade) Rebuilt by Transaxle Engineering in Southern California (Less than 200 miles!)

Exhaust: Techtonics stainless steel, with a Borla Muffler (2.25″)

Wheels: BBS RM 15″

Tires: Kuhmo Ecsta XS (almost brand new in front, little wear in rear)- Super grippy tire, used by SCCA.

Interior: Two sought- after stock Recaro seats in great condition. Replaced headliner in excellent condition. Black leather Momo steering wheel. Sparco shift knob. Modified to "Power On" toggle switch and "Push-to-start" button: eradicates ignition switch problem. Car has late-style instrument cluster which shows a lower mileage, actual mileage is higher and is shown here. I will include the original stock instrument cluster with the car. The rear seats were not included when I bought this car, therefore, they are not available when it sells.

Exterior: 16v front splitter, Bonrath mono-wiper, rear wiper modified to lay down, shaved moulding, Bonrath front badgeless grille. Euro H4 headlights (single round conversion. Fender flares removed. Rear badges deleted. 16v roof antenna. Euro rear smoked tailights.

Shocks: Bilstein Sports

Springs: H&R sports.

Brakes: Upgraded to Volkswagen Corrado 11″/ Ferrodo pads.

Other New Parts installed within 200 miles: Spark plugs, oxygen sensor, water temperature sensor, distributor rotor, parking brake lines, fuel filter.

Things to be aware of: The hood latch lever inside the car has become loose, and does not work properly. It is possible to open the hood from outside the car. There is a scratch located on the driver side fron fender, which is visible in the photos. Considering the age of the car, these are minor flaws which the new owner can attend to.

Final Comments: It would cost thousand of dollars to replicate this build. This car is not your typical POS, that is converted into a nice car. This car has been in our family for over 15 years, and was bought from the original owner, who kept it garaged in his home in La Habra Heights, CA. This car is currently driven approximately 5-10 miles a week, and is always garaged. THIS CAR IS A MUST SEE: VERY UNIQUE.
I do love this GTI. Though I love fender flares, their removal furthers the clean theme, as does the single wiper, shaved badges, etc. The mechanical work is equally impressive, and the refreshed engine and new transmission with LSD make the 223k miles a little less worrisome. I do think the seller is falling into a common trap though of thinking that money on mods directly increases the value of the car. While this GTI is great, I think the $9k Buy-It-Now would be too much for this car. Conversely, the $5k starting bid is probably a bit low, however, and I would see $6k, maybe $7k making this a great buy for a VW enthusiast.
-NR