And now for something completely different. It's easily forgotten that before German reunification in 1990, quite a few vehicle manufacturers existed in East Germany. VEB Sachsenring in Zwickau, makers of the Trabant, was one of the more prominent manufacturers. But there was also a handful of smaller, less well known companies, such as this tiny truck produced by VEB Fahrzeugwerk Waltershausen.
I was surprised to find this Multicar exists in the township right next door to my parents home in Pennsylvania. I've never seen it around up there. Then again, with a two liter four cylinder diesel good for a top speed of 35 mph, anything outside of neighborhood streets would be a chore for this truck.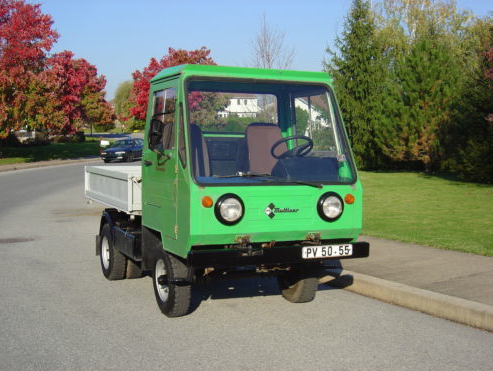 Here is your opportunity to own both a unique vehicle and a piece of Cold War history. The Multicar M25 is a small, specialized equipment truck that was manufactured in Waltershausen, in the former communist East Germany. As a result of its design and capabilities, the M25 is often referred to by former East Germans as a "piece of equipment on wheels". Coincidentally, Multicar is the only former East German vehicle manufacturer to survive "the fall of the Berlin Wall".

Besides being a fun vehicle to drive with its distinctive shape and European diesel sound, this garage maintained Multicar is probably only one of only a handful in the USA. The M25 is titled in Pennsylvania, thus registering the vehicle in any state should be an easy process. Additionally, the Multicar recently passed its Pennsylvania State Inspection and has a current inspection sticker that expires in October, 2012.

With a 2 liter diesel engine and a top speed of 35 mph, this multifunctional truck is ideal for both residential and off-street use. For those unfamiliar with an M25, as a result of its lower gear ratio, the Multicar is not intended for long term high speed use on a highway or interstate, such extended high speed use could result in overheating. Please remember that this communist made vehicle is basically a "workhorse" in accordance with communist philosophies and not a race car. With that thought in mind, the Multicar's dual wheel axle and controllable differential allows for a 2 ton payload capacity.

The vehicle currently has 47,860 original Kilometers (29,765 miles) on the Odometer. Every effort has been made to maintain this vehicle in its original condition. Keeping that in consideration, the overall condition of the Multicar varies from good to very good condition for its age.

The exterior is in good to very good condition. The fenders, bumpers, rims and truck bed were repainted 3 years ago. At the end of communist times, the sides of the cab were painted a slightly different green to cover over communist markings and the fruit orchard's name who originally owned the Multicar. Through polishing, the orchard's name has been restored. Since the cab still has the original communist fruit orchard's name on the passenger side door and I wanted to maintain its original integrity, the cab has not been repainted. For those interested in doing so, I have the matching green acrylic enamel paint for the cab, which I will be including in the sale, thus the cab could be repainted with very little effort.

In addition to the paint, I will also be including in the sale an copy of the M25 owner's manual and a copy of the M25 Repair Manual in German. The interior is in good condition. The seats, with the exception of some age induced cracking at the top of the each seat and a stress crack on the driver's side seat; are in good condition.

The tires are original East German manufactured tires and although they may still have plenty of useable tread available, they are aging. Thus, if you would be intending to carry loads approaching 2 tons, I would consider replacing them.
Judging from the slightly washed out signage on the side door, it seems this truck served as a produce delivery vehicle of some sort in Crimmitschau. I could see a little truck like this serving a multitude of purposes. A landscaping company could use it as a handy hauler for smaller jobs. A golf course would also be a good fit with its lower top speed. Or, possibly, a truck like this would be perfect in a downtown area like Center City Philadelphia or Manhattan for a number of small businesses, such as flower or pizza delivery. Sourcing parts could be an issue, however, Multicar is the only vehicle manufacturer from the former East Germany that survived reunification. The company is now operated under the name Hako-Werke GmbH. So getting parts might not be as hard as first assumed.
With a little under a week left in the auction, there's been some bidding interest. The buy it now price seems a bit steep, but overall the truck looks to be in pretty good nick for a utility vehicle.
-Paul