I have long been a fan of the 1980's era BMW's. Having owned many E21, E24, E30, E28 and the like I have always admired the traditional styling, smooth inline 6-cylinder motors and the Germanic precision. One car I have never owned is an E23 7-series. Historically I have viewed the E23 as slightly ungainly compared to the more elegant E28 sedan and gorgeous E24 coupe, however time has changed my perception and I find myself drawn to the big 7. Maybe the problem was that my sole exposure was US model cars with their battering ram bumpers and US spec lighting. This grey market 745i features the smooth, countour hugging European bumpers and escaped the wrath of US Spec lighting. I also have a soft spot for 1980's German cloth interior, very period and seems much more durable than the Buffalo hides common in most 745i. Now of course we haven't even touched on the turbocharged motor, awakening the big bore six and providing it thrust equal to its standing at the top of the mid 80's BMW sedan food chain.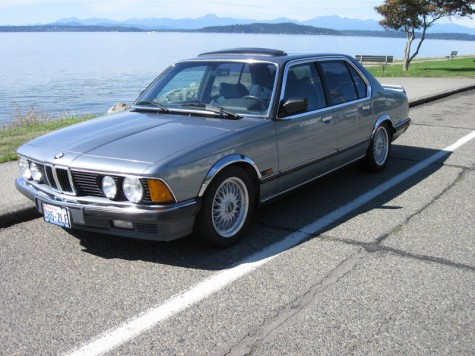 $5000.00 or BEST OFFER!!! I want to get this charmer out of my garage. 1985 BMW 745i is in great condition with original paint! This car has only 94,500 original miles. I am the third owner of this BMW 745i. Just inherited this car and I have hardly driven it! Racing suspension and steering. Original cloth interior in great shape (previously covered with sheepskin seat covers).
This car has been listed off and on for the past 2 years, so I would expect it needs some TLC. Based on the description the owner is not very familiar with what he has. I love the cloth interior and marvel at the fact that BMW would offer their top of the line car in 1985 to even be made available with crank windows, I love it! The chrome fender trim made so popular on the W126 series S-Class Mercedes-Benz of the era has to go and I am a little nervous about the "racing suspension and obviously lowered ride height… You never know one might find period Alpina bits hiding underneath, but more likely I would wager cut US market 735i springs. It is hard to establish a pricing trend on these cars, but based upon the length of time the seller has been trying to sell this car I would think a person could pick up a great piece of 80's BMW history for well under $5k!
-Nathan
This is the first post from another new contributor. Please join me in a warm welcome to the GCFSB team! -dc