In my eyes the e30 is one of the most beautiful German cars of its generation, and this 1991 318is available in Bradenton, FL embodies everything I love about the e30.
The 318is was first launched in 1989, and touted the new M42 engine. This lightweight, and quick revving 1.8 16v, was a blast to drive, and was reminiscent of the S14 4 cylinder offered in the e30 M3.
Out of the box these were fun, peppy great handling cars, and you might think, how can one improve on that? Here's how, the s52. S52 swaps are a pretty common transplant in to the e30 in the BMW community, as the e36 donors are plentiful, and the s52 makes nearly 100hp more. This would be enough for most, right?
Not the owner of this stunning 318is, he has taken things a step further, and added a Vortech V1 Supercharger. With the perfect combination of European styling, and raw power, the owner of this car certainly spare no expense in making this car a shining example of what a modified e30 can be…scratch that…should be.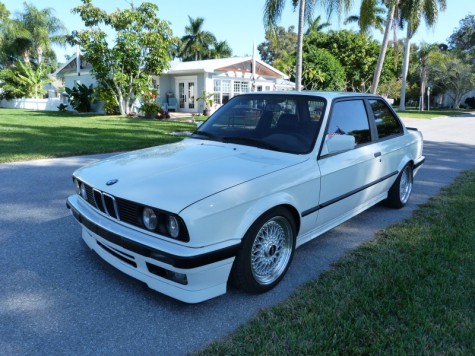 Up for sale is my 1991 318is Slicktop with an OBD1 s52 swap. I have detailed all of the specifications that I could possibly think of. I would like to point out a few things that someone skimming the ad would miss out on:
Slicktop 318is : Pretty rare form factor for the e30. Lightest chassis available in the NA market. Water/Air intercooler AND oil cooler : I have searched far and wide and have been unable to find another supercharged s52 that has a water/air intercooler setup. Southern car, no rust. Low mileage s52, approximately 88k miles. Pulled the valve cover recently, looks brand freaking new. Professionally reupholstered interior, black leather
In the last 50 miles, I have done: New oil New plugs New woodruff key (old one sheared) Power steering flush Coolant flush
Car: 1991 318is Alpine White Black interior No rust
Under the hood: 1999 M3 s52 with obd1 swap approximately 88k miles Vortech V1 Supercharger (approx 1300 miles on it @ 105,000 odo) All new sensors New Water Pump New tensioner New idlers New woodruff key New valve cover gasket Getrag 260 resealed e36 M3 Clutch New JB lightweight flywheel, 10lb New slave and stainless line 3.73 LSD z3 shifter Euro Raceland headers Remus muffler Custom center section with twin Magnaflow resonators and X-pipe 12″ puller 16″ pusher IE Oil Cooler 804 HFM Forge diverter valve TRM Racing tuned Walbro Fuel Pump Water/Air intercooler with new Bosch pump Vortech v1 Supercharger pushing 6PSI RaceSkids skid plate Bosch #42 Injectors IE oil cooler Air/water intake cooler 2 electric fans, pusher/puller New thermostat New starter A/C converted r134a New rebuilt driveshaft from Driveshafts.com(Portland Driveline) New revshift aluminum flex disk
Brakes: Functioning ABS Massive booster delete Stainless steel brake lines all around Freshly rebuilt calipers front/rear Hawk HPS brake pads ATE Super Blue brake fluid New master cylinder New rotors
Suspension: Treehouse Racing Control Arm Lollipops AKG Motorsports Rear Subframe Mounts H&R Race Springs Bilstien Sport Shocks Powerflex Subframe Bushings RyanG Front Splitter 99 M3 steering rack New control arms New tie-rods e30 m3 sway links 22mm swaybar front 18mm eibach swaybar rear Rear camber/toe correction kit
Interior: Professionally reupholstered seats, front/rear Z3 Short Throw Shifter Custom oil PSI/temp gauges (replaces ashtray) Custom Boost Gauge replaces MPG gauge New odometer gears Chrome ring accents Alpine Speakers/tweeters front Euro analog clock Gray carpet Black rear deck Mint headliner Delrin shift knob Sparco ring steering wheel, 330mm Sirius satellite radio hookup
Exterior: Fresh Alpine respray (approx 1.5 years old) Staggered BBS RS 039/040 16×7.5 up front, 16×8 rear – absolutely no rash Euro elipsoid headlights Euro trim Euro grills Euro plate filler All red tail lights New BMW roundels New shadowline trim New iS lip iS Side Skirts splitter BMWMotorsport door handles
This car is a monster. Although it looks like a cushy daily, this is a very aggressive street setup. It pulls like a train and screams like a fucking demonic banshee.
With that said, there are a few minor issues:
1. I suck at arts and crafts. A chrome trim ring fell off while driving one day, so  I opened the cluster to glue it back on. In doing so, I somehow got superglue everywhere inside the cluster. It was not visible until about 45 minutes later when it started to dry. Honestly, it looks terrible and I would suggest getting a new cluster. Only reason I didn't replace it was because of the custom boost gauge that replaces the MPG gauge.
2. Driveline shimmy at 20-25 MPH under slow acceleration and slow deceleration. Does not shake at any other speeds. I have had the car up to 145 MPH and it felt extremely planted and tight.
3. It took me almost 2 months of ownership before I realized there is some yellowing on the top of the car. It is barely noticeable, and honestly a prospective buyer would not even be able to see it if I had not pointed it out to them, but I want this to be a 100% transparent sale. I tried photographing it but it did not even come out in photographs. I am not a paint expert, but maybe some buffing would take it out?
4. No stereo installed. Never got around to putting one in, the car just sounds too good. It has all 4 speakers and even a sub mounted in the trunk, all wiring is in tact.
5. In the last 24 hours, the power steering pump has started to moan and groan. It was literally perfect as of, well, 24 hours ago. I think I may have got some ATF on the belt which is causing some slight slippage, I will continue to investigate this issue however.
As a rule of thumb, I tend to steer clear of cars that have been modified. Mods are very taste specific, and like most enthusiasts, i like to put my own stamp on my cars. This car however is so well done, that it will appeal to a broad audience of buyers from German car nuts, to hardcore BMW enthusiasts alike.
Now on to the $15,000 question, is this car really worth this sort of money? When considering the price on a car like this I like to answer the question with a question, Can you build it for that price? In this case I'd say certainly not.  With no reserve, and the $15,000 starting bid this coule be a well bought car, as long as the bid doesn't go too far north of $16,000.
-Brian