Update 12.6.2011: Back on eBay, links updated. Previously listed in November. -dc
The Hartge wheels on a local 325is caught my eye, and while I'm usually more of an Alpina fan, I'm starting to really dig the rare Hartge models of 80s Bimmers. With only 113k miles, today's beefed-up 325i is beautifully clean inside and out. It has obviously been well taken care of, with the pinstripes and spoilers still looking great, the interior nice enough to eat off (if you allowed food inside), and the underside looking close to new. I can't see paying the premium on these unless you're a serious enthusiast, but those who do will get a great looking E30 with as much power as the M3.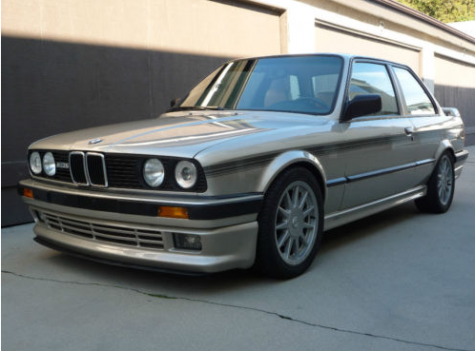 A nice recounting of provenance and recent care:
1989 BMW E30 Hartge H26
Bronzit/nature tan leather – shadow line trim & mirrors – Hartge logo's front & back.
· US Spec. 325ia car prepared by Hartge in Germany – delivered through the "Fly & Drive" program that began in 1987 – a very, very rare car. Build sheet code #0841.
· Low mileage 113K – 5200 miles/year – always adult owned/driven.
· Recent mechanical & restoration.

The vehicle was purchased new by Mr. Jung through Vasek Polak BMW in Hermosa Beach, Ca. The original service booklet & manual verify. My Jung picked out his options & order/pay for the car.The German plant would send the vehicle to Hartge Mfg. to have the options installed. Being in the "Fly & Drive" program (started by Porsche). The buyer would fly over to Germany, take delivery at the plant, drive around Europe for a time, drop the car back at the plant, where the manufacturer would ship the car to the US dealer.

It would also explain how Vasek Polak BMW ended up delivering the car as they could handle all the paperwork & arrangements for the Hartge without being an authorized distributor-they never took possession of the car, floored it, or took it into their inventory. It is also interesting to note that they did not fill in the "delivery mileage" in the vehicles service booklet. This being US Spec. it does not have a "federalization sticker" in the door jamb. H26 4258256 received 12 of the 17 options available from Hartge. Over $14,000 worth, according to the Hartge 1988 catalog. That includes the cylinder head and exhaust system, which was recently replaced with Ansa.

11 27 0490 – Performance H26 Cylinder head conversion 190bhp consisting of:
11 22 0432 – Hartge sport camshaft
11 22 0436 – Hartge light alloy valve cover
12 27 0103 – Re-profiled Montronic
18 27 0500 – Tubular 6 branch Headers – free flow exhaust system.

31 22 0420 – Hartge Sport suspension (35mm lower) consisting of:
Hartge progressive rate Coil Springs.
Hartge/Bilstein special valving struts & shocks.
31 27 0470 – Hartge stabilizer set consisting of:
Hartge stabilizer front adjustable @ 22mm, rear @ 16mm.
31 16 0350 – Hartge aluminum front strut brace, added rear strut brace for improved handling.

36 22 0754 – Hartge aluminum wheels 7.5×16" w/custom machined aluminum center caps.

51 22 0500 – Hartge aerodynamic kit for E30 from 9/87
61 22 0435 Hartge mono arm windscreen wiper system *LHD for E30

62 22 0150 Hartge instrument console oil pressure gauge, amp meter gauge & clock.
32 27 0400 Hartge 4 spoke leather steering wheel@380mm with hub/horn button.
41 22 0100 Hartge foot rest.
Hartge leather shift knob.
Hartge tach.

The paint is original – in some area's the paint is checking. On the passenger side of the roof has some dents from an object falling on it. Overall the paint shows well.

Maintenance at 112,422
Water pump
Timing belt
Timing belt tensioner
cam seal
Valve adjustment & valvecover gasket.

Maintenance at 113,050
Getrag 5-speed (80K) with new seals and pilot bearing
ZM3 short shift kit – new selector rod bushing
Sachs clutch disc, Pressure plate, T.O. bearing
13lb flywheel was resurfaced
Rear main crankshaft seal – zero leaks!
Balanced driveshaft, new CCB and Guibo
Slave cylinder/ clutch master cylinder
Pedal assembly was inspected – excellent condition.

s3:46 limited slip – Redline 75w-90
Fresh spark plugs
8MM Blue Silicon spark plug wires in loom.
Cap & rotor
Oil filter housing o-ring, new filter – fresh 20w-50 oil
71 degree thermostat – BMW coolant
New belts
New washer bottle – new washer hose

Brakes:
4 Calipers completely rebuilt
BavAuto cross drilled rotors
Carbonfiber brake pads
DOT Stainless Steel brake lines
Fresh ATE brake fluid.

rear strut brace
New Interstate battery
Rear ANSA muffler (have Hartge exhaust tip)
Bidding is moving already, with just under 9 days left at time of writing and 11 bids pushing it to a still-reserved $6,800. Considering the rarity, it's hard to know exactly where the bidding will push it, but the cleanliness, lack of miles, and heavy optioning should easily push this towards, and maybe even above, $10k.
-NR