There's something in the water in Colorado. Or maybe it's the altitude. Either way, we've seen some seriously badass Audis come from the Centennial State. This S4 looks like it could be just another mid-90s Audi, the visible FMIC and aftermarket wheels being the only tell-tale signs that this might be something special. Nothing alludes to just how special though. After a claimed $55k invested, it's finishing its break-in period before the boost can be turned up to produce a Group B-esque 600hp from the 2.3L inline-5. I love that it's not slammed, a stockish ride height maintained presumably for better charging of unpredictable mountain roads and conditions. Dirt, gravel, snow or tarmac will matter little to this beast though as it devours supercars all day long. If you're ready to deal with a highly-tuned car but want to fly under the radar while carry the kids and some luggage, I can't think of a better way to do it for under $20k.
Tuned 1994 Audi S4 for sale on eBay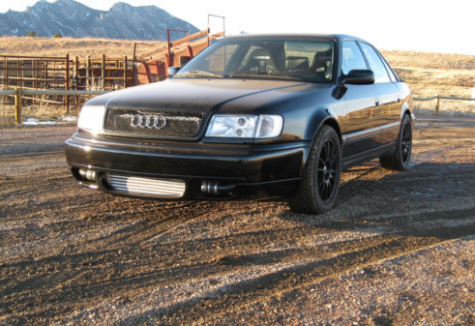 An exhaustive list from the builder/seller:
Black on Black 1994 Audi S4, 118k. This car has got to be one of the very few nice ones left. It has a completely built motor, everything on it is essentially brand new (literally), all the goods you expect to find on a car of this caliber are there. Never in an accident, have traced the history of the car all the way back by talking with previous owners. Car currently has a 13psi tune on it for engine break-in purposes, approximately ~500 miles on the motor since being built, needs to have a final tune (that's it) done to bring it up to its 600whp capability (proper break-in procedure was done on motor). I have a binder full of every receipt for every part put on the car, including all the final tolerances the motor was built to (engine build done by Ridge Reamer of Colorado). Car has a $55k agreed upon value insurance policy on it, based off of past 2 years of receipts spent on it, so if you don't think it's a good buy at $20k, then don't bid on it, you won't find another UrS like this…simple as that. I am happy to answer any questions or take additional photos upon request. This has been a west coast (rust-free) car that has been garaged its entire life (will provide previous owner's detailed accountings of its past). Ebay's AutoCheck says lists the car as a grey market car. The car was brought into the U.S. from Canada legally in 2008 and I have all documentation from Audi N. America that shows it conforms to U.S. DOT standards. Title is clear Colorado title.

*Car just got the clean bill of health from local Audi shop and compression was pulled on motor showing that it is breaking in perfectly.

I am probably leaving out a lot, but modifications are as follows:

1994 Audi S4 (Black/Black) – Canadian Spec (no rear seat heaters, KM/h speedometer, daytime running lights)

Engine – Bottom End
– AAN bottom end (2.3L displacement)
– Scat Connecting Rods (144mm)
– JE 8.5:1-compression pistons (82.5mm)
– Stock metal head gasket, bored to 82.5mm
– ARP main and head studs
– Audi 7A oil pan (jet hot coated) – larger oil holding capacity
– *New AAN oil pump (OEM Audi)
– 034 Motorsports Coated Main Bearings
– 034 Motorsports Coated Rod Bearings
– 034 Motorsports lightweight lifters
– 034 Motorsports Port/Polish on cylinder head (240/160 cfm)
– 034 Titanium Valve Spring Retainers
– 7A intake and exhaust camshafts
– 7A valve cover (powder coated white)
– Apikol High Flow Intake Manifold (powder coated red)
– 034 Motorsports High Rate Valve Spring Set
– 034 Motorsports .5mm oversize intake and exhaust valves
– Custom Lovefab tubular header (T4 outlet)
– Precision GT35R with Billet compressor wheel
– 034 Motorsports/Garrett Extra Large Intercooler w/ custom Apikol pipes
– Tial 44mm wastegate (silver)
– 034 Motorsports 850cc high impedance injectors
– Bosch 044 Fuel Pump (relayed)
– Earl's -8AN Speed Flex fuel lines
– 034 Motorsports 60mm Fuel Pump Bracket
– 034 Motorsports 20V Fuel Rail
– 034 Motorsports Density Line Motor Mounts
– 034 Motorsports Density Line Transmission Mounts
– Apikol Snub Mount
– Apikol 3″ custom downpipe (heat shield wrapped)
– 2Bennett 25 row oil cooler w/ducting
– *New AAN Timing belt covers (OEM Audi)
– *New Serp. Belt Tensioner (OEM Audi)
– 034 Motorsports 3″ Turbo-Back Exhaust (single muffler)
– 034 Motorsports High Output Coil Kit
– 034 Motorsports Phenolic Intake Spacer
– HKS 4″ shallow air filter
– 034 Motorsports Turbo Heat Shield
– 034 Motorsports V-banded catch can
– Aeroquip push-on catch can hose
– Aeromotive Fuel Pressure Regulator (0-100 psi)
– Tial 50mm Blow-off valve (silver)
– 10 gallon Fuel Cell mounted in trunk (w/vent line)

Drivetrain
– Apikol Rear Differential Mount (red)
– Weldon/Apikol 26mm Rear Sway Bar Kit (most updated version)
– 92′ Spec 28mm front sway bar (red)
– Apikol rear subframe bushings (blue)
– Apikol rear differential crossmember bushings (blue)
– Advanced Automotion B5 S4 6 Speed Transmission (cyro-treated 1 and 2 gears and WPC treated mainshaft, high bias 4:1 center differential)
– Apikol Short Shifter
– 034 Motorsports/Eurospec Billet 6-puck clutch with Aluminum Flywheel

Brakes/Suspension/Wheels
– H&R Race Springs (blue)
– Bilstein Sport Shocks
– Stop Tech (332 x 32 rotors) – Silver
– OZ Ultraleggera 17 x 8″ wheels
– Hankook 245/45/17 Ventus V12 Evo Tires
– professionally painted black rear calipers
– *new e-brake cables (OEM Audi)

Exterior/Interior Modifications
– S6 Rear Bumper – professionally painted and installed
– OEM Rear Spoiler (also have black trunk lid without spoiler if preferred) – professionally painted and installed @ 118k (i.e. no rust on current trunk lid around mounting bolts)
– S6 Front Bumper (w/LLtek lower valence) – professionally painted and installed
– Corbeau 3″ 5 Point Competition Harnesses (Driver and Passenger – Black)
– Audi TT 6 Speed Shift knob
– Corbeau FX1 Pro Microsuede seats
– Corbeau seat brackets (modified fixed Audi 4000 brackets)
– McCulloch HID kit
– Hella Euro headlight lenses
– Euro headlight washer -delete trim
– Kamei Sport Mesh Grille
– S6 Sport Steering Wheel Conversion (full S6 column swap w/ S6 column switches, i.e. no cutting of clock spring required)
– 1993 S4 Complete Carbon Fiber Interior
– 1992 S4 Side View (Full-Size) Mirrors

Other Notables
*New fender liners (all 4) – (OEM Audi)
*New mid-door and lower moldings (OEM Audi)
*New Febi-Bilstein tie rod ends
*New Febi-Bilstein control arms
*New Febi-Bilstein subframe bushings (front)
– powder coated front and rear subframes
– powder coated front strut housings
– powder coated strut bar
– powder coated engine mounts, arms, tie rods, etc…

Extras (not installed):
– V8 rear differential (painted red)
– black rear trunk lid (without spoiler)

The car's AC system has been deleted to make room for the intercooler. Also the fuel cell does not have a fuel level sender unit in it, therefore the gas gauge on instrument cluster does not work. The Corbeau brackets do not slide back and forth either, they can be modified to have a slider installed again, but currently are fixed. Lastly, the entire steering column was swapped to an S6 steering column to make use of the factory S6 steering wheel and in the process some of the stalk controls do not work (i.e. windshield wiper lever is reversed and high beams don't work), these features will be fixed before delivery of car is made.
I love this car. For the work done, the starting bid of $19,500 and described price as $20k seems reasonable. If you disagree, well, then these aren't the droids you're looking for. Spend a bit of time in the cockpit thanks to youtube though and it's hard to say no to the sound of the classic Audi turbo'd five-cylinder spooling up and ripping away.
-NR