Let's take a moment away from last-minute Christmas plans and get a little selfish. I'm very happy with my new car, but if there's one out there that makes me feel funny inside still, it's the B5 RS4. The first time I saw one was on a school trip to Paris in high school. I saw the low-slung, wide-shouldered uber-S4 parked on the street. As I pulled myself away to continue walking with the group, we turned a corner and I was confronted by another one. They left a lasting impression, and dug an "RS" shaped hole in my heart that exists to this day.
As Walter said in The Big Lebowski, "If you will it, dude, it is no dream." This RS4 clone is the result of someone choosing to will the dream to reality. We still can't import RS4s, but if you feel like coughing up the massive change required to get OEM panels, you can get something that looks like it. Featured in a eurotuner that I poured over, this car does a whole lot more than just look the part. 570hp at all four wheels takes it to a whole new level of insanity. If money were no object, this would be my dream.
2001 Audi S4 with RS4+ conversion for sale on eBay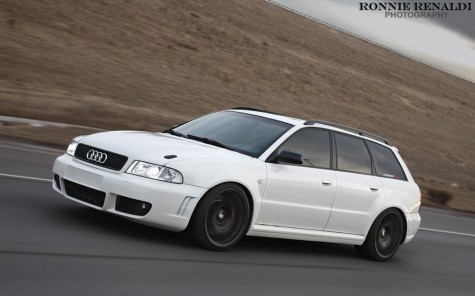 The very eurotuner-worthy but purposeful description and parts list:
No expense has been spared to build this wagon. Previously owned by Adam of SDR Research in Colorado, it just received some fresh upgrades to bring it up to date with new technology and a new pump gas tune by Tony @ EPL. This car been been featured in Euro Tuner and is well known in the Audi community. Please see an extensive list of modifications below, I am sure I forgot a few things…

Car:

2001 Audi S4 avant
72k on the chassis
Clean title

Exterior:

Full OEM RS4 wide body conversion
Lamborghini Gallardo Superleggera pearl white paint
SDR Research carbon fiber hood with hood pins
Matte black exterior trim / emblems / mirrors / roof rails
15% window tint

Interior:

Full OEM RS4 interior conversion (seats, carbon fiber trim, shifter, steering wheel) – back seat is not installed
Custom suede seat inserts (higher quality that OEM)

Engine:

EPL custom pump gas tune (570 AWHP / 560 AWTQ)
3.0L stroker short block
3.0 Audi V6 crank
CP pistons 82.5mm (8.5 to 1 compression)
Pauter rods with oil rifling for the pin
Block machine bored / honed and internally balanced to 9,500 rpm
ARP main cap studs
O-ringed block
2.8 custom ported / flowed heads
Cat titanium valve springs / retainers
RS4 intake cams
2.7 exhaust cams
New valve guides / valve stem seals
Seven angle valve job
Tial 770R turbo kit
Custom Apikol intercoolers with bar and plate cores and ER cabron fiber shrouds
Hand fabricated divorced down pipes with 3 inch dual center section and V band clamps
Sportec catback exhaust with AWE center muffler
RS4 OEM Y-pipe
SDR Research carbon fiber Y-pipe (no longer installed)
RS4 intake manifold
Apikol snub mount
Aquamist water / methanol injection system
AMD custom methanol tank (trunk mounted)
Zeitronix wide band O2 sensor / ETG probe / boost sensor with interior digital display
AMD custom fuel system (dual Bosch 044 fuel pumps)
AMD custom breather system
EPL 80mm MAF
EPL 72lb injectors

Drivetrain:

Dahlback Racing V2 clutch
Single mass steel flywheel
Stern engine mounts
RS4 transmission mounts
Apikol rear differential mount
AWE drive train stabilizier
Stasis built 6-speed transmission (OEM gear ratios)
Stasis 4:1 center differential
Quaiffe rear limited slip differential

Chassis:

H-sport front / rear sway bars
Stasis Motorsport coilovers with remote reservoirs
Stasis Alcon 328mm Mono4 4 piston front brake kit
Stasis Alcon 298mm 2-piece rotors
Stern adjustable control arms
OEM aluminum front uprights
18 x 9.5 Weds Sport SA-67R wheels (20.5 lbs. each)
275/35/18 Michelin Pilot Sport PS2 tires

Miscellaneous:

Optima yellow top battery (relocated to the rear)
Alpine head unit
Focal 5-channel amplifier
Focal speakers
Escort Passport laser jammer
Why? Because racewagon. This thing has been done to the nines and the result is truly special. From the well-chosen laundry list of tuner parts (I always love seeing Dahlback pop up!) to the Lamborghini white paint and black wheels & trim, this exact car has been in my dreams for years. There's no market to compare this to, but for those looks and this level of ponies, its $48k asking price seems fair to me. Cheaper and more powerful than the reigning wagon-champ Cadillac CTS-V and terrifyingly expensive to replicate, it's sad the creator of such a wonderful machine doesn't have it anymore, but some Audi nut with a decently-sized wallet can reap the benefits without having to go through the craziness of putting all the pieces together.
Dear Santa, All I want for Christmas is an RS4 clone to keep the M5 company.

-NR