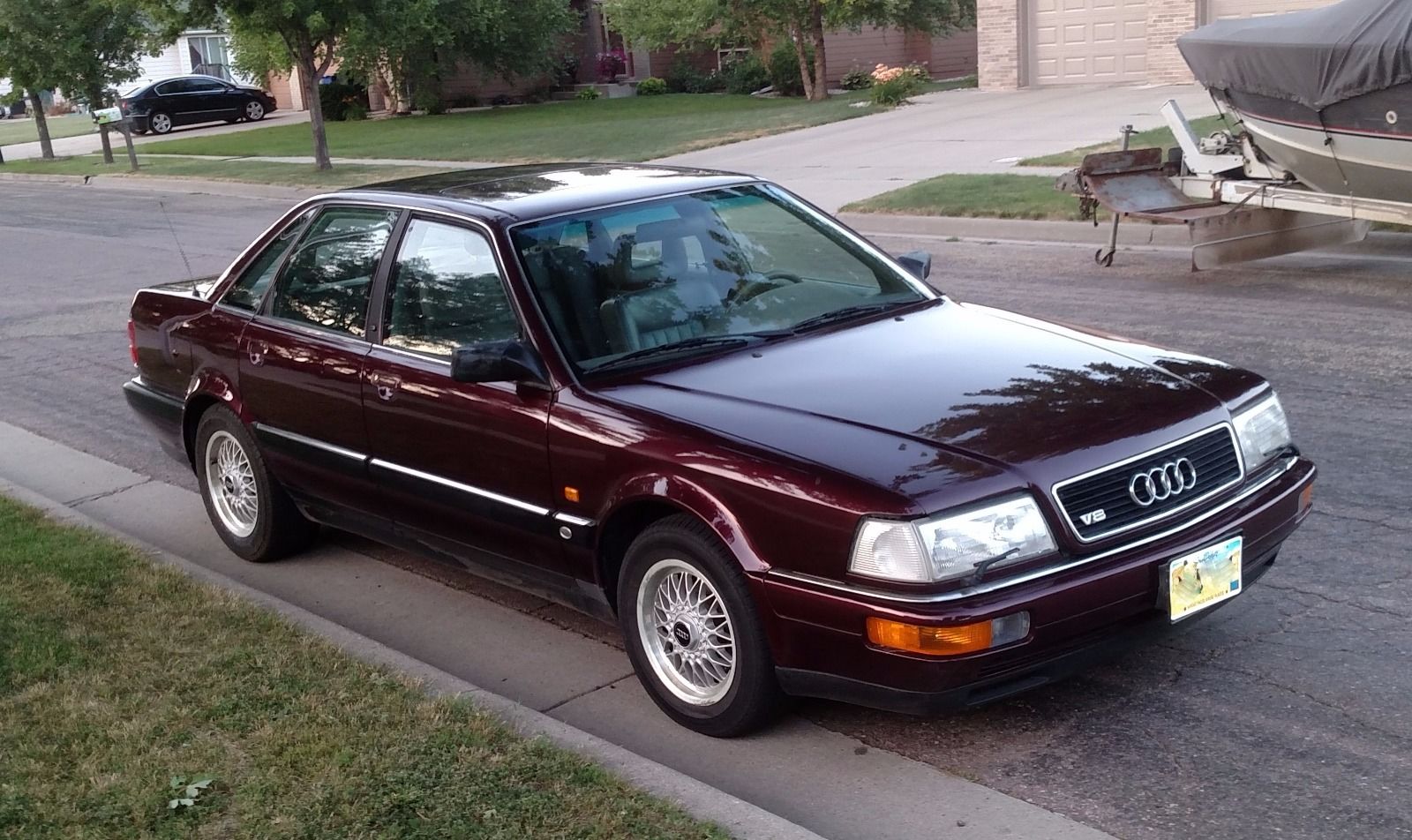 While visually most people would have a hard time telling a 1991 and 1992 V8 quattro apart, there were a bunch of little changes throughout the model if you were paying attention. The easiest change to spot was the BBS RG forged wheels that carried over from the 1991 model. At 15 x 7.5″ with a 35mm offset, they filled out the widened arches nicely. The more pragmatic change was in badging; after two years of no model designation (one with nearly identical looking but very different cars underneath for sale), the company finally decided other people besides the owner should know what they were driving. V8 badges were added to the grill and left rear of the trunk, and a "quattro" badge returned to the right side of the lid. Much less noticeable was a more pronounced exhaust, with twin stainless outlets now emerging straight out instead of the 1990/1 down-turned tips.
Inside there were few changes; minor gauge movement had occurred between 1990 and 1992. Connolly leather seats were now standard (as were nearly all items on the V8), and the wood trim was upgraded. The V8 came standard with the Cold Weather package, sunroof, ABS, and BOSE radio. Gone was the option to row-your-own, as the manual was removed from the U.S. market. However, a light revision to the shift points along with an integral cooler meant that the 4-speed automatic in the '92-94 models was more robust.
But the big change was under the hood, where a new ABH 4.2 liter all-aluminum V8 met the owner. With 276 horsepower and 295 lb.ft of torque, it was the most powerful Audi you could buy in 1992, and acceleration matched the manual and turbocharged S4. All of this luxury and speed cost; the sticker price was now up to $54,000. On paper, the V8 competed well against the competition from Stuttgart and Munich.
But in the recession of the early 1990s, coupled with the legacy of Audi's scandals and rocky introduction to the super-luxury market meant the V8 was a slow seller. Despite upgrades, the '92-'94 sold especially slowly; in total, only 518 4.2 models were sold in the U.S. compared to nearly 3,500 3.6 models. '92 was the best seller with about half of those – 270 – moving here. Few remain in the condition of this Cyclamen Red Mica example though!
6 Comments