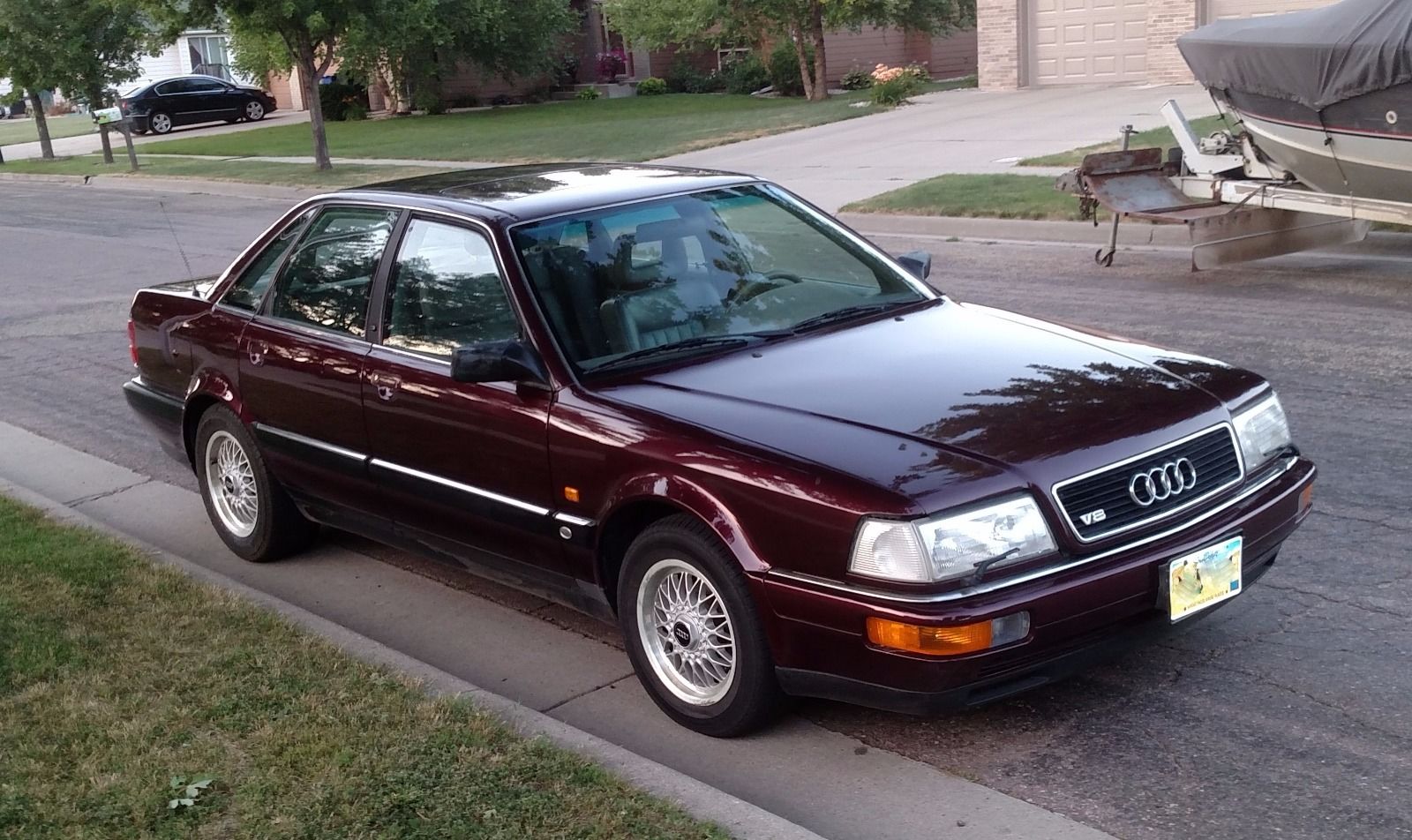 While visually most people would have a hard time telling a 1991 and 1992 V8 quattro apart, there were a bunch of little changes throughout the model if you were paying attention. The easiest change to spot was the BBS RG forged wheels that carried over from the 1991 model. At 15 x 7.5″ with a 35mm offset, they filled out the widened arches nicely. The more pragmatic change was in badging; after two years of no model designation (one with nearly identical looking but very different cars underneath for sale), the company finally decided other people besides the owner should know what they were driving. V8 badges were added to the grill and left rear of the trunk, and a "quattro" badge returned to the right side of the lid. Much less noticeable was a more pronounced exhaust, with twin stainless outlets now emerging straight out instead of the 1990/1 down-turned tips.
Inside there were few changes; minor gauge movement had occurred between 1990 and 1992. Connolly leather seats were now standard (as were nearly all items on the V8), and the wood trim was upgraded. The V8 came standard with the Cold Weather package, sunroof, ABS, and BOSE radio. Gone was the option to row-your-own, as the manual was removed from the U.S. market. However, a light revision to the shift points along with an integral cooler meant that the 4-speed automatic in the '92-94 models was more robust.
But the big change was under the hood, where a new ABH 4.2 liter all-aluminum V8 met the owner. With 276 horsepower and 295 lb.ft of torque, it was the most powerful Audi you could buy in 1992, and acceleration matched the manual and turbocharged S4. All of this luxury and speed cost; the sticker price was now up to $54,000. On paper, the V8 competed well against the competition from Stuttgart and Munich.
But in the recession of the early 1990s, coupled with the legacy of Audi's scandals and rocky introduction to the super-luxury market meant the V8 was a slow seller. Despite upgrades, the '92-'94 sold especially slowly; in total, only 518 4.2 models were sold in the U.S. compared to nearly 3,500 3.6 models. '92 was the best seller with about half of those – 270 – moving here. Few remain in the condition of this Cyclamen Red Mica example though!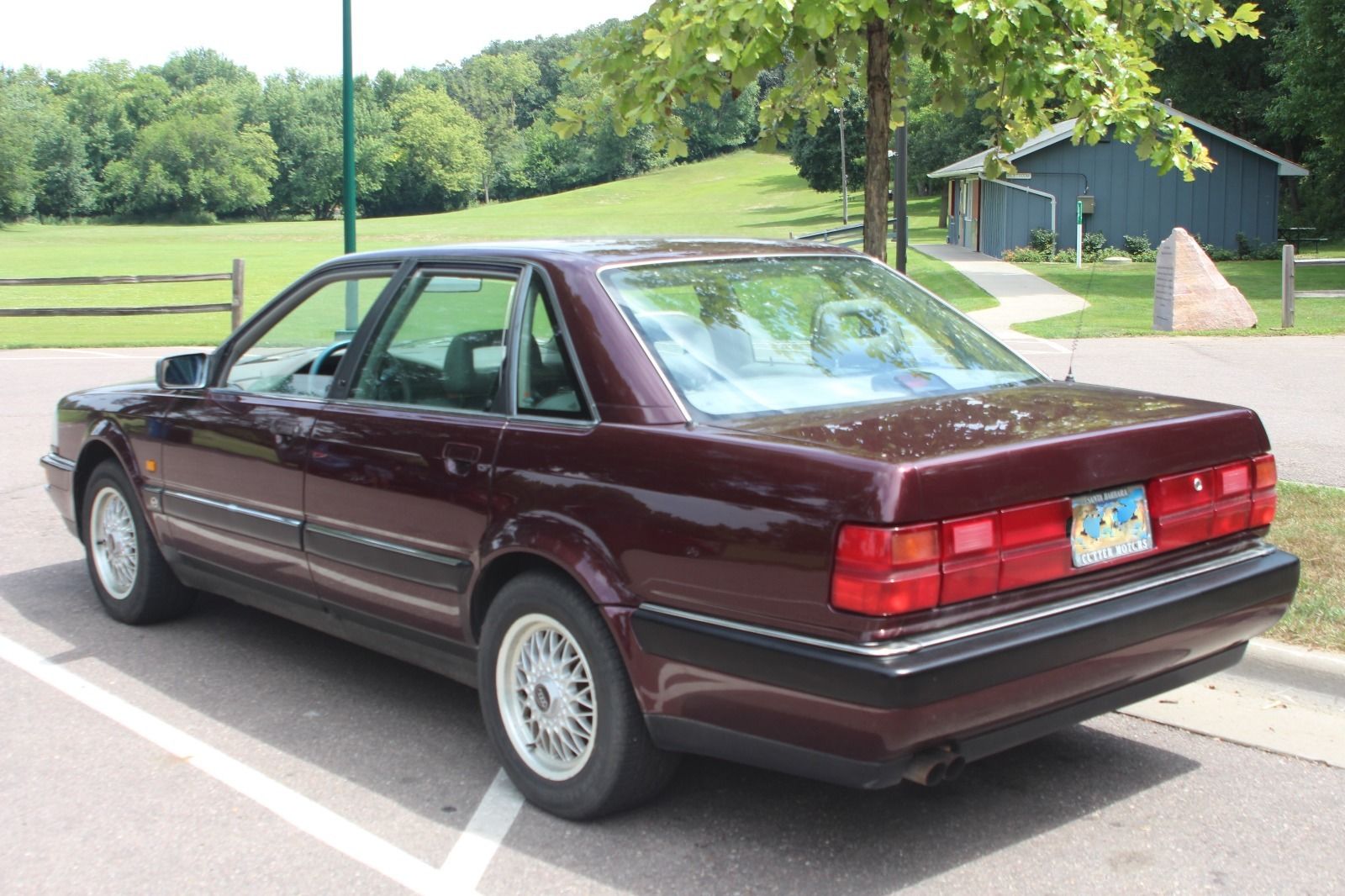 Year: 1992
Model: V8 quattro
Engine: 4.2 liter V8
Transmission: 4-speed automatic
Mileage: 101,500 mi
Price: No Reserve Auction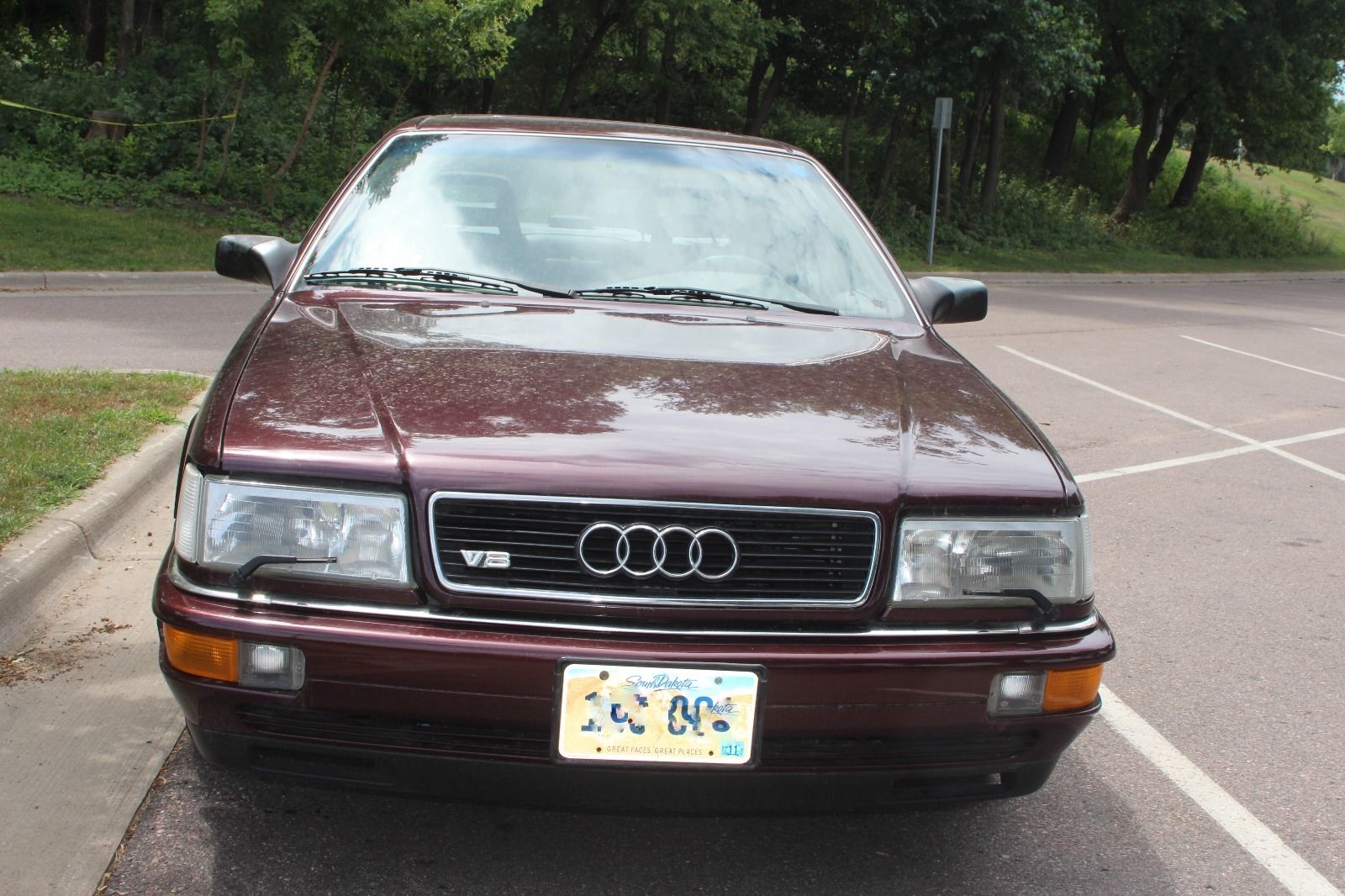 Somewhat rare precursor to the A-8 – this beautiful Burgundy, AWD, one-owner car was purchased in SoDak but kept in SoCal for winter escapes. The car report suggests multiple owners – but is wrong.

Body is great, no rust! Some sun damage and fading to leather interior, no rips.
A grocery cart type ding on right rear door.

4.2 L V-8 hums nicely, but will hesitate at times. 4 speed auto trans. Tires good, new battery. A/C not working. Been in storage in South Dakota for the last 1.5 yrs.
Contact me for more pics and info. Sold as is – private party.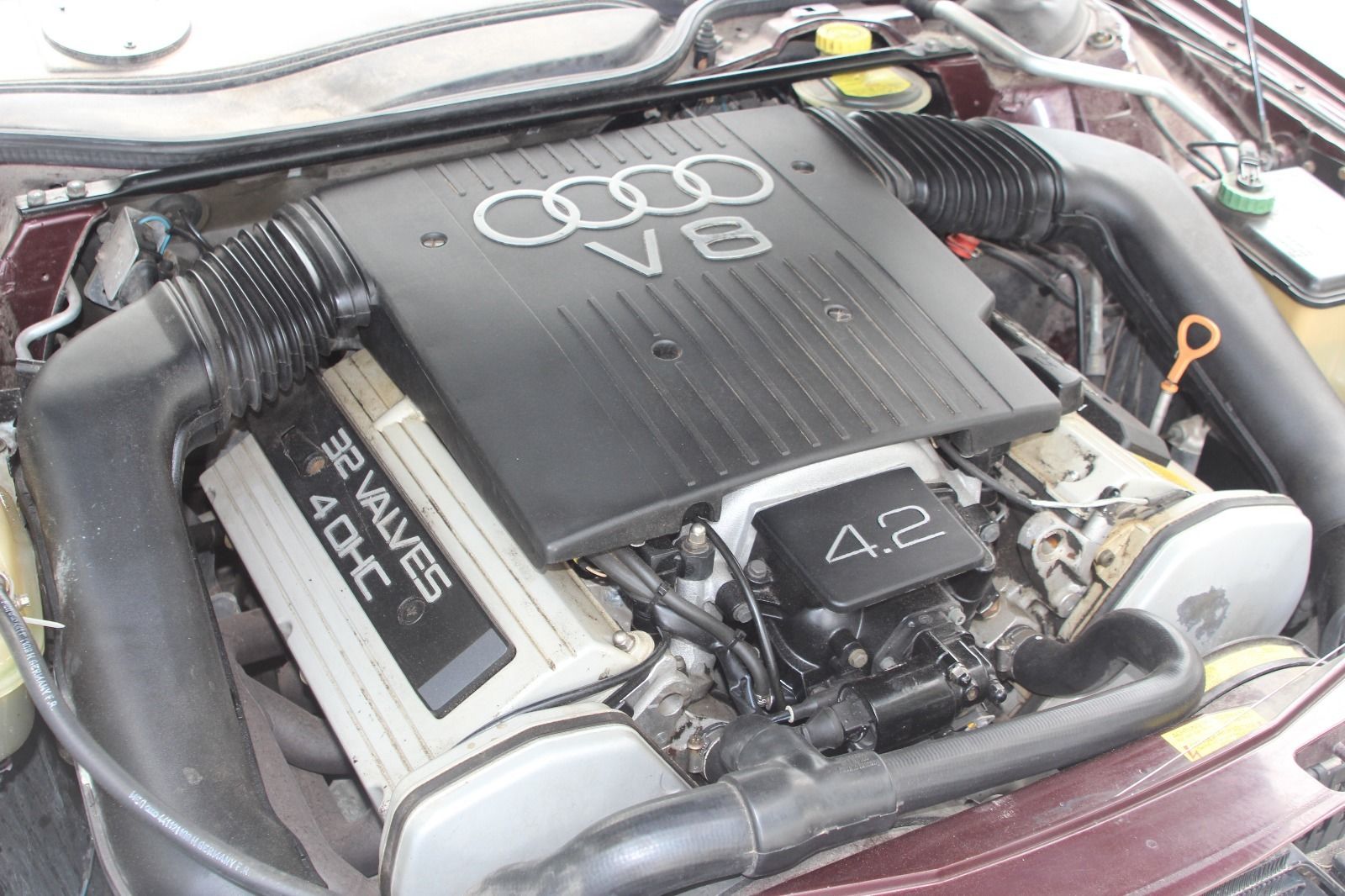 The color combination of Cyclamen with Gray Connolly is a bit unusual; more typical is to see them with Travertine, like we saw last October with the 4.2 5-speed. In both cases, the leather doesn't age well – cracks and staining are quite common, and this one doesn't appear immune. Unusual is the single-owner since new, but that helps as the car has all necessary documentation. Despite the lower miles, the car should probably be looking at a cam belt change which is fairly expensive on these (though, notably, not so much when compared to new model service fees). The seller does disclose a slight running issue but doesn't talk about maintenance. Getting these beasts to run correctly and function fully can be very, very, very expensive – so, either rule out the A/C repair or be prepared with deep pockets. The exterior generally looks quite presentable, but several items are noticed; the NLA seals around the headlights are gone, the front bumper is a repaint with the black trim matched to the body color, all of the rear badges have been ripped off and the BBS wheels have seen better days. However, finding one in this condition with a single owner 25 years on? I'd wager this might be the last one, and I don't believe that to be hyperbole.
Value? Not much, unfortunate for the seller. Unlike the turbocharged models, despite good condition there is only a very small cadre of people that like these V8s. I'm one of them, but even then it would take a very special example to make me forget my past experiences contemplate Seppuku ownership. Earlier this year, I compared considering V8 ownership to the typical plotlines for horror films:
You know when you watch a horror film and the protagonist sees a door ajar with a strange light, noise or smell emanating from behind it? Despite the obvious warning signs and 100% metaphysical certitude of impending doom, they creep towards their demise as if unable to escape fate. As a viewer, I'm often baffled by their behavior.

But then I think about the V8 quattro.
Has anything changed? No, the warning signs are all there with this one. Is it better than most? Yes. Is it worth buying? Hmmmmm….with the clean '93 coming up at the same time, I think this one needs a bit more love.
Thanks to our reader John for the spot!
-Carter