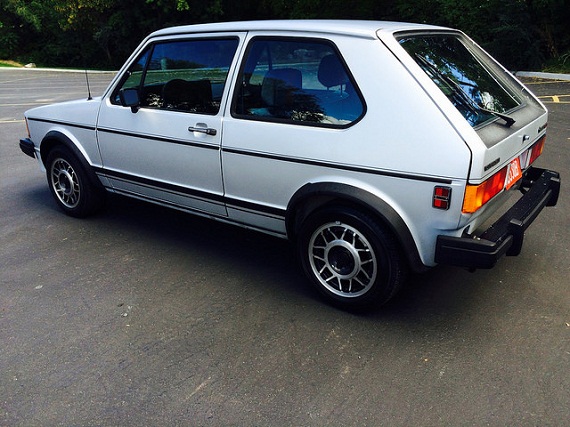 How many times can you own an automotive legend on a budget? Normally on Friday, I try to look at some screaming deals in the German automotive world; but in terms of all around reputation, the original GTi is on par with cars like the Porsche 911. It was hugely influential not only on the market but on enthusiast's expectations of what their everyday car could deliver. Practical, fun to drive, quick and relatively inexpensive, the Golf GTi is heading into its 7th iteration with the same basic formula as the original. Original, honest A1 GTis are now hard to come by, and this survivor is one of the better original examples we've seen with complete records and maintenance. Bidding is on its way up, but compared to some other German legends this car will remain a serious bargain.
The below post originally appeared on our site October 16, 2014:
You may remember this great looking, original and rare color combination GTi from last week. Although the car sold, the buyer failed to come through, so you get a second chance to pick up this awesome timepiece of history. Opportunities to own what many consider legendary cars don't come along often, and usually aren't very cheap – but these original GTis if left unmolested and in good shape like this one are near certain to appreciate over the coming years and offer you the chance to drive one of the best regarded cars ever made without breaking the bank. This car has some unbelievable records including a handwritten log from the first day of ownership by the original owner, and outside of the replaced windshield and gas cap, and a few mechanical parts is 100% OEM. This is a truly impressive survivor, and the seller has extensive shots that document the condition both above and below the car.
You can contact the seller if you're interested directly at jimmyzslc@yahoo.com.
Click Here For Additional GTI Photos