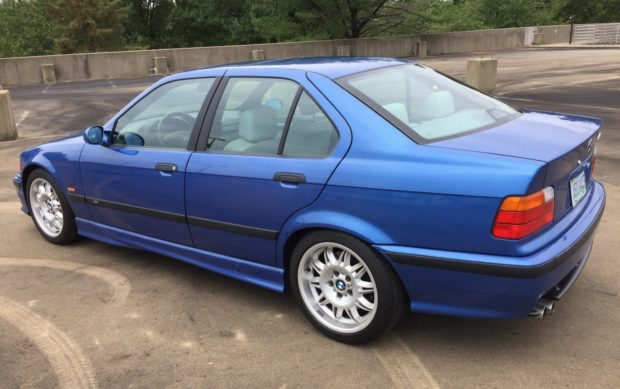 This '98 M3/4/5 sold for $19,750.
So the E30 M3 is probably out of your league, and clean examples of the E46 generation are getting more expensive by the day. The solution is still the E36. The Internet will make arguments all day long about how this car isn't as special as the ones that came before and after, but the reality is that it's still a M3. And you could make a compelling argument that it did (and still does) a better job of bringing sports car performance to a practical package that's affordable to almost everyone. The S52 3.2 liter inline-6 doesn't sound as great on paper as the race-derived S14, but it had two more peak horsepower than that strung out 4 we looked at yesterday. More telling was torque; 236 lb.ft at 3,800 rpms versus the Sport Evolution's 177 lb.ft at 4,700 rpms. Yes, it was heavier; the curb weight of the M3 Sedan you see here was about 3,200 lbs. But the additional power made up for it, and the results should be no surprise. 0-60 was dealt with over 1/2 a second quicker than the Sport, a gap that was maintained right through the quarter mile.
And practicality? It's no contest, really. Not only is the E36 safer, but the E36 added 4-doors to the recipe. Not to mention the costs to keep one running – check out the price of a S14 rebuild today, for example. Owning a legend often doesn't come cheap, and in this case you the current bid on this 48,000 mile 1998 M3 is cheaper than what a proper rebuild of the race motor will cost you.
Then there's the driving experience. Downgraded ///motor be damned, these cars are absolutely stellar to drive. I've driven each of the first three generations of M3 on track in anger, and the second doesn't give up much to the bookends. It's not as toss-able as the original nor as powerful as the third, but overall it's right there. The steering is near telepathic, the shifting precise, the power band broad. It's a deceptively good car and deserves far better than the treatment it's currently getting, which is to mostly be ignored in the marketplace:
3 Comments