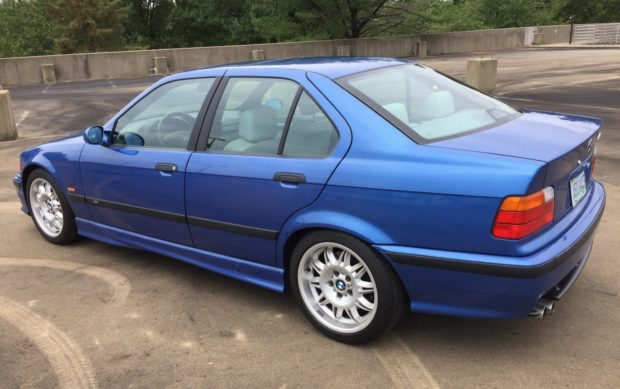 This '98 M3/4/5 sold for $19,750.
So the E30 M3 is probably out of your league, and clean examples of the E46 generation are getting more expensive by the day. The solution is still the E36. The Internet will make arguments all day long about how this car isn't as special as the ones that came before and after, but the reality is that it's still a M3. And you could make a compelling argument that it did (and still does) a better job of bringing sports car performance to a practical package that's affordable to almost everyone. The S52 3.2 liter inline-6 doesn't sound as great on paper as the race-derived S14, but it had two more peak horsepower than that strung out 4 we looked at yesterday. More telling was torque; 236 lb.ft at 3,800 rpms versus the Sport Evolution's 177 lb.ft at 4,700 rpms. Yes, it was heavier; the curb weight of the M3 Sedan you see here was about 3,200 lbs. But the additional power made up for it, and the results should be no surprise. 0-60 was dealt with over 1/2 a second quicker than the Sport, a gap that was maintained right through the quarter mile.
And practicality? It's no contest, really. Not only is the E36 safer, but the E36 added 4-doors to the recipe. Not to mention the costs to keep one running – check out the price of a S14 rebuild today, for example. Owning a legend often doesn't come cheap, and in this case you the current bid on this 48,000 mile 1998 M3 is cheaper than what a proper rebuild of the race motor will cost you.
Then there's the driving experience. Downgraded ///motor be damned, these cars are absolutely stellar to drive. I've driven each of the first three generations of M3 on track in anger, and the second doesn't give up much to the bookends. It's not as toss-able as the original nor as powerful as the third, but overall it's right there. The steering is near telepathic, the shifting precise, the power band broad. It's a deceptively good car and deserves far better than the treatment it's currently getting, which is to mostly be ignored in the marketplace: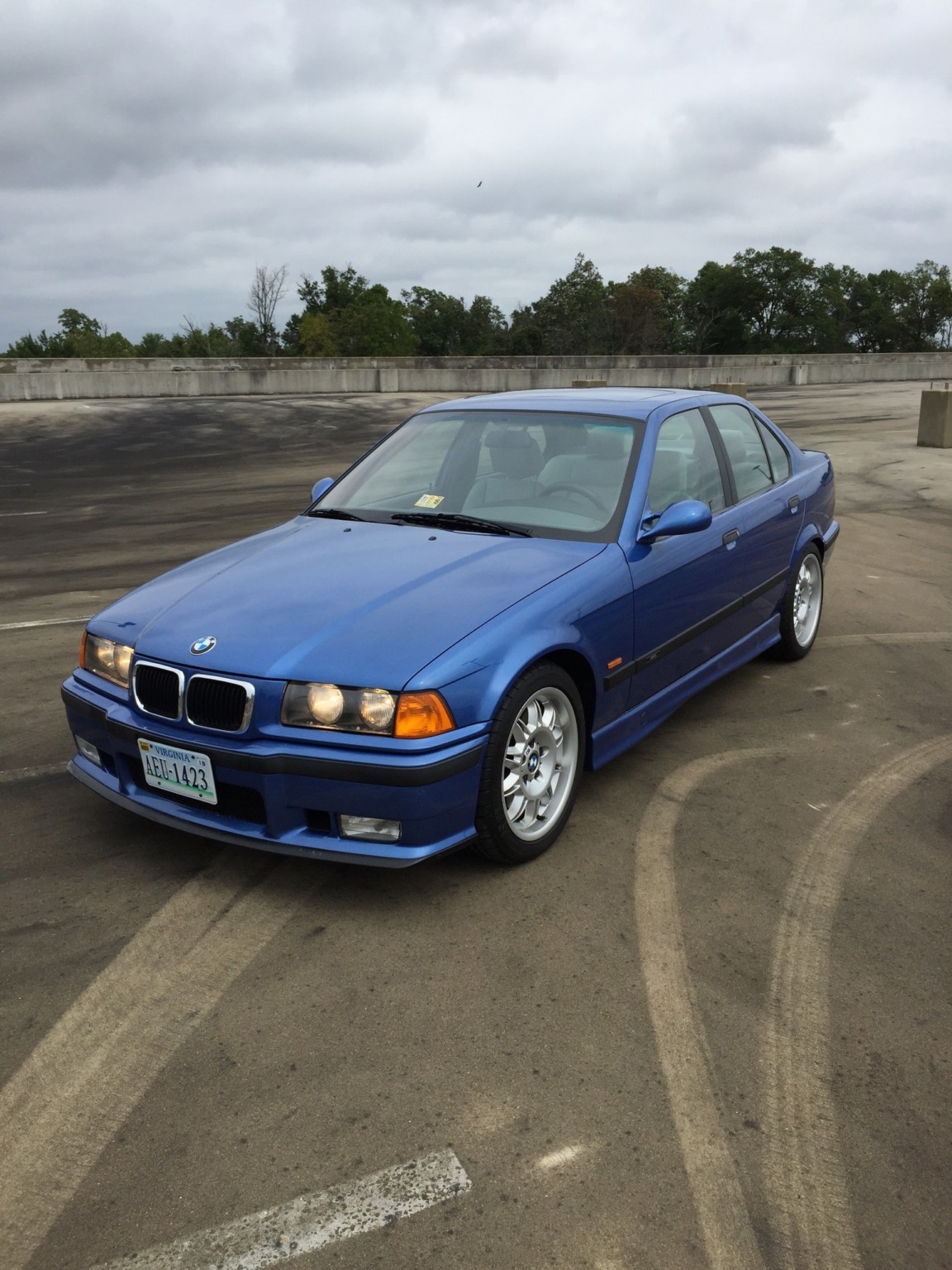 Year: 1998
Model: M3 Sedan
VIN: WBSCD9322WEE08235
Engine: 3.2 liter inline-6
Transmission: 5-speed manual
Mileage: 48,000 mi
Price: Auction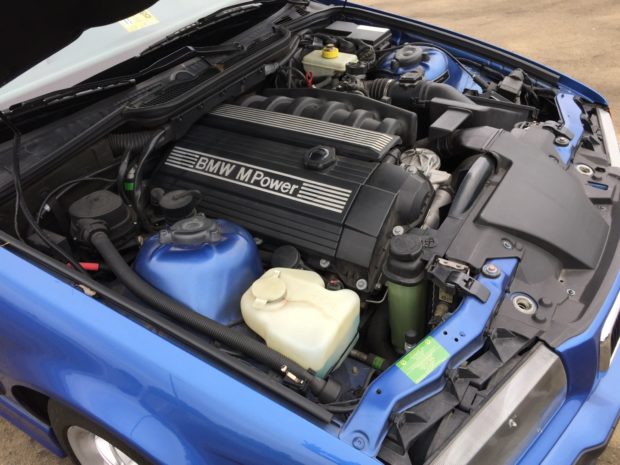 This 1998 BMW M3 sedan is finished in Estoril Blue over light gray leather and was sold new in Florida. The second owner purchased the car as a Certified Pre-Owned vehicle out of Pennsylvania in January 2000 and the third owner bought it in 2001, then moved to Minnesota in 2004, where the seller acquired it from him September 2007. The seller moved to Singapore soon after, and the car was stored in a climate-controlled facility in the suburbs of Minneapolis for the ensuing 11 years. Approximately 8k miles were added during brief visits to the US each year. The car was relocated to the seller's parents' house in Virginia in October 2017, where an additional 2k miles have been added by his father. Power is from a 3.2-liter S52 inline-six paired with a 5-speed manual transmission, and modifications are reportedly limited to a Euro 3-spoke sport steering wheel. This E36 3/4/5 shows 48k miles and is offered with a car cover, trickle charger, records dating to 2000, Carfax and AutoCheck reports, and a clean Virginia title in the seller's name.

Estoril Blue paint is shown up close in the photo gallery below, and the seller states that the rear bumper was repaired or resprayed in 2001 according to records. Cosmetic flaws include nicks and scratches, failing clear coat on the lower front lip, cracks in the door handle gaskets, and missing pieces of rubber from the edges of both door sill covers. The seller had 3M Crystalline CR90 film applied to the windows and windshield in November 2017.

This E36 M3 is equipped with factory 17″ wheels which were mounted with four new Michelin Pilot Super Sport tires in October 2017 as seen in an invoice below. A new Riken tire was mounted on the full-sized spare in October 2017.

The cabin has reportedly been kept stock aside from a Euro steering wheel installed in 2014, and the dual powered front seats are shown in detail in the gallery. A new clock spring and slip ring were installed with the steering wheel. Factory floor mats were installed in November 2017, and a new headliner was recently fitted by Lim's Upholstery in Chantilly, Virginia.

An exterior/interior walk-around video can be viewed above.

The digital odometer shows just over 48k miles, approximately 2,000 of which have been added by the seller's father in 2018.

The 3.2-liter S52 inline-six is paired with a 5-speed manual transmission. Records include those from 2000-2003 while the car was under CPO warranty as well as invoices since the seller's purchase in 2007, with the second owner reportedly maintained the car himself in the interim. Work performed by independent specialist Orr Autosport of Minnetonka, Minnesota in 2017 included installation of a new power steering hose, belts, pulleys, and brake light switch as well as an oil change.

A cold-start video can be viewed above.

The seller states that one of the power steering hoses was replaced just prior to this auction. Over 30 undercarriage photos are displayed in the gallery below, along with a number of service invoices. A video detailing the underside is provided above.

The accident-free Carfax shows five owners due to multiple registrations by the third owner according to the seller and included documentation. The AutoCheck shows an accident in November 2001 involving the left side, which may have resulted in the aforementioned repaired bumper.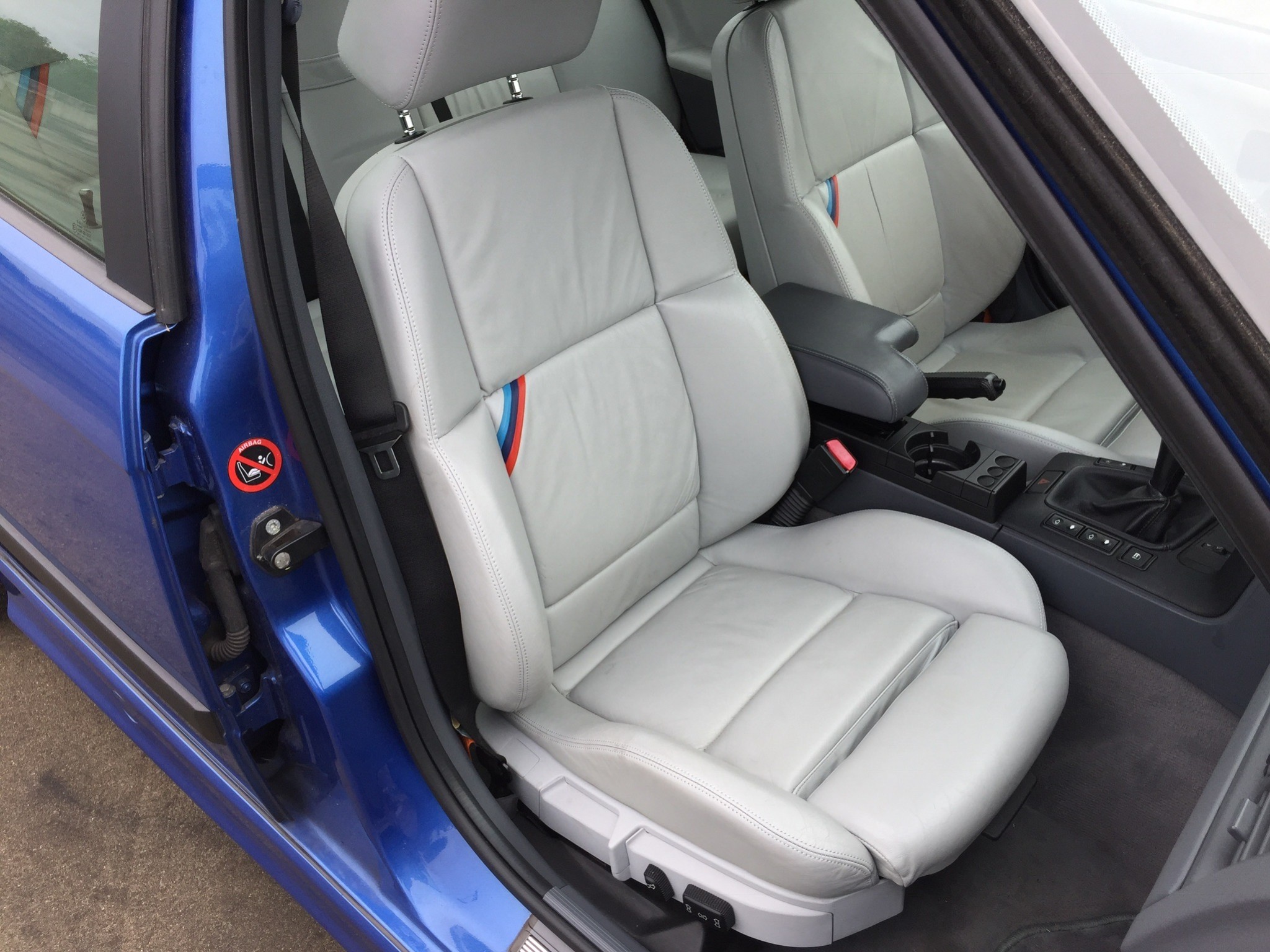 Two of the downfalls of the E36 M3 are build quality and rust. Higher mile examples that have lived in harsh climates often show the most wear and neglect, but that's obviously not the case here. The color combination is great, too – Estoril Blue is a beautiful color when properly presented and it looks great. The car is stock outside of the steering wheel which is a nice addition, and the DS2s look clean and wear premium tires. With a well documented history and in excellent overall shape, this is the sedan to get. Despite that, pricing remains very reasonable – so far bidding has just crested $12,000. A few nice 3/4/5s have hit $18,000 or more, but most trade between $10,000 and $14,000. A desirable color combination in great condition with lower miles, this chassis should trend towards the top of that market, but still that price represents quite a savings over an equivalent E30 or E46 model. I think whoever ends up with this car certainly won't regret it, and a nice E36 like this has nothing to apologize for.
-Carter