After a few missteps in my nearly 2 years of E28 M5 ownership, I recently found some kindred spirits who will hopefully be my mechanics for a while to come. Beyond being good guys who were willing to go through the car step by step with me, the head tech owns one himself and they have several devoted customers who rock the original M5. One was present when I showed up, and his 340k-mile, no-rebuild M5 with a completely redone interior in Cardinal; my mind was blown.
Today we have 3 M5s that are up on eBay right now. For better (for those who own them) or worse (for those who want them), E28 M5s are beginning to show signs of significant appreciation, as each example has clear imperfections but are all priced between $16k and $19.5k. It's a shame none of these sellers found it worth the time to take decent pictures, but the volume of cars and high prices are worth taking note of. With any of these M5s, records and a thorough PPI would be necessary, but with all signs pointing to fewer than a thousand of these lovely beasts left in the US, repairable imperfections can be overlooked if you decide, like I once did, that you must have one.
The first example is a rare (~70 in US, ~30 in Canada) black interior model. It comes with some interesting (if oversized) 19″ Panasport-type rims, desirable and brighter Euro headlights and grill, and a reasonable 142k miles. The reserve is still on with bidding well below the $18k asking price, which even with my personal investment in appreciation, is a bit high.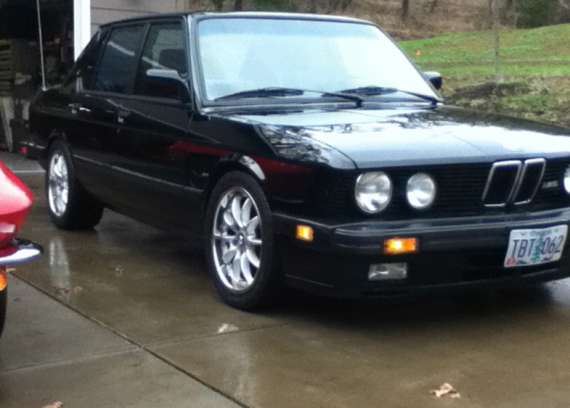 Year: 1988
Model: M5
Engine: 3.5l S38 inline-6
Transmission: 5-speed manual
Mileage: 142,000
Price: Reserve-on auction, $18k BIN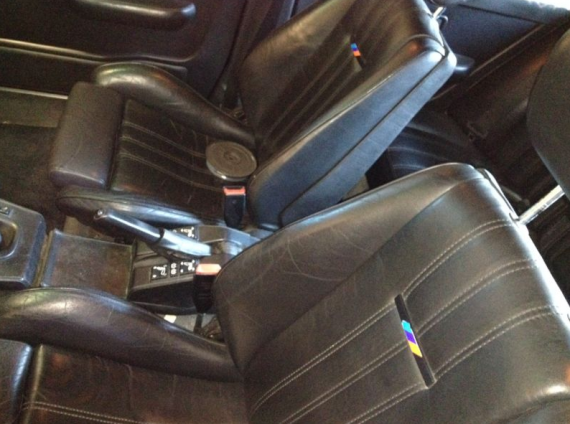 Rare black on black e28 m5 in excellent condition. This is a true sports car! One of the very few black on black m5's remaining. Has 142,000 miles. Engine is very strong, excellent paint (no rust or dents), and all fluids have been changed with Red Line Synthetic and Mobil Oil. A great deal of RO's are on hand. The car has aftermarket 19″ rims as well as the original rims that come along with the car. Bilstein shocks and springs, Moose Head engineering suspension, Good Year tires, headers with awesome sounding exhaust, upgraded m5 steering wheel, short shifter, and Alpine radio. New brakes with drilled front rotors, along with 5-series rear rotors, all new pads and fluid, new radiator and Euro headlights. Car comes with $2,000 worth of parts.This car really does turn on a dime and is a true joy to drive! This car is also listed on the BMW registry.
Next, we have an M5 that appears cleaner in its two pictures. With 155k miles and sitting on BBS RCs, this seller is looking for $19,500. As we're seeing, fair market value is in flux for these cars, but it's confusing that someone looking for "serious buyers only!" would ask so much without a proper description or pictures. Having the original wheels means you could recoup some of the purchase price from the expensive and unnecessary BBSs.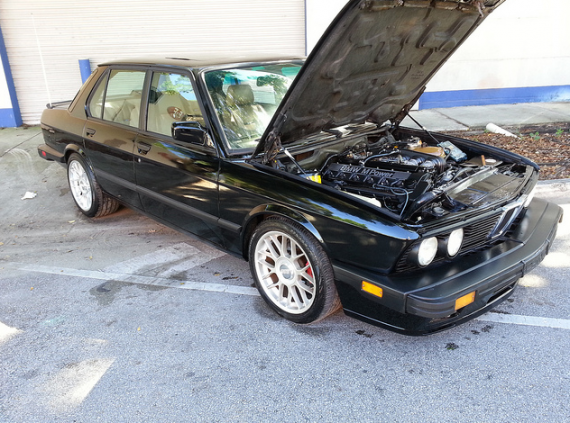 Year: 1988
Model: M5
Engine: 3.5l S38 inline-6
Transmission: 5-speed manual
Mileage: 155,000
Price: $19,500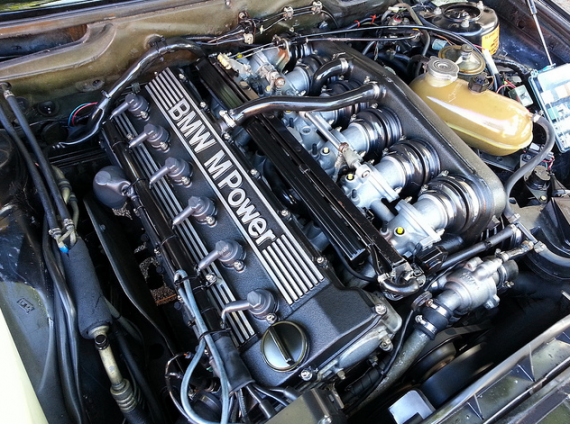 Black Exterior, Tan Interior
Strong Engine & Transmission
Original, Documented 155,000 Miles
Amazing Drive
Full Tune-Up Recently Done
Great Condition
Original Wheels Available
More Pictures Coming Soon!Serious Buyers Only!
Finally, and winning the award for foggiest pictures, is a 159k-mile example that appears well-used but not a heap. It has a few non-essential issues that can come with these cars (stuck window, declining sunroof, beat leather, etc.) but the owner has taken care of essential mechanical repairs. Aware of imperfections, the seller is asking the least of our three E28s, but $16k is still a pretty high number to me! Can you sense my surprised smile? Aside from the pictures, the largest detractions for me are cosmetic; the wheels and unspoiled trunklid do not work for me. Luckily, those can be rectified. For now, it's apparently a reasonable price to get into a functioning, decent E28 M5.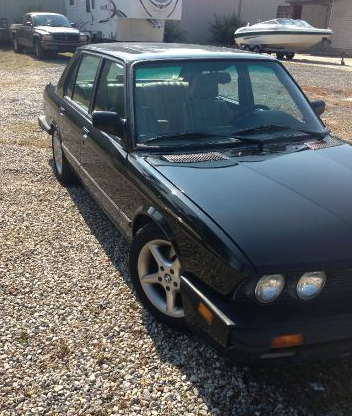 Year: 1988
Model: M5
Engine: 3.5l S38 inline-6
Transmission: 5-speed manual
Mileage: 159,000
Price: $15,999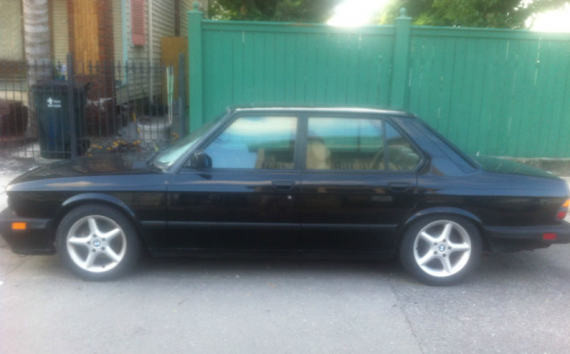 Rare 1988 BMW M5

It has the original Owners Handbook still.

Service history back to 2008. It has about 1/2 of the original tool kit.

It has not been sitting for over 2 weeks since I have owned it. I make sure to at least run it on the weekends. I use it as a daily driver when the weather is cooler. The AC works but the car doesn't cool very well in the summer months just by design. These weren't built with tropical climates in mind.

Power Sunroof. It works but seems like it is starting to fail. No leaks.

Heated seats still work very well. The leather was replaced on the seat cushions on both the front seats. Along with a lot of the trim leather in the Car. The backs of the front seats will probably need to be replaced in the next few years. But all other leather is in good to excellent shape.

I have the badges. I just prefer it with out the badges and rear spoiler so I took them off and replaced the trunk lid with a 535 truck lid. I sill have the original truck lid which will come with the car. I also have a fiberglass M5 European bumper If you are interested in doing that conversion yourself.

One of the original tires is in the Spare holder.

Here is what has been replaced in the last two years:

Front Hubs/wheel bearings

Urethane suspension bushings

Lowering springs and shock absorbers

740i control arm bushings

Fan Clutch

Starter

Paint

Breaks, Pads, Calipers.

Break Lines replaced with Stainless steel and bleed system.

Crankshaft sensor.

The Clutch

AC Compressor.

Speakers and Radio

All of the front and rear bumper trim.

Clean Mass Air Flow Unit/Sensor

Replace to Original Stock Exhaust System.

The car has been running and sounds great. Mechanically the car is sound. The body and paint are near perfect. I get a ton a compliments where I drive it.

The ugly is the Dash cracks and AC insulation blows through and needs to be replaced.
I have been waiting for cooler weather to pull off Dash and cover the cracks.
The back right window does not roll up and down.
I will admit significant partiality up front, but despite quite a few more miles and a rebuild, my M5 is at least as nice an overall package as any of these and was purchased for quite a bit less. Either the sellers are trying to ride that E30 M3-wave, or the tide is truly rising on these cars. For now, if you're interested in these, I'd start by offering quite a bit less than the asking prices and going from there.
-NR