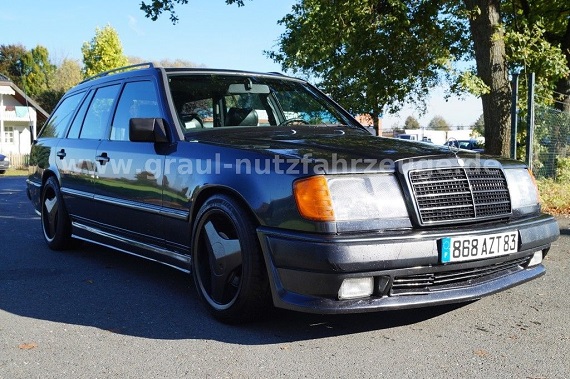 Last week around this time, I wrote up a 850 horsepower Brabus-modified E63 Estate. In the realm of nutty cars, it would be certainly barred from coming near any schools for fear of anaphylaxis of the entire student body. It was also the best part of a third of a million dollars, more money than most of America will ever dream of having at one time and even in New England, an amount that would get you a nice home. But in that post, our reader Craig posted a link to a much more affordable option; a W124 300TE Estate modified by Brabus for sale in Germany. Does it scratch the itch or do you need an EpiPen?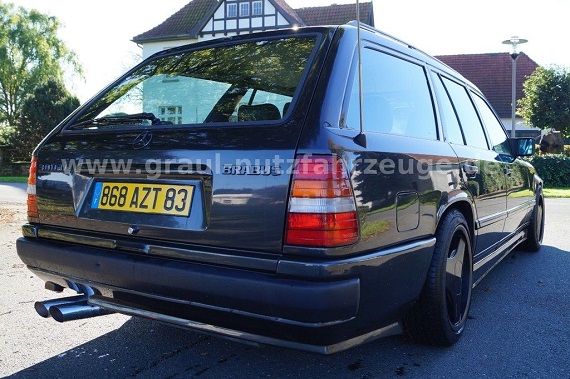 Year: 1989
Model: 300TE Brabus
Engine: 3.0 liter inline-6
Transmission: 5-speed manual
Mileage: 167,000 km (103,769 mi)
Price: E. 5,900 Buy It Now ($ 6,680 today)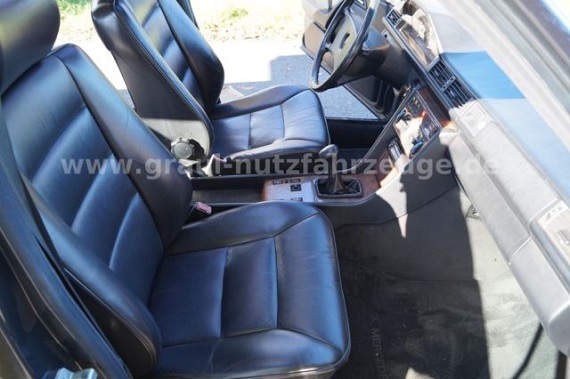 10/15

5900 EUR

VAT not included

Damage free

Wagon, used vehicle

EZ 07/1989

167,900 km

gasoline

132 kW ( 179 hp )

manual transmission

details
provider

Further technical data

displacement:
2960 cc
Number Of Seats:
5
Number of doors:
4/5 Doors
Emission class :
euros1
color:
black
Interior Features:
full leather
Interior Color :
black

equipment
interior decoration

Electr . Power windows
sunroof
power steering
Tuner / radio
Central locking

outside amenities

roof rails

Safety & Environment

ABS

vehicle description

Mercedes Benz 300TE

Brabus package

consisting of:

Wheels, suspension, exhausts , sills , bumpers

Black Leather

5 speed manual transmission

El . windows

El . sunroof

Stainless Exhaust

Further information on request

Subject to prior sale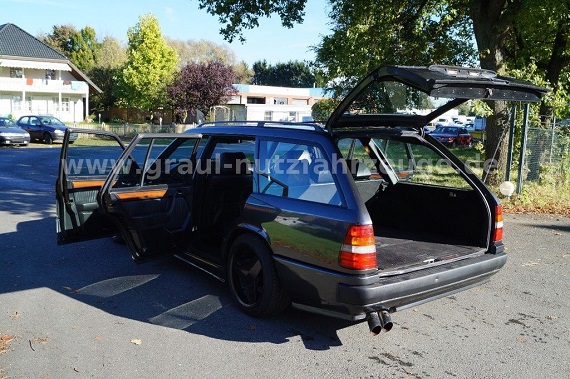 There's a lot to like here; the classic style of the W124 in this case looks great in double black. While I'm normally a hater of blacked-out wheels, in this case the look really works for me; it mimics the look of some of the early AMG models in all black with enough flare to stand apart. The Brabus aero-bits also suit the car well, in my opinion. Inside the interior looks great and the all-important third pedal is present; that's right, it's a 5-speed manual 300TE! On top of all of that, it's currently importable to the U.S. if you're feeling like you can't find a proper Estate here. The condition outside isn't perfect, but then the asking price isn't terribly outrageous all things considered – at just below $7,000, this is an affordable classic modified Benz with plenty of life left in it. It's not nearly as wild (or as fast) as the Brabus 850 from last week, but this is one that will keep you out of the sanitarium, and that's probably a good thing. Plus, it will cost you less than the gas the E63 will consume in a year, so it's even economical. Sort of.
Thanks to our reader Craig for a great spot!
-Carter