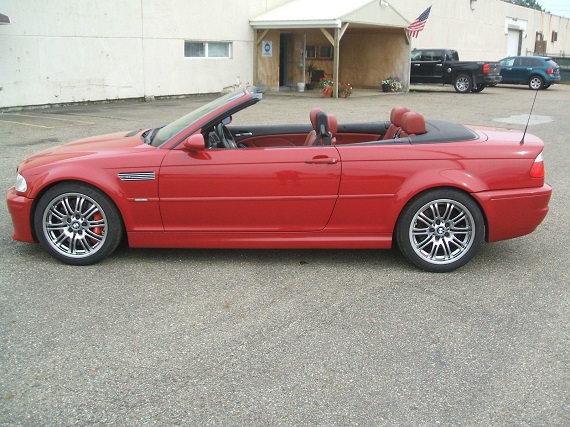 For someone who claims to "not get" fast convertibles, I've sure managed to post quite a few recently. This one particularly caught my eye first because of the color combination. Imola Red was on the short list of acceptable E46 M3 colors in my search, particularly so when equipped with Imola on the inside. Now, truth told the convertible configuration of this car would probably have turned me off from actually signing on the dotted line, but this car has a lot going for it including $28,000 worth of Dinan modifications. Let's take a look: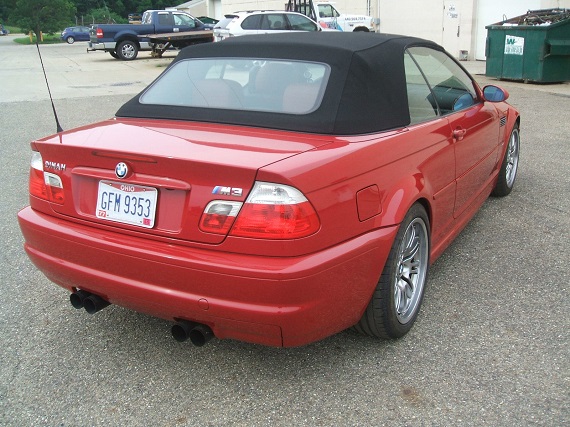 Year: 2001
Model: M3 Convertbile/Dinan S3
Engine: 3.2 liter supercharged inline-6
Transmission: 5-speed manual
Mileage: 96,000 mi
Price: $18,750 Buy It Now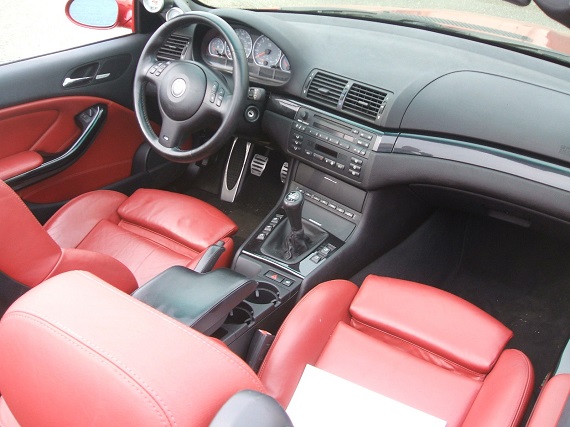 2001 BMW E46 M3 Convertible.

Dinan S3 package, including:
462hp intercooled supercharged engine
Dinan engine software
Dinan intake manifold incorporating liquid to air intercooler
Dinan free flow muffler
Dinan aluminum pedal covers
Dinan trunk badge
Dinan S3 serialized engine bay plaque.

Car also has:
Stoptech 6 piston front brakes
Brand new Clutch Masters clutch with new Luk flywheel.
Red angel eye lights
Upgraded speakers throughout.

Dinan modifications were performed around 65,000 miles by a shop in Tennessee. Car comes with original invoices for that work, totaling almost $28,000.

This car is as near to perfect as you can get.
Paint is beautiful with only a few small stone chips in the front. No dents, no rust, no scratches.
Convertible top is flawless in both condition and operation.
Engine runs perfectly. No warning lights, strange noises or behavioral issues.
Transmission shifts smoothly. Clutch engagement is positive and without issue.
Suspension is firm, no noises.
No fluid leaks.
Tires are Michelin Pilot Sports that are almost new.
Just passed emissions testing about 3 months ago.

I will take this car to any local repair facility for a pre-purchase inspection at your expense.

Car has been in Ohio for less than 2 years. Not driven in winter. Car came from Tennessee / North Carolina area.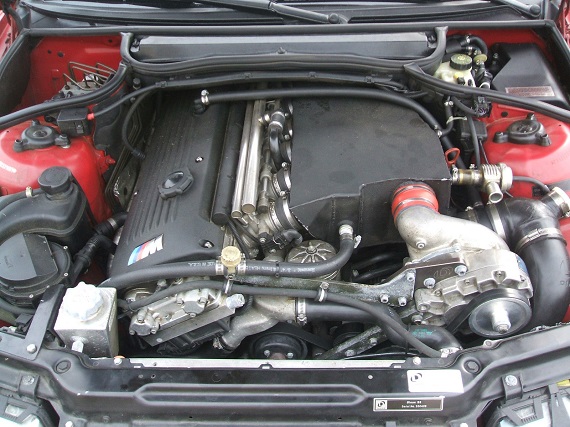 On top of the infrequent color combination of double Imola, the car appears to be in great condition. The Dinan modifications really take it over the top, adding 130 supercharged horsepower to the visual mix to get you seeing even more red. Miles are below average and condition is above average, plus all the upgrades (maybe outside of the red headlights?) are very tasteful and functional. Even the tires on the original shadownline Style 67s aren't budget replacements as is often the case downstream of the original owners, hinting at expensive and well-cared for maintenance. Price on the convertibles these days sits below similar coupes, and consequently this nicely outfit E46 is ready to trade hands just below $19,000. A lot of fast convertible for the money? It sure seems so, and with factory-backed mods from Dinan this should be a car that will suit the next top-down adventure nicely – and, quickly. If you want to hear the song of the S54, these days the E46 convertible is the cheapest way to do it.
-Carter