With all this talk about fast Audi wagons, where did this mayhem start? Right here. Even though the BMW M5 Touring arrived on the scene first, the Audi RS2 took the idea of a sports wagon and knocked it out of the park. Assembled at the same Porsche factory as the legendary Mercedes W124 500E/E500, this Audi 80 Avant on steroids offered impressive performance, even by today's standards. With 311 bhp on tap from the 2.2 liter, 20 valve five cylinder turbo engine, acceleration was, to put it mildly, brisk. Top speed was 166 mph and Autocar magazine tested an RS2 and found that 0-30 mph took 1.5 seconds, which bested the McLaren F1. All this power was harnessed by a 6-speed manual transmission and put to the ground via Audi's renowned Quattro four-wheel drive system.
While sold in relatively few markets, the RS2 has become a cult car around the world and is valued accordingly. This RS2 for sale in Portugal is a Quattro lover's dream in RS Blue with just over 50,000 miles.
Year: 1995
Model: RS2 Avant
Engine: 2.2 liter turbocharged inline five
Transmission: 6-speed manual
Mileage: 85,000 km (~ 56,420 miles)
Price: €20,000 (~ $25,966 USD)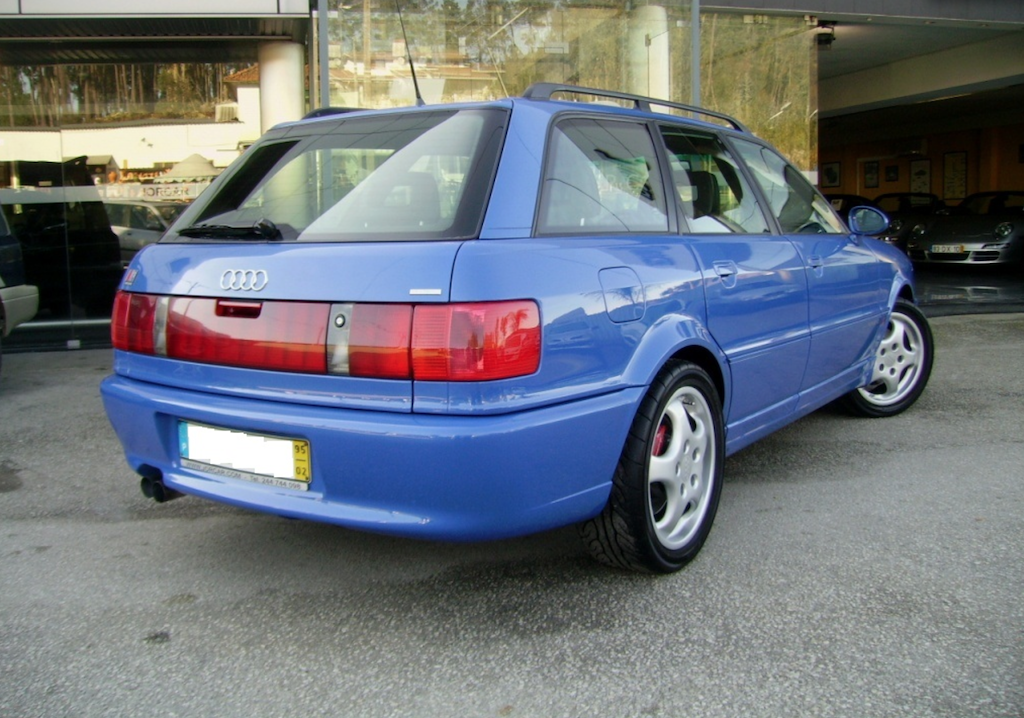 Car in excellent condition, totally original. It has only 85,000 km, always well maintained, noting that it is a limited edition of 2,200 units, it was born of a partnership between Audi and Porsche, the first version Audi RS.

6-speed manual gearbox
Recaro sports seats
cruise control
climatronic
sunroof
Every day, I sit at my desk at home and longingly gaze at the 1:18 scale model of this very Audi, in this exact color. Of all the cars I wax poetic about here on GCFSB, this is one of my two favorite cars that I could see spending the rest of my life with (the other being a 911 Carrera 3.2). Those RS enthusiasts in the US will have to wait another six years to get their hands on one of these, but there are a few knocking around up in Canada, as they have a less restrictive 15 year importation rule.
I'm heading to Portugal on vacation in less than two weeks. For the back half of my trip, I will be be driving from the northern part of the country, where my family is from, to Lisbon. Leiria is a town that is about halfway into that journey, roughly 20 kilometers off the coast and not too far from the IP1 super highway. If I have spare time that day, I may have to make a quick stop to try and snag a test drive. They say you should never meet your heroes. But for some reason, I know that once I get behind the wheel of this thing, I'll be exhausting all my brain power in an effort to figure out a way to make it mine.
-Paul