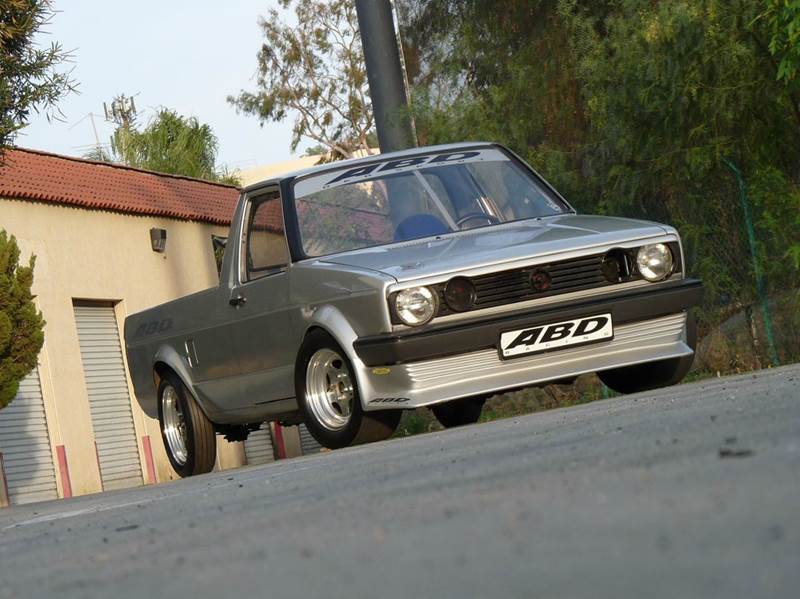 Way back in time, before the proliferation of Instagram, Twitter and Facebook – indeed, before the Internet really got off its feet at all, dreams were made not with by-the-minute browser refreshes eagerly anticipating the next clever comment or picture of someone eating an avocado. If you weren't actually traveling the automotive scene, you were totally reliant on your monthly delivery of new automobile magazines. In high school, I had at one point four different subscriptions and poured over the details of every single car that graced the pages of what was my Bible. But it was in the mid 1990s that I stumbled across a magazine that really spoke to me much more than the BMW-loving Car and Driver or the fairly vanilla Automobile; I found a copy of European Car. It was a complete revelation to me, to see the cars that not only I dreamt about but could actually afford parts for. Nearly as good, if not perhaps better, than the feature articles were the advertisements. The "Dr. Feelgood"s of the European tuner scene, companies like Techtonics Tuning and Total Audi Performance spoke to my specific needs in ways that the mainstream magazines couldn't. And within those advertisements, one particular company became something of a legend among a small group of friends who all shared the enthusiasm for Volkswagens. That company was AutoBahn Designs, better known as ABD Racing – and what they had created was an absolute monster. In the days before the ubiquitous VR-swap for VWs, dropping a 16V into the nose of your car was about as hot as you could get. But ABD took that recipe to the next level with a custom-built 2.1 16V with massive compression and side-draft carburetors. But it was really what they put it in that set them apart, as ABD chose a Caddy for the massive build. The result, stripped out, painted up and dominating the import drag scene, still gives me goose bumps when I see it all these years later: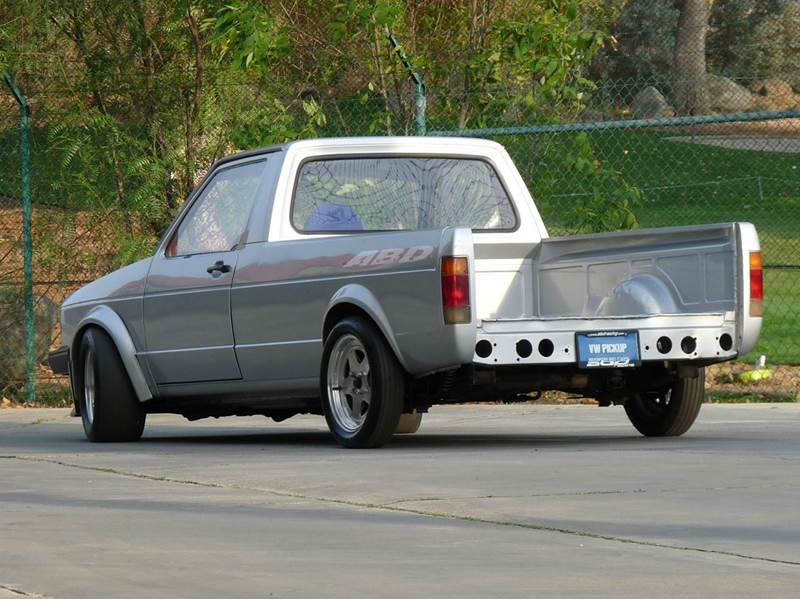 Year: 1980
Model: Rabbit Pickup
Engine: 2.1 liter inline-4
Transmission: 5-speed manual
Mileage: Not Listed
Price: Reserve Auction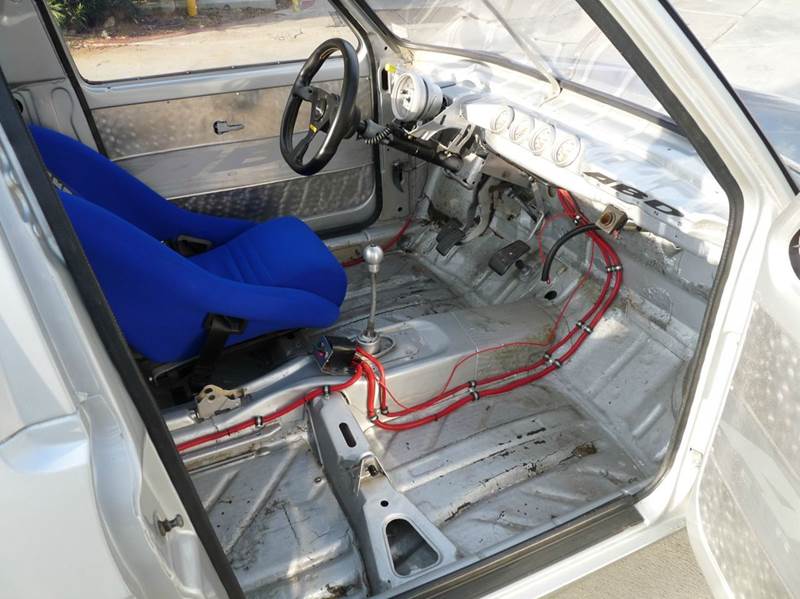 A rare opportunity to own an iconic VW drag pickup built by AutoBahn Designs better known as ABD. Featured in many magazines around the world, and not often seen, is a naturally aspirated 1980 VW "Caddy" Pickup that is running 12 second quarter miles!

Features:

– Techtonics tuned 2.1L 16v engine
– 300 degree Techtonics hydro lifter camshafts
– Techtonics ported & polished head
– Techtonics custom made pistons with 14:1 compression
– Custom fabricated header and exhaust. The exhaust is an expansion chamber design that goes from 2.5″ to a 4″ outlet without any sharp inside edges.
– Dual Solex 48mm side draft carburetors mounted on extra long manifolds
– ABD Racing 8mm silicone plug wires
– ABD Racing rear adjustable shackles
– ABD Racing urethane front motor mount & side inserts
– ABD Racing short shift kit
– ABD Racing Power shifter
– ABD Racing upper & lower stress bars in the front
– ABD Racing front spoiler
– ABD Racing grille spoiler
– ABD Racing body kit fender flares
– MK1 Jetta Euro front bumper
– Motorsport rear mount
– Audi fox radiator (shortened)
– Stock Volkswagen GTI gearbox with a 4.93 ring & pinion
– Quaife differential
– K C Tool 3-puck clutch disc
– Rev Power lightened C.V. joint
– Quick Power release battery terminals
– Bogart wheels 13×7 front and 15×3.5 rear
– Drilled front rotors with Metal Master pads
– ABD stainless braided lines
– M&H dragmaster tires – slicks in front, ribbed in rear
– Cobra Clubman sport seat
– Schroth Rallye IV harness
– Full Autometer ultra-lite instrument gauges
– MOMO F1 steering wheel
– MOMO Carbon Fiber pedal covers
– Carrera coil over front struts
– Carrera coil assist rear shocks
– Axle flipped new pads welded
– Electromotive XDi Direct Ignition System
– Permanently riveted Lexan windows all the way around

****NOTE: Vehicle sold on Bill of Sale ONLY. Not legal for street use.****

Please do your due diligence or inspection prior to end of auction. If unsure of something, please ask. Do not assume anything. Please have funds or financing in place prior to end of auction. Buyer is responsible for making arrangements for shipping and for all shipping costs. A non-refundable $500.00 deposit is due immediately. The remainder is due within 7 days of auction end. If no contact is made within 24 hours we reserve the right to re-list the vehicle or sell it to the next high bidder. Vehicle being sold locally. I have the right to end the auction early. This vehicle is being sold as is, where is with no warranty, expressed written or implied. California residents add local government fees, license fees, taxes and documentation fees. A standard $65 documentation fee will be added to final selling price.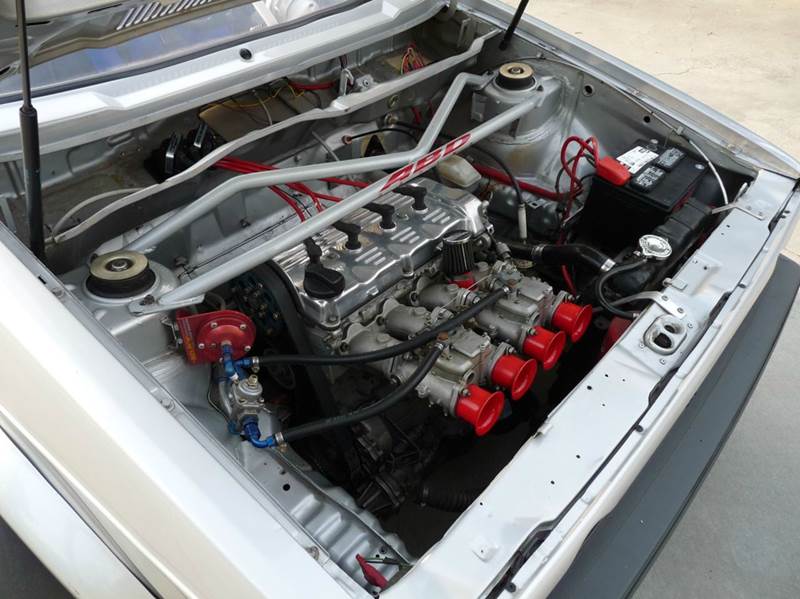 While turbocharging was the easy path to speed then and now, this was an old-school hot rod build that is just awesome to see. The details are lovely in a race-car sort of way. In my continuing line of "does this vehicle make sense", this might be the the poster child. Limited use? You better believe it, since it's set up to do only one thing – go fast a quarter mile at a time. But 12 seconds from a Rabbit? Consider for a moment that the original GTi was considered pretty quick, but Road and Track recorded a 17.7 quarter mile time for it. 12 seconds may not impressive the Lamborghini and Corvette crowd, but this bad ass Caddy is still a VW legend no matter how you slice it.
-Carter