Following on to the E320 Estate we featured not long ago, here's that car's open roofed sibling, the E320 Cabriolet. With exception of the 500E/E500 which was sold from 1992-1994 in the US, this particular W124 variant is the Mercedes that holds its value best of that mid 1990s era. Even comparable SLs have a hard time bringing the same kind of numbers. This particular car for sale in Georgia is unreal. It appears to have been stashed away in a collection, racking up just under 6,000 miles. While it's fairly easy to find these cars with around 20,000 to 30,000 miles, I've seen very few under the 10,000 mark. This, then, is quite the unique opportunity.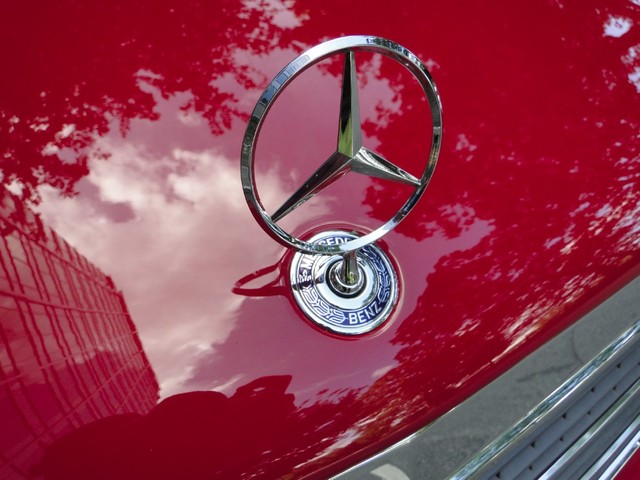 A 1995 Mercedes-Benz E320 Cabriolet with only 5k miles. This beautiful E320 is Imperial Red over Parchment hides. This hand crafted W124 Mercedes is in museum collector condition. The paint is perfect, no chips or scratches and all original. The wheels are perfect and have never been repaired or painted. The interior is flawless with no wear. The tires are completely brand new including the spare. The spare was replaced with a new tire as well due to time. All the service is up to date including a brand new battery. This stunning cabriolet is a one owner vehicle and was purchased new on September 6, 1995 by the original owner and then later transferred ownership to his spouse. All paperwork including original MSO from 1995 comes with the vehicle. It is mechanically sound and would be great for a collection or daily driver. This E320 is the finest example of all original E320 we have ever seen.
This car transports me right back to 1995. The engine bay is spotless, there is no visible wear on the seats or leather wrapped steering wheel and the paint has such depth it looks like you could dive right in. While nothing substitutes for inspecting a car in person, this E320 appears to be the nicest example I've seen since I was back in high school and these things were still rolling out of the factory. The price, however, almost made me shed a tear. The best E320 Cabriolet these days may sell in the low $30,000 territory. Cresting $40,000 is pushing the envelope. Or is it? Personally, if I was in the position to do so and could grab this car for around $35,000, I'd pull the trigger. Why? Consider the current E Class Cabriolet. While it may come with a warranty and be more advanced technically speaking, it starts at over $57,000. And honestly, for that money, it can't match the timelessness and old school quality of the 1995 model.
-Paul