Like many enthusiasts, I've spent most of my life believing that convertibles are exclusively for hairdressers, midlife-crisisers, and the ignorant. Why would you sacrifice structural rigidity for some sunshine and windblown hair? Well, some seat time in a Z8 and a Miata (polar opposites as they may be) opened my mind about the open-top. If I could only have one car, it would never be a convertible, but if I could have a few, it might be ok to eschew lateral stiffness for some old-fashioned fun.
Case in point, today's E30 M3 Cabriolet replica. Quick disclaimer: yes it's a replica, but read the ad or check out the 48 page forum thread; it's an extremely well done replica. No, it won't be the track day star that an M3 coupe would be, but can you imagine how much fun it would be to bomb up a winding highway in this thing on a sunny day?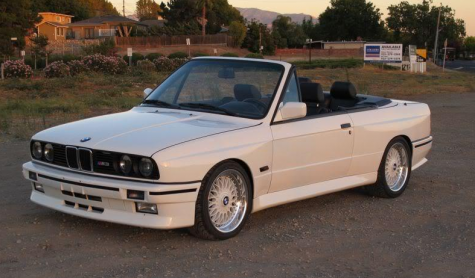 A most thorough from the creator/seller:
Up for an auction is my 1989 BMW M3 cabriolet replica. This is not like those look-a-like M3 replicas that you have seen on eBay or around. This project took me about 1.5 years to complete with "ABSOLUTLY NO-SHORTCUT OR EXPENSE SPARED " approach. You have to see my car in person to appreciate the work I put into it. I spent about $50000 on this project.

The donor vehicle:
1989 BMW 325ic in Alpine White II/black leather interior, w/ only 87k miles.

Unlike most people who start such projects using a banged up or salvage donor, I wanted to do this project the right way. My idea of right way was to use a clean E30 325i convertible as a donor, so there would be no issue of body panels not lining up.

This 325ic was never involved in any accidents. The paint was original and all VIN# stickers were present (on the doors, fenders, quarter panels, hood and the trunk) before the start of the project. The car was so clean and nice that I really had a hard time to give the go ahead to the body shop. After all, it was a very nice and clean 325ic that is hard to find in that condition.

The Facility:
As I mentioned above, I wanted to do this project the right way and the right way always cost more. The body and paintwork was done at BMW Authorized Collision Center. In fact, the work was done just like factory and the BMW representative had to sign off on the work. They even ordered the original door jam VIN sticker from the factory and reattached it to the door jam.
The body shop guy who did the work had over 20 years of experience of working on BMW cars, especially the older BMWs such as E30.

The Parts:
Again, unlike the other E30 M3 cabrio projects, I decided to use brand new original European E30 M3 cabrio parts, except for the hood, the interior, the headlights, the suspension (US m3 suspension was used) and some other minor parts.

For example, I could have used the US M3 coupe fenders but these fenders are not a direct fit and they have to be modified. Or I could have used US M3 coupe bumpers but I choose to use brand new original European M3 bumpers because I didn't want to bondo the side turn signal holes that are not in the Euro bumpers.

I also used the pictures and measurements from an original E30 M3 cabriolet that belonged to one of the forum members to replicate the door panels, consoles and the seats.

Bodywork: (everything were new unless stated otherwise)
E30 M3 cabriolet fenders, doors, quarter panels, bumpers (front bumper is from Euro Evo M3), side skirts, door sills, emergency brake lever, Euro grills, under carriage plastic covers (used from US M3 since they are NLA), etc.

Suspension:
US E30 M3 5 log suspension parts, modified by ground control into coil over with 450lbs front spring, 900Lbs rear springs, Koni adjustable shocks, Racing Dynamics Strut tower brace, cross brace, E36 M3 steering rack, front camber plates with the rear camber/toe adjustment. The handling is unbelievable! Even though I used 900 lbs springs in the back, the car is not bumpy. The handling is very tight and the car sticks to the road better than new BMWs.

Drive train and exhaust system.
US M3 S50 OBD-I engine with approx. 75K miles, E30 M3 drive shaft, new E34 M5 clutch, Dinan E36 M3 lightened flywheel, 3:25 LSD differential, new Z3 M coupe differential cover, new E36 M3 exhaust from Rouge Engineering with OEM E36 M3 catalytic converter (passes CA smog with no problem!). The motor swap was done properly and I had it certified by the State Of California inspection facility. The car can be taken to any smog facility and get it smoged because it has the state certification sticker in the door jam.

Sound System:
Alpine component speakers, Clarion FZ709 button-less touch sensitive head unit (for clean look) with bluetooth audio streaming, ipod/iphone connection, Sound Stream 5 channel amplifier and 2 x JL Audio subwoofer.

Interior:
All leather interior, including the seats, consoles, door panels with shift knob. New OEM heated seats heating elements.

Misc.:
New AC compressor, custom AC hoses, custom made pedals, US M3 instrument panel with the original odometer swapped into it (the mileage is original), new OEM Evo M3 steering wheel, custom painted E39 BBS wheels with chrome rivets, German computer and overhead panel. High end Cliford Alarm system with windows modules (one touch up and down), tilt and proximity sensor.

Things that need attention: ( I have been very busy lately, otherwise I would have taken care of these minor issues. I may still take care of them if I get the chance around my busy schedule)

-The ground control suspension is known for squeaks and suspension noises so there are some noises from the suspension at low speeds.
-Instrument panel backlight comes and goes. It sometimes needs couple of tap to make it illuminate
-There is a rattle in the right door
-The top is original BMW top and in very good condition except for the rear windows that needs to be replaced. I have always driven the car with top down so it never bothered me but it is a reletively sheap fix since the rear window is zippered into the top so it is not that hard to replace it.
Apparently I'm not alone in thinking this car is pretty kickass, as 19 bidders have driven the price up to $27k with over 6 days left. It is without question the best-looking 3-series convertible I've ever seen, has been done beyond properly, and has less than 100k miles. I'd have to be a much richer man to think of dropping $30-40k here, but if I were adding a convertible to the stable, it'd be hard to think of a better choice than this one.
-NR