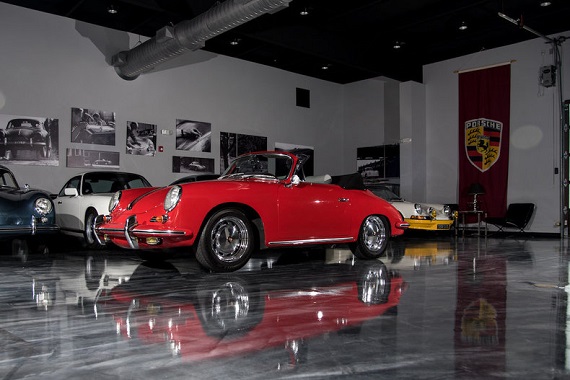 Some cars just kind of smack me in the face with their beauty. Porsche's 356 Cabriolet almost always is one of those cars. They possess a beauty that is very hard to find in modern machinery, while also showcasing the charm of a vintage automobile. The 356 Coupe calls to mind much more the shape of the 911, if a slightly overweight version (though it's not overweight at all). They have a somewhat bulbous look. However, chop the top and suddenly the 356 is transformed into a lithe and elegant automobile that promises to treat you to the best of open-top cruising. It's no wonder that the 356 Speedster was so initially popular for its combination of open-top appeal with a pared-down structure best suited to weekend racers. The 356 Cabriolet brings with it the usual refinements that the Speedster did without, but we still get a fairly simple machine with graceful lines and, in this case, a beautiful and vibrant red paint. The example here comes from just toward the end of the model's production: a 1965 Porsche 356SC Cabriolet, located in North Carolina, with a reported 63,020 miles on it.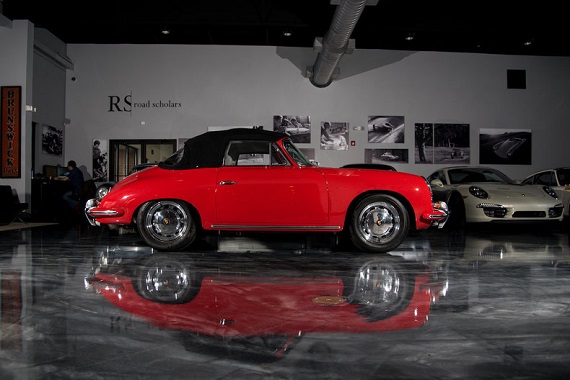 Year: 1965
Model: 356SC Cabriolet
Engine: 1.6 liter flat-4
Transmission: 4-speed manual
Mileage: 63,020 mi
Price: $165,000 Buy It Now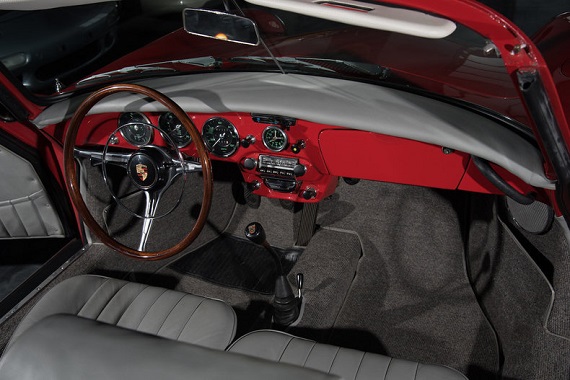 We first crossed paths with this SC Cabriolet in early 2008 in a Seattle suburb from a long time 356 collector. I was purchasing my 356 SC coupe from Tom when his other 356's came into the conversation. Tom told me he had purchased this Red SC Cabriolet from a local doctor on Mercer Island who used it as his sunny day car through the late 1990's.

The 20+ year old red paint remains very good with little road wear to show for its seasonal drives. As we all know the sun doesn't shine much of the year in the Seattle area so it was used sparingly. Tom had owned the car for more than ten years and had the interior redone for a summer drive with his wife to Vancouver, BC. Tom lamented about his interior guy having to sleep at the shop for a few nights to get it done on time for the trip. The leather seats and carpets have been hand sewn and fitted with the finest materials: English leather and German square weave carpets. He also added a wooden steering wheel at the time.

We purchased the car from Tom in 2011 and instantly sold it to a good client in Whistler, BC where it has remained garaged since. This SC has been used on nice days and gets parked for the long winters up on the mountain. We have been calling our previous clients trying to get a few of our exceptional cars back and were lucky enough to buy this 356 SC.

The Cabriolet is tuned up and ready for that daily commute or weekend drive. As I recall, all the engine and transmission numbers match as do the visible panels (haven't checked the doors) and pans are original. This is an excellent 356 SC Cabriolet with its original trim pieces and toolkit accounted for. It is a rare find and will make its new owner very happy indeed.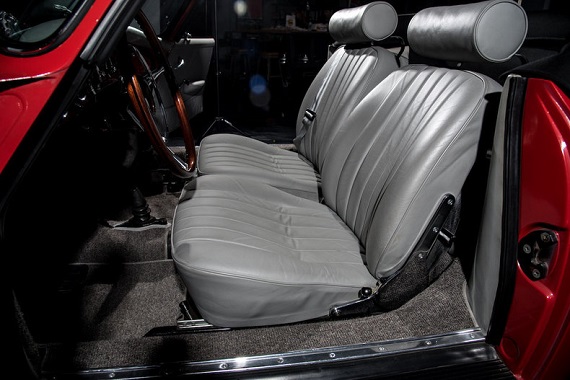 It should go without saying that I think this 356 presents well since I do think it looks fantastic. The lighting and/or editing of the photography is doing a good deal of the leg work here as it really helps that bright red paint stand out and attract attention. Under normal lighting conditions we may not notice quite the pop. To support this sort of asking price we are definitely in need of documentation of its history and originality and even then it may be priced too high, but at least we can entertain the price. I haven't seen the market for the 356 make too many adjustments of late, as the 911 market seems to have done, so it seems for the most part these have become fairly stable. It's a good deal of money, but it's likely to command quite a bit of attention and affection.
-Rob