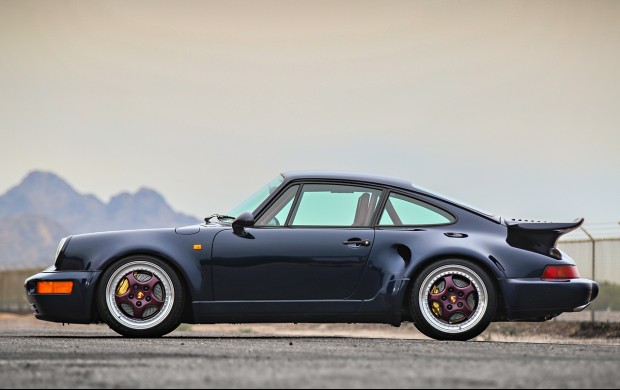 During my time writing about 911s I'm sure I've stated that quite a few different models might be my favorite. At one time or another certain cars always strike me and remind me of what it is that I love so much about them. Each model has its strengths and pulls at my imagination in varying ways.
Let it be known that this is my actual favorite model: the 1993 Porsche 911 Turbo S Leichtbau (lightweight). It's the GT2 before the GT2 existed: a stripped out, higher horsepower, version of the standard 911 Turbo produced in limited numbers. Unlike the later '94 Turbo S this one is based off of the 964's original 3.3 liter turbocharged flat-6 and produces 381 hp, an increase of 61 hp over the standard Turbo. Weight savings stripped out nearly 430 pounds.
Visually the Turbo S is distinguished by its unique rear spoiler, Speedline wheels, and rear air inlets. There were 86 in total produced, with 67 of those coming in left-hand drive. The one we see here is even further distinguished by utilizing custom coloring throughout and it sits with a scant 95 km on the clock. Needless to say, this is a very rare opportunity to purchase one of the very rarest high-performance Porsches. It will be up for auction March 9 at the Gooding & Company Amelia Island auctions.