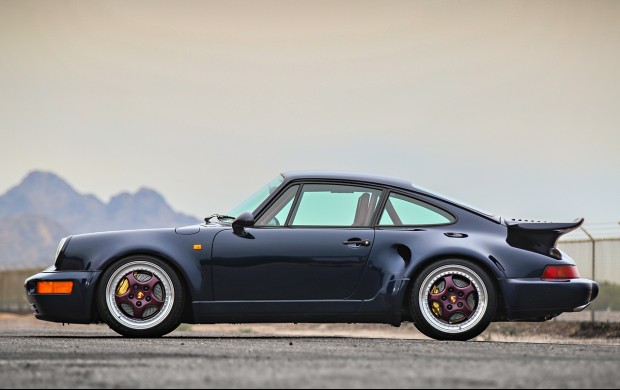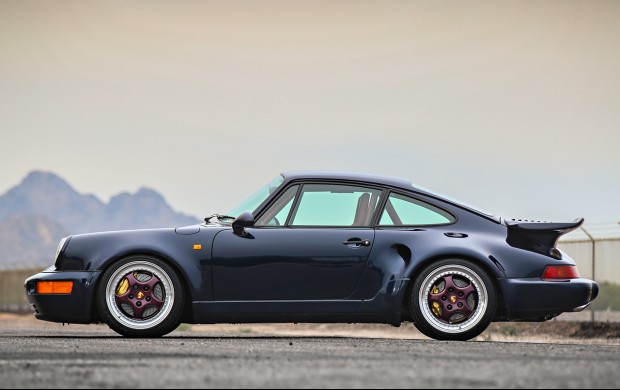 During my time writing about 911s I'm sure I've stated that quite a few different models might be my favorite. At one time or another certain cars always strike me and remind me of what it is that I love so much about them. Each model has its strengths and pulls at my imagination in varying ways.
Let it be known that this is my actual favorite model: the 1993 Porsche 911 Turbo S Leichtbau (lightweight). It's the GT2 before the GT2 existed: a stripped out, higher horsepower, version of the standard 911 Turbo produced in limited numbers. Unlike the later '94 Turbo S this one is based off of the 964's original 3.3 liter turbocharged flat-6 and produces 381 hp, an increase of 61 hp over the standard Turbo. Weight savings stripped out nearly 430 pounds.
Visually the Turbo S is distinguished by its unique rear spoiler, Speedline wheels, and rear air inlets. There were 86 in total produced, with 67 of those coming in left-hand drive. The one we see here is even further distinguished by utilizing custom coloring throughout and it sits with a scant 95 km on the clock. Needless to say, this is a very rare opportunity to purchase one of the very rarest high-performance Porsches. It will be up for auction March 9 at the Gooding & Company Amelia Island auctions.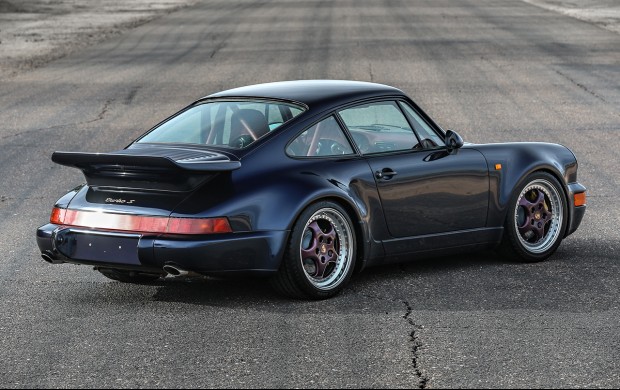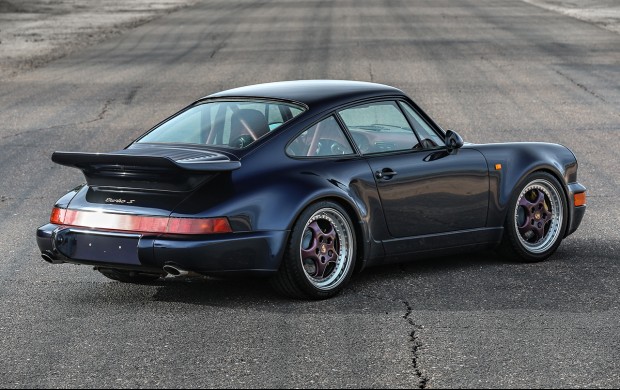 Year: 1993
Model: 911 Turbo S
Engine: 3.3 liter turbocharged flat-6
Transmission: 5-speed manual
Mileage: 95 km (59 mi)
Price: Reserve Auction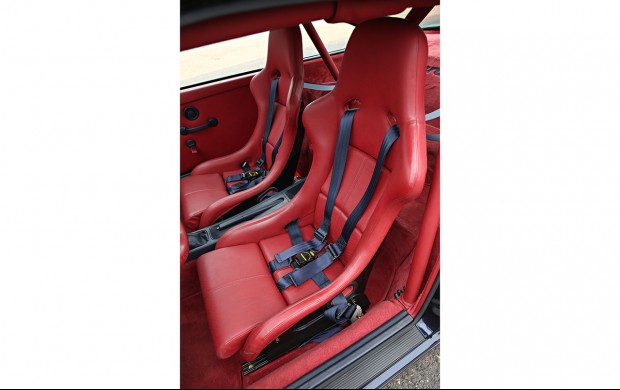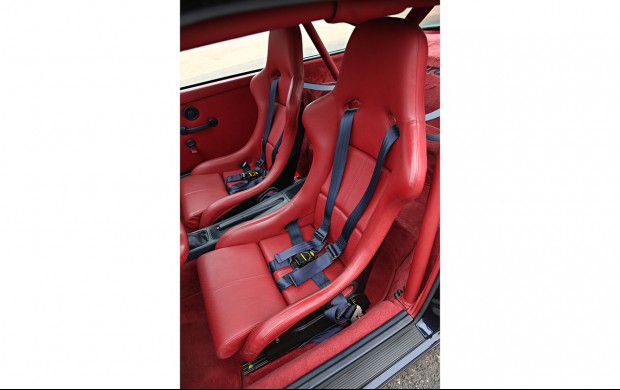 PROVENANCE
Private Collection, UK (acquired new in 1993)
Current Owner (acquired from the above)

LITERATURE
Andreas Gabriel, Porsche 911 Turbo: Air Cooled Years, 1975–1998, model discussed on pp. 130–133

THIS CAR
In January 1992, Rolf Sprenger, head of Porsche's Exclusive department, issued a memo to the board of directors regarding a bold new project – a lightweight 911 Turbo. Never before had Porsche offered a lightweight turbo model, yet Sprenger believed that a market existed for a 911 that combined the straight-line performance of the Turbo with the raw, uncompromising character of the Carrera RS.

That March, at the Geneva Auto Show, Porsche presented its latest creation. The 964 Turbo S Leichtbau (TSL), as it came to be known, was based on the Brumos Racing Turbo S2 with which Hurley Haywood won IMSA Supercar Championships in 1991 and 1992. The influence of Porsche's Motorsport department was evident in the Leichtbau, which employed weight-saving measures used in the Carrera RS. In the process of creating a lightweight Turbo, Porsche avoided excessive sound-deadening and undercoating, and eliminated conveniences such as power windows, power steering, air-conditioning, and rear seats. Fiberglass-reinforced carbon composite materials were used for the doors, front lid, and rear spoiler, while thin glass, bucket seats, and RS door panels rounded out the package. The Leichtbau weighed just 2,844 lbs., about 430 lbs. less than a standard Turbo.

Beyond these changes, the Turbo S was lowered 40 mm, the suspension was tuned to Carrera RS settings, and an aluminum front brace was installed to provide stable handling. The new Porsche also benefited from a reinforced, seam-welded body shell, upgraded brakes, and 18″ Speedline modular wheels wearing Dunlop Sport ZR-rated tires.

At the heart of the Turbo S was the Type M30/69 SL engine, designed to provide even more power than Porsche's optional X33 engine. Aggressive camshafts, new fuel injectors, and greater boost pressure increased power, while unnecessary ancillary components were removed for efficiency. The Turbo S produced 381 bhp at 6,000 rpm – a gain of 61 hp over the already-potent 3.3 Turbo. To distinguish the new model, Porsche painted the engine's air filter and intercooler housings Guards Red.

Visually, the Leichtbau stood apart from the standard Turbo with its 959-style fender vents, unique rear spoiler, and front bumper intakes, which directed air to the oil cooler and front brakes. A full range of colors and equipment was available through the Exclusive department, and customers could personalize the Turbo S with myriad options, creating bespoke 911-based supercars.

In total, Porsche built 86 examples of the Turbo S, all completed between July and November 1992. Of these, just 67 were specified in left-hand drive, with German customers placing the majority of orders. Like the 964 Carrera RS, the Leichtbau was not offered for sale in the US. It maintains an important place in the company's history as the first model built entirely under the auspices of Porsche's Motorsport and Exclusive departments. A testament to its enduring influence, a Leichtbau was among a limited number of cars selected to take part in the Porsche Museum's exhibit commemorating the 25th anniversary of the Exclusive department.

The Leichtbau presented here is not only the finest example of this rare breed, but also the perfect expression of a bespoke Porsche supercar. This Turbo S possesses a remarkable provenance, as it is one of four examples built to an exacting custom order for one of Porsche's top clients – a prominent collector with a passion for one-of-a-kind, coachbuilt sports cars. As this discerning gentleman maintained residences in several countries, he specified two Leichtbaus in left-hand drive and two in right-hand drive. All four cars were equipped with full red leather upholstery, leather-wrapped Matter roll cages, lightweight bucket seats with Schroth racing harnesses, three-spoke motor sport steering wheels, mounted fire extinguishers, Amethyst Metallic wheel centers, and gold brake calipers.

The car offered here, chassis 479011, was completed on July 16, 1992, and finished in the attractive color of Midnight Blue Metallic (code F8). While noted as a standard Porsche paint color this car has been compared to other Midnight Blue Metallic 964s, and the finish appears to be unique to this car, suggesting that it may have been specially mixed at the customer's request.

Inside, the car was uniquely trimmed in elegant, Bordeaux leather, whereas the three other cars ordered were upholstered in bright Flamenco Red leather. Notably, the buyer requested that nearly every interior surface be trimmed in matching leather – including the gauges, air vents, switches, knobs, and signal stalks. Even the Porsche key fob was custom-tailored in leather to match the interior. The result is truly stunning, surely one of the most distinctive and appealing interiors ever in a Porsche road car.

After being delivered to its original owner, this one-off Turbo S remained a fixture in his collection for over two decades, during which time it was rarely driven, accumulating little more than the delivery mileage. The consignor, a collector with a passion for the finest limited-production Porsches, acquired the Turbo S directly from its first owner, and it has been carefully preserved since.

Today, the Leichtbau remains in exceptional condition in all respects, with less than 95 km (59 miles) on the odometer at the time of cataloguing. The consignor, who has owned several limited-production 964s, reports that this car is completely original and unmodified, retaining factory finishes throughout. To ensure the car remained in healthy mechanical order, the consignor entrusted it to a marque specialist in early 2015 for work that included a complete fluid and filter replacement, fuel and hydraulic system service, and new items such as seals, spark plugs, hood struts, and a battery. Since this service was carried out, the Turbo S has not been driven – rather it has been carefully stored in a climate-controlled facility and meticulously detailed to concours standards.

Consistent with its overall condition, this Porsche is accompanied by the factory-issued owner's folio – with all original books and manuals – as well as both sets of keys, tool roll, and factory spare. Additionally, the car is offered with a Certificate of Authenticity, recent service records, and literature relating to the model and its accessories.

Combining the very best qualities of the Turbo and Rennsport models in one limited-production 964-based package, the Leichtbau is among the most rare and desirable 911s. Consider then this car's superb provenance, extraordinary bespoke specification, ideal equipment, exceptionally low mileage, and pristine condition, and you have what may very well be the ultimate road-going Porsche. Presented for public sale for the first time in its history, this Turbo S represents the chance of a lifetime to acquire one of the most captivating and exotic Porsches ever built.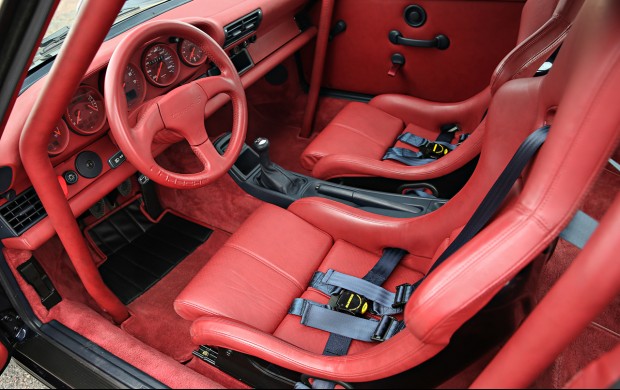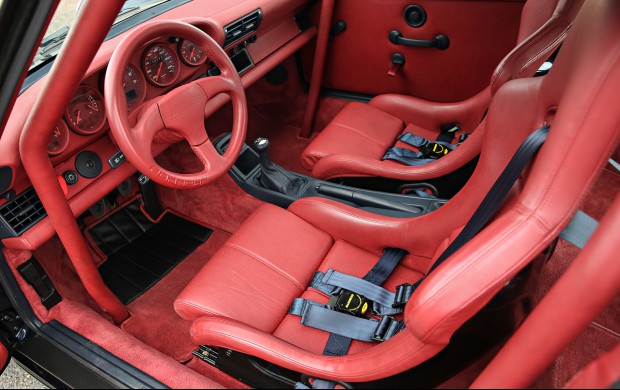 Based on the ad text I would guess this Leichtbau was part of the same order as a previous Leichtbau we featured. Both have the same custom Amethyst Metallic wheels, a full leather red interior – Bordeaux in this one and Flamenco Red in the other – and both sit in nearly showroom new condition. That client apparently ordered four of them, two in right-hand drive and two left-hand drive. Must be quite the collection.
Given the various custom details and incredibly low mileage of this already extremely rare Porsche, Gooding & Company's estimated price of $1.6-$2.0M seems about right. It was only one year ago at these same Amelia Island auctions that a Leichtbau, said to be the first ever up for sale in the US, sold for $1,540,000. At the time it seemed a shockingly high price. It too had very low miles, though still quite a bit more than this one, and it did not possess nearly as many custom options. Might we see another $2M 964? We'll know in a few days.
-Rob