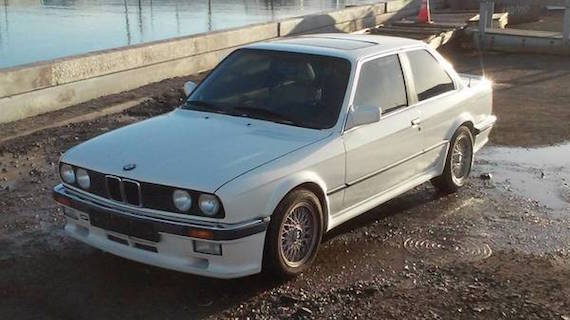 Here's a sweet little 325is that is deceptively unique. With no trunk badges, a first glance at the side skirts may lead you to believe it's a 325ix, but a closer look reveals an E30 that has been given quite a bit of attention. Under the 9 year-old repaint, the side skirts are actually BBS, and the front and rear M-Tech I valences have been integrated into chrome Euro bumpers. It's also lacking the M-tech wheel arches, but I don't miss them. Inside, E30 M3 seats in Natur are a nice touch (though I've never liked the bulbous M-Tech II steering wheel), and the mechanicals seem to have been thoroughly maintained and upgraded with nice bits like a Conforti chip and Dinan Stage 2 suspension. With no reserve, it's time to let the eBay junkyard dogs feast.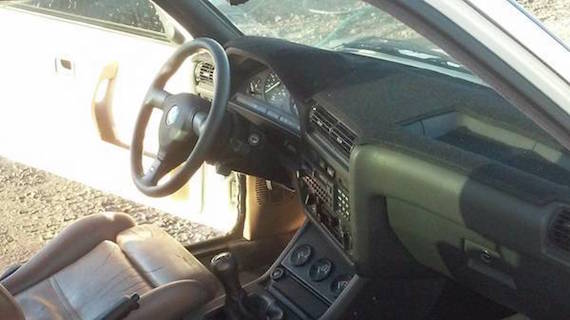 Year: 1987
Model: 325is
Engine: 2.5 liter inline-6
Transmission: 5-speed manual
Mileage: 148,090 mi
Price: No-reserve auction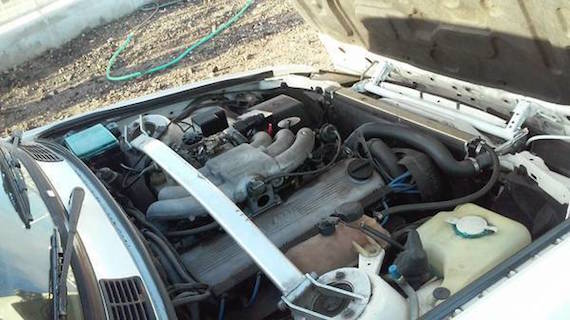 Selling a well-cared-for and upgraded 1987 BMW 325is sport-coupe. This enthusiast automobile is as sweet to drive as to look at.

Zero accidents
Mileage is 148,090 and climbing until it sells, I enjoy driving her 🙂
Paint and trim in excellent condition
Interior in excellent condition
Driver's front (Left) fender replaced in 2008 when being re-spray (had damage from improper jack position)
Trunk-lid replaced in concert with '08 re-spray (had some surface rust on inner edge).

Well-maintained E30 M3 models are selling for between $35K and $75K. Meanwhile, the E30 325is represents the next most-valuable model in the series and examples in similar condition to mine regularly hit figures over $20K

Standard features:

2.5-liter six cylinder SOHC engine
5-speed manual transmission
Four-wheel disk brakes with ABS
Fully independent suspension
Power steering
Power brakes
Power windows
Power locks
Power Moonroof (Sunroof was the standard option)
Power mirrors

Owner-installed upgrades:

Engine/drivetrain
Jim Conforti performance chip (car has ALWAYS run on "Top-tier" premium fuel, mostly Chevron with Techron)
173 ECU from '89 325i
K/N drop-in air filter
Ansa free-flow exhaust
Dinan VDO gauge package (white needle oil temperature/oil pressure/volt meter)
"T" fitting for oil pressure sender (maintains oil pressure dash warning)

Suspension:

Dinan Stage 2 suspension (springs/struts/shocks/sway bars)
Sway-bar link reinforcements welded onto rear trailing arms (Dinan kit component)
E30 M3 solid offset control arm bushings
Front and rear Racing Dynamics stress bars
Upgraded rear shock mounts

Brakes:

Front: cross-drilled and slotted (machined from factory vented rotors)
Rear: stock diameter slotted (machined from factory vented rotors)
Stainless steel lines (6)

Wheels/Tires:

BMW 15×7″ ET24 BBS cross-spoke wheels (i.e genuine "euroweaves")
205-55ZR-15 Dunlap Direzza Dz102s (less than one year/3K miles)

Exterior/Body:

Major ($6K) factory color respray in 2007 (bumpers, mirrors and most trim removed)
European chrome bumpers front and rear
M-Technic 1 front spoiler integrated with Euro bumper
Complete factory brake ducts/liners/undertray for above
Fog lights for above (identical to E30 M3 setup)
M-Technic 1 rear apron integrated with Euro bumper
BBS side skirts (style similar to M-Technic 1 side skirts)
BMW factory glass moonroof with custom sliding interior shade panel
European grill (cleaner look — no upper cutouts for headlights)
Hella H4/H1 headlamps
Acid-absorbing mat in trunk battery tray

Interior:

E30 M3 horizontal stitching-pattern leather front seat skins (Natur)
Matching two-passenger E30 M3 leather rear seat (Natur)
Factory rear headrest kit
Four "M" logo seat badges (driver's shows some wear)
Later interior trim panels with cloth inserts (Natur)
Custom headliner (matching Natur vinyl)
Front and rear dash covers (dash has cracks)
Later-style rear parcel shelf recovered to omit third seatbelt clip
Later-style third brake light
A/C system converted to R134a
Rearview mirror with map lights
M-Tech II leather wheel
"M" style one-piece black leather shift knob/boot (leather on knob is visibly worn)
"M" stripe shift pattern insert in gearshift knob
Leather emergency brake grip (E36 part)
Leather emergency brake boot (Wheelskins)
Pioneer 6800 Series Bluetooth CD, MP3 and Bluetooth streaming for audio and Navigation GPS directions
Four Pioneer 5 ¼" co-axial speakers (mirror tweeters non functional)
Hirshmann power antenna

Optional/extra equipment:

BMW "Tool Kit Large" in trunk, complete (simiiar to E-24 6 Series tool kit)
Tool kit foam carrier for extra bulbs and fuses
BMW 6-liter auxiliary gas can mounted under factory 14″ basketweave spare (as-new)
BMW storage bin mounted on trunk battery cover
BMW large first aid kit, complete (from E38 7 Series)
BMW warning triangle with blue case
Aftermarket keyless entry system
Two factory keys w/light (both batteries dead) and keyless entry units, plus original master key
Factory glove compartment flashlight

Recent maintenance/repair work (past 18 months):

New clutch/pressure plate/release bearing plus shifter linkage components and bushings
Timing belt/tensioner/water pump
Brake master cylinder (incl. brake flush/replacement)
Power steering low pressure hose
Front anti-sway bar bushing/clamps
Engine oil/filter
Transmission oil
Differential oil
Thermostat (w/coolant flush/replacement)
Fuel filter/fuel hose
All four tires
Exhaust hangers
Recharge A/C (mid August).

Extra parts, etc. (factory quality or better):

Timing belt kit (belt/tensioner/water pump)
Rear axle boots set (inboard)
Clutch slave cylinder
Repair manuals (Bentley, Haynes)
Extra water pump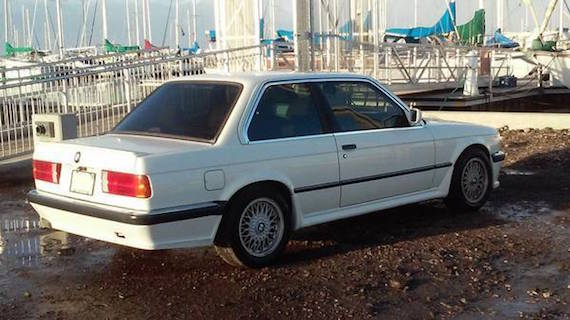 This is definitely a solid 325is, but I haven't seen any normal 325is like this go for the seller's claimed $20k. At least he left it no reserve! The mileage is middle of the road and the previous owners have done some nice work. It's nowhere near original, but that makes it a nice canvas to be continually added to and rearranged by the next owner. I bought my M5 in part because the seller was able to recite from memory what had been done over the years, what little bits had issues, and things to watch out for. I get the feeling that this is the kind of seller you could call down the line and bounce an idea off or get a little more history from. As I write this, bidding has just crossed $6k. I wouldn't be surprised if it stretched towards $8k, and I think whoever gets it there is going to have a lot of fun in their new E30.
-NR