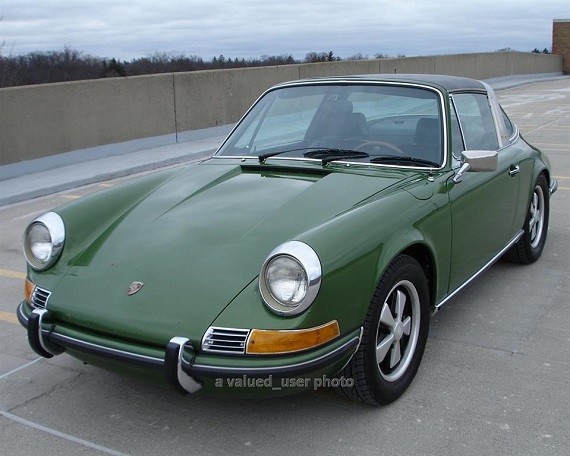 I am, by nature, very much a visual person; I'm a visual learner and respond quite a bit to color and appearance and things of that nature. As such, I am always captivated by 911s that come in colors I haven't seen. That probably applies to a lot of people to some degree, but I am fairly certain I pass by a good number of otherwise fantastic examples that just so happen to be in colors I see all the time. This all brings us to the 911 we see here, a Green Metallic 1970 Porsche 911E Targa, located in Michigan, with 154,140 miles on it. On the surface this Green Metallic doesn't seem like it would be all that rare of a color, after all we see Green 911s pretty often though certainly not as often as some of the others. But I cannot recall seeing one like this on an early-911. Irish Green would be the closest relative, but that's a non-metallic color with more brightness than the green we see here. If I'm honest, Irish Green is a better color, but this slightly darker metallic hue still has a lot going for it and it would be great to see it under the sunlight. Metallic greens tend to show very well in various lighting conditions and I suspect this one is no different.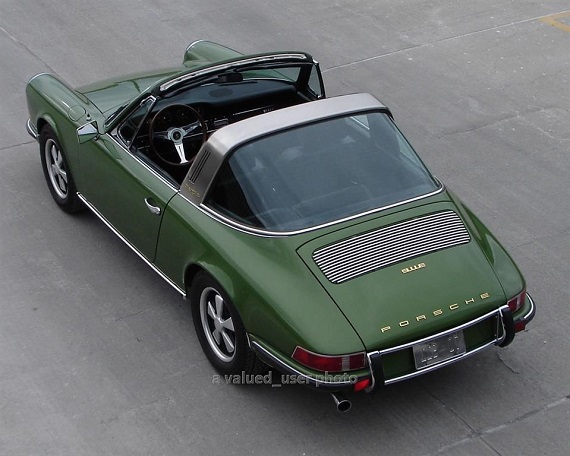 Year: 1970
Model: 911E Targa
Engine: 2.2 liter flat-6
Transmission: 5-speed manual
Mileage: 154,140 mi
Price: Reserve Auction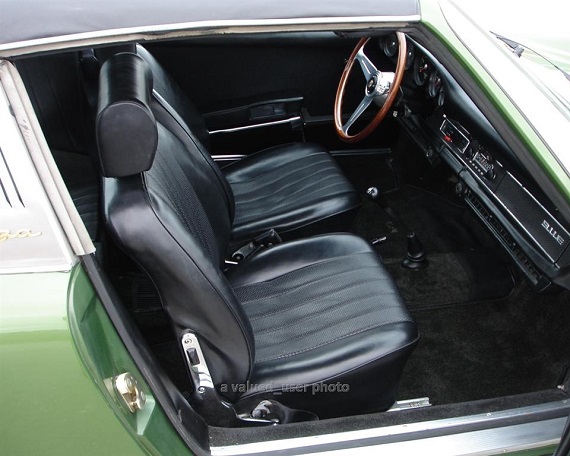 1970 Porsche 911E Targa

VIN / Chassis Number: 9110210692

Highly original survivor

Unusual Metallic Green original exterior color

No rust concerns

Clean, not smoked in

Starts, stops, runs and drives nicely

Please note: more than 250 photos follow. On slow Internet connections, they may take time to load.

You can also Click here for high-resolution slideshow

Options as-built:

· Originally delivered in Canada on April 20, 1970

· Copy of original sales invoice included

· US Equipment

· Metallic Green paint

· Air Conditioning

· Tinted Glass

· Limited Slip Differential

· Alloy 6×15 wheels

· Blaupunkt Frankfurt AM/FM Radio

History:

· Originally delivered in Canada on April 20, 1970

· First owner- Bennett Glotzer, Frank Zappa and Janis Joplin's manager at Glotzer Management

· Maintenance Record stamped for services through 1971

· Purchased by second owner, IBM executive, September 29, 1972

· Kept in San Francisco area throughout second owner's possession- 36 years

· Receipts for maintenance and repairs through 2008

· Engine overhauled at 90,542 miles, August, 1980 by Flying Porsche Ranch, Los Gatos, CA

· Exterior repainted in original color, August 1981, by Flying Porsche Ranch

· Purchased by current owner/seller April 1, 2008

· Current owner is an active 356 Registry and Porsche Club of America member

· Always garaged while in Michigan

· Receipts for service and maintenance through last oil change, October 23, 2015

Body:

Color Code 8310 Metallic Green, per hinge tag and Porsche delivery notice

· Exterior repaint over bare metal, August 1981, by Flying Porsche Ranch

· A survivor with no rust concerns and proper-fitting trim

· Extra clean, top and bottom

· Good panel fits

· Doors, hood and deck lid close easily

· Front and rear lid supports are new

· Weatherstrips all in usable, good condition

· Windshield is not cracked or pitted

· All other tinted glass with manufacturer's marks in good condition

· Windows operate easily

· Bright trim in very good condition and 100% complete

· "S" Bumper and rocker trims

· Original Targa top fits well with little wind noise

· Smuggler's box has no rust and is clean

Interior:

Black Leatherette interior

· Original seat covers, door panels, dash and carpets

· Seat covers in good condition with no tears or failed stitching

· Seats slide and latch easily

· Recliners latch correctly

· Nardi wood steering wheel in very good condition

· Original Targa headliner

· Original sun visors

· Inside mirror in good condition

· Glove box door fits well with proper lock

· Original seat belts front and rear

· Working speaker in original location

· Dash is not cracked

· No wind noise or other noise concerns when driving

· No odor concerns

Engine:

Engine Number 6201777

· Matches Engine Number on Maintenance Record

· Engine overhauled at 90,542 miles, August, 1980 by Flying Porsche Ranch, Los Gatos, CA

· Case halves are correct 901.101.102.2R and 901.101.101.3R castings

· Original distributor

· Points and condenser ignition

· Carrera chain tensioners

· Noise-free

· Turns over easily, starts promptly

· Correct Mechanical Fuel Injection

· "Cold start" pushbutton added under dash by previous owner works well

· Stock exhaust is leak-free

· Fuel tank is clean and rust-free

· Starts easily

· Steady 600 RPM idle

· Pulls smoothly and runs cool

· No active oil leaks observed

Transmission:

911/01 Transmission, Number 7700370

· Correct type and number for year of the car. It may be original.

· Shifts easily through all gears, up and down

· No oil leaks or other concerns

· No noises when driving

· Linkage and clutch properly adjusted

Suspension, brakes, steering:

· New master cylinder and hoses, all four calipers rebuilt, October 2010, Automotive Techniques, Novi, Michigan

· Brake fluid flushed May 2013

· Parking brake correctly adjusted and fully working

· Four Bridgestone Potenza G009 steel belted radial tires, size 205/60R15 with ¾ tread remaining

· Four Genuine Fuchs 6X15 alloy wheels, part number 901.361.012.06, with original finishes

· Wheels correctly balanced with no vibration

· Koni rear shocks

· Sachs front strut housings with unknown inserts

· Drives as it should. Tracks straight.

· Steering wheel is level when driving straight. Tires wearing evenly.

· No rattles or other concerns

· Brakes straight with no pulling

All the rest:

· Dual battery system, as new

· Blaupunkt Frankfurt AM/FM radio

· Hirschmann locking antenna with two keys

· Radio works OK on FM

· Speaker sounds OK

· Speedometer is accurate compared with GPS

· Both odometers work

· Oil temperature and oil pressure gauges operate correctly

· No low pressure or overheating concerns

· Sealed beam headlights

· Headlights, taillights, brake lights and turn signals all operate

· Reverse light works correctly

· Turn signals self-cancel properly

· All exterior light lenses are original

· Dash lights and front trunk lights operate correctly

· Windshield wipers work

· Windshield washer system is completely intact

· Heater controls work correctly

· Air conditioning system is complete

· Fan for A/C operates

· Heater and vent fan operate properly

· No engine oil smell inside car when heater is on

· Always garaged

Also included:

· Clear Michigan title

· Original Owner's Manual, dealer locator, Blaupunkt radio guide and Maintenance Record in vinyl pouch

· Spare genuine Fuchs 6X15 alloy wheel part number 911.361.020.10

· Center cap for spare wheel

· Spare vintage Pirelli P3 tire

· Mostly-complete tool kit

· Trunk carpet is in good condition

· All receipts for claimed repairs and maintenance since new

· Snapshots showing 1980 paint restoration

· One original key that fits all locks

· Two Hirschmann antenna keys

Spare parts included:

· Used left rear reflector

· Reproduction horn grilles

"The large print giveth and the small print taketh away"- Tom Waits:

Please remember, this is a used car, which, as nice as it may be, is not perfect. I strive to deliver accurate descriptions, but it is possible to miss small deficiencies and will not be held liable for these minor misnomers. This vehicle is sold AS IS/WHERE IS and comes with no warranties, expressed or implied, whatsoever.

Known issues:

· This car is unrestored and reflects 45+ years of enthusiast use

· Engine Number 6201777 appears to be over-stamped at "2"- see photos. If this is non-factory, there is nothing in available history to explain this imperfection.

· Engine is "damp" at left rear, below cylinder #1, but no oil is leaking at this time

· Hand throttle is not working

· Engine starts OK, but will not idle for first 2-3 minutes. Warm start and idle are fine

· A/C belt missing

· A/C not charged and should be assumed to need 100% restoration if wanted

· Exterior bare metal repaint from 1981 shows technology and quality of that era

· Paint is bubbling on front hood and fenders

· Various chips and marks in paint around the car including valance below front bumper, right rear bumper end. See photos

· Few nicks in trim on bumpers, rockers, windows

· Original horn grille chrome trim pitted

· Front trunk floor missing paint and shows surface corrosion

· NO rust-through concerns

· All glass has few marks and scratches

· Windshield delaminating very slightly at lower right corner

· Rear defroster does not operate

· Left door glass scraped on inside from rubbing on window regulator in the past. Does not rub now

· Interior trim is unrestored and shows wear

· LF carpets worn. Others are good

· Targa top headliner faded, loose

· Some weatherstrips work, but there are no wind noise concerns

· Clock works intermittently

· Interior light does not operate

· Windshield washer pump is locked and only clicks when operated

· Jack is missing

· All parts included are as-is, with no warranties

Not included:

· Porsche Certificate of Authenticity, sorry

· NO ADDITIONAL PARTS OR RECORDS ORIGINAL TO THIS CAR ARE AVAILABLE THAT ARE NOT IN PHOTOS, SORRY

Pre-purchase inspection is welcomed. Please contact me through "Ask seller a question" to arrange inspection and for any additional information.

Offered with realistic reserve. There is no "buy-it-now" price. Car will be sold to high bidder above reserve.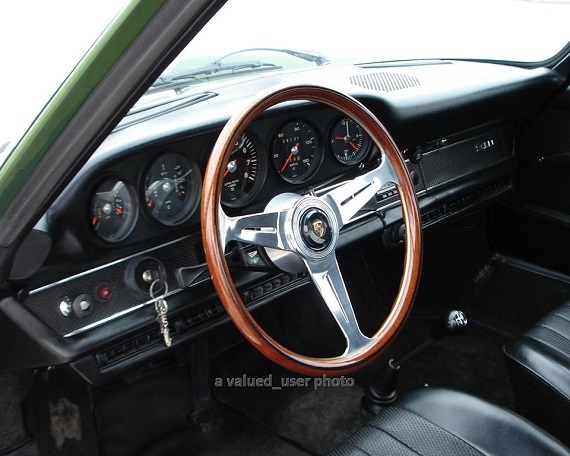 Another strong point about this 911E is that it appears to have retained quite a lot of its original parts and sits unrestored, though still looking in good shape. It was repainted in 1981, but otherwise the interior and glass all appear to be original. It also sounds like it comes with documentation of its history. The seller has provided us with a good deal of information along with a lot of detail photos to help us come to grips with this 911E's condition. While that's always a useful approach from any seller it is especially important for this 911 because we know it hasn't been restored, but its condition remains good enough that the price will still be relatively high. Buyers definitely will want to know the level of work that may be needed should they desire to undertake a full restoration. There are clearly a few problem areas with the paint and a repaint may be one of those necessary items on the list, but in many other ways this 911E presents quite well for an early 911 with a good number of miles on it. Bidding has now surpassed the reserve and sits at $74,800. That feels about right to me given the general market for a 911E Targa balanced with the potential work this one may need. I think the new owner should be quite pleased with this one.
-Rob