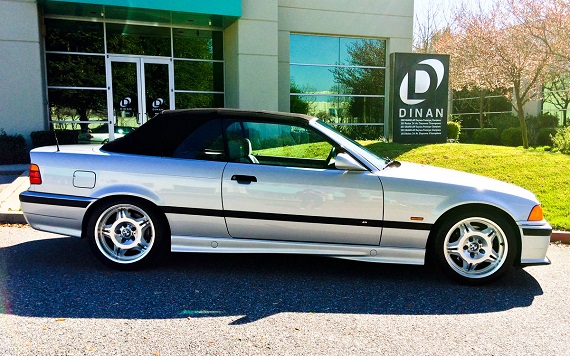 From a performance standpoint, the E36 M3 Convertible may not be the most desirable BMW product produced. However, if you're able to back out that this won't be a car dominating your local track days, the E36 Convertible does offer quite a bit of M-car magic for your money. True the U.S. spec E36 M3 was detuned and mass-produced, but it's still a great looking, sounding and fun to drive car. Drop your prejudice, and the M3 convertible is a neat package in many ways – plus, it is one of the more affordable ways to get into a M3. This particular model is well equipped and neatly optioned with the forged Motorsport wheels and a host of recent Dinan upgrades: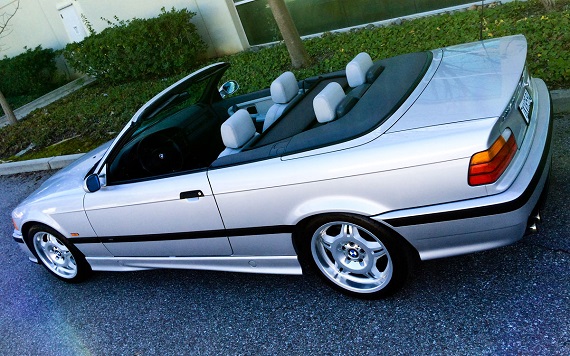 Year: 1998
Model: M3 Convertible
Engine: 3.2 liter inline-6
Transmission: 5-speed manual
Mileage: 96,650 mi
Price: Reserve Auction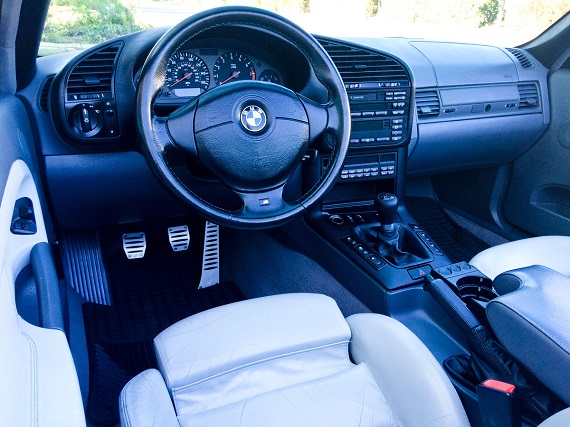 About me:

I am a lifelong automobile enthusiast, mature adult and BMW CCA & Porsche CCA member. While I appreciate all types of 2 and 4-wheel vehicles, I've always leaned towards BMWs and Porsches for their driving experience and reliability. I currently own a 2007 BMW M6 Convertible (manual transmission), a 1983 Porsche 928S (manual transmission, supercharged) and this 1998 BMW M3 Convertible – which I'll tell you more about below. I love to drive (prefer it over flying in most cases) and my cars are not garage queens – they get driven. My M6 is approaching 110K mileage (I've owned since 20K – purchased from original owner) and my 928 has 125K on the clock. Given how much I drive – and how many of my trips are multi-day, 250+ mile excursions, I am very demanding about maintenance. I keep all of my cars in perfect mechanical condition and subscribe to the philosophy that one's equipment should be kept in perfect working order at all times – so as to always be ready for use and never let one down. I am also a stickler for cosmetic maintenance – my very first job was at a car wash and it taught me how to care for cars before I could even drive them. All of my cars are regularly detailed – especially after long trips. I take them to the best detail shops and they are waxed every time they are washed. This particular M3 has been clay bar waxed 3 times in the 10 months I have owned it – in addition to numerous other regular washes and waxes. I personally clean and condition the interiors and leather after each wash. The interiors (especially leather) are the one thing I don't trust to others – I've seen too many interiors ruined by using cheap cleaners from the auto parts store. I treat the interior vinyl/plastic with 303 Marine Aerospace Protectant (originally developed for aerospace and aviation applications and marketed to the boating industry for UV protection on watercraft which are constantly in the sun). Leather is cleaned with saddle soap and organic conditioners. I've attached photos of my M6 and 928 in addition the the M3 pics to give you an idea of the condition of my cars. Yes – I am meticulous with them – but they give me great joy so I don't mind showing them respect and attention.

About this car:

I fell in love with the E36 M3 while in high school. I had a 1974 BMW 2002 at the time (all I could afford back then). The E36 M3 had just come out – and one of the wealthier kids at school had just been given one by his father – a 1995 Dakar Yellow coupe. It was the envy of myself and all my friends and I've wanted to own one ever since. Later in life I was living in Mountain View CA – right around the corner from the original Dinan shop. I'd regularly see Dinan tuned M3s driving down my street on the way to or from service. The cars looked and sounded so good – I decided if and when I purchased my own E36 I would bring it to Dinan for the works.

Last spring my M6 was in the shop for some routine maintenance and performance upgrades. I'd had a good 2014 and decided it was finally time to start looking for an E36 which I could drive for the summer while the M6 work was completed. I searched throughout the US for several weeks on all the major sites (EBay, Autotrader, Craigslist) and forums and looked at a number of candidates before pulling the trigger on this M3. It was a one-owner car with 78,900 original miles owned by a financial executive who lived in a 7-figure home on an island outside of Seattle WA. 1998 was the first year for the E36 convertible in North America and the original owner had special ordered this car from Germany with every available option and upgrade. The car had spent it's entire life in the Seattle area and covered an average of 4,641 miles per year under the original owners stewardship. Why purchase a convertible from the pacific northwest? Because it rains there ALL THE TIME! The majority of my family live in the Portland OR area and you rarely see convertibles on the road outside of the summer months and rare sunny days in spring/fall. So most northwest convertibles are rarely driven fair-weather cars. The original owner retired with his wife to Colorado and upon moving there immediately traded the M3 in for a 4WD SUV. I flew to Denver in April of last year and purchased the car from the dealership where it had been traded in and drove it straight back to CA.

When I purchased it, the car was in very good shape – it has never been in any sort of accident, all of the body panels and paint are original and there was zero corrosion on the underside/exterior or cracking in the interior. After trade-in the dealership had sent the car to Arvada German Garage in Denver for a brand new clutch including clutch kit, flywheel, pilot bearing and slave cylinder.

Immediately upon returning to CA, I took the car to BMW specialists Schatz and Krum and had a complete service done including replacement of the entire cooling system as a precaution (E36 M3 engines can be killed by overheating and some of the original cooling system parts are prone to failure). The service included complete brand new cooling system (expansion tank, radiator, thermostat, water pump, fan clutch and all hoses/hardware) as well as brake and transmission fluid flushes, engine air and pollen filters, valve cover and oil pan gaskets, synthetic oil change and instrument cluster (dash) lights. I also purchased a set of 5 Michelin Pilot Super Sport tires and had them mounted and balanced along with a 4-wheel alignment.

Over the next 10 months (April 2015 – February 2016) I put 17,750 miles on the car including trips up and down the Pacific Coast Highway (Highway 1) to Seattle and San Diego, across Death Valley to Las Vegas, through the Eastern Sierras to Big Bear and Lake Tahoe and numerous commutes between my offices in Sacramento CA and San Francisco. Throughout those 10 months I have put over $20,000.00 into the car fixing any and every maintenance issue which came up, when it came up – and have upgraded it with every E36 M3 Dinan upgrade available – save the lightweight clutch – as the car already had a brand new clutch as described above. I have a 3-ring binder with over 50 pages of documentation on every repair and upgrade the car has received in my ownership. I've kept a gas log since the day I purchased the car – with every fill-up documented – and only premium 91 or higher octane has ever been used (Chevron or Shell). The oil has been changed 4 times since I've owned it – approx. every 4500 miles (twice the recommended changes). Below is a summary of all work and upgrades by date, mileage, shop & cost:

03/18/15
78,971
Arvada German Garage, Denver CO
Clutch (clutch kit, flywheel, pilot bearing, slave cylinder, etc.)
$2137.76

04/08/15
80,248
Schatz & Krum, Sacramento CA
Complete Cooling System (expansion tank, radiator, thermostat, water pump, fan clutch and all hoses/hardware)
Brake Fluid Flush
Transmission Fluid Flush
Engine Air Filter
Pollen Filter
Valve Cover Gasket
Oil Pan Gasket
Synthetic Oil Change
Instrument Cluster (dash) lights
5 Michelin Pilot Super Sport tires mounted & balanced
4-wheel Alignment
$3753.74

04/20/15
80,907
Dinan, Campbell CA
Engine Mounts
Transmission Mounts
Front Dinan Koni Struts
Rear Dinan Koni Shocks
4-wheel Alignment
$2589.08

04/22/15
81,069
Safelite, Sacramento CA
Windshield
$237.03

05/04/15
81,758
Dinan, Campbell CA
Dinan Cold Air Intake
Dinan High Flow Throttle Body
Dinan Free Flow Exhaust
Dinan Stage 3 Performance Engine Software
Dinan Pedal Cover Set
Dinan Short Shift Lever
Dinan Badge
Power Steering Hoses
$3756.77

05/18/15
82,491
Niello BMW, Sacramento CA
OEM BMW Wiper Blades
$87.05

05/21/15
82,574
Dinan, Campbell CA
Magnaflow 50 State Legal High Flow Catalytic Converter
4 Oxygen Sensors
Throttle Body Intake Boot
Hood Struts
$2187.72

05/29/15
83,167
Dinan, Campbell CA
Left and Right Fog Lamps
Synthetic Oil Change
Dinan License Plate Frames Front & Rear
$426.26

08/05/15
88,064
Dinan, Campbell CA
Synthetic Oil Change
$97.37

08/12/15
88,192
Schatz & Krum, Sacramento CA
AC Control Unit
$671.17

08/20/15
88,388
Niello BMW, Sacramento CA
ZHP Shift Knob
Sunshade
$130.41

11/10/15
93,337
EU-Tech, Sacramento CA
Synthetic Oil Change
Spark Plugs
Fuel Filter
Lift Support Pads
Compression Test
$870.97

12/09/15
94,230
Dinan, Campbell CA
Clutch Pedal Arm Bushing
Trunk Catch Bracket
$396.91

12/18/15
94,412
Schatz & Krum, Sacramento CA
Oil Filter Housing Gasket
$324.14

02/04/16
Dinan, Campbell CA
Driver's Seat Gear Set
Seat Belt Guide Covers
Front Strut Bump Stop
Rear Shock Bump Stop
Shock Tower Mounts
SRS Clock Spring Assembly
Coolant Flush
Brake Fluid Flush
Rear Trailing Arm Bushings
4-Wheel Alignment
$2450.37

The car is fully sorted – with all E36 M3 problem areas addressed. All of the work detailed above is still under warranty. I had the engine compression tested at 93,337 miles and all cylinders are between 175-180 PSI – which is perfect. Using good gas and with regular oil changes these cars will go 250-300K or more easily without ever touching the engine.

The Dinan upgrades provide approx. 30HP and 25 foot pounds of torque over factory – so the car is now approx. 270HP/265 Torque.

There are absolutely zero leaks, funny noises or any other issues with driveability on this car.

There are no cracks anywhere in the interior. The glovebox does not sag like a lot of E36 M3s do. The leather shows appropriate wear but there are no cracks and it is soft and supple to the touch. Both the driver and passenger seats are heated and fully electric and function perfectly. The driver and passenger mirrors are also electric and function perfectly.

All of the paint on the car is original – nothing has ever been repainted or touched up. It is in remarkable condition – clear and shiny. As mentioned above it has been professionally clay bar waxed 3 times in my ownership along with numerous other normal washes/waxes. There are some small nicks and scratches on the front of the car from driving – but nothing which detracts from the eye. The worst scratch is on the bottom of the passenger side rear bumper (pictured) where I backed into a fallen tree branch while parking the car at the beach.

The convertible top is automatic/electric and functions properly. The plastic rear window has some clouding and the interior headliner needs replacing. This is the original top and therefore has the zip-out plastic rear window. If desired, you could have the headliner and plastic rear window replaced and keep the original top. Otherwise, you could replace the entire top with an aftermarket unit – but none of the aftermarket units have zip-out windows – they are all permanently sewn in. I haven't bothered to do anything with the top as it has zero leaks, functions properly and it is usually down when I am driving it. The car was ordered with the optional windscreen behind the front seats which cuts down on noise and keeps in warmth when driving top-down at night. It is very light and simply lifts out of the car if you want people to ride in the back seat.

The car was ordered with the Harman Kardon speaker package and 6 CD Changer in the trunk. The CD Changer worked when I originally purchased the car but lately has been giving a "No Discs" message when trying to play a CD. I assume the in-dash stereo simply needs to be replaced as a wire or connection is probably worn out ($100-$200 on EBay) but I usually listen to the AM sports stations when driving so haven't bothered. Most people change the in-dash units out for newer ones anyway so they can have ipod or USB hookups.

The car is a joy to drive – accelerates and turns beautifully and sounds amazing with the Magnaflow hi-flow cats and Dinan exhaust. I am selling it because I now have my M6 back and only have 2 parking spaces at my building (I live in a 1930's brick warehouse loft which was originally built as a Ford Dealership – just another part of my auto enthusiasm).

A non-refundable deposit of $500 is due from the winning bidder within 48 hours of auction end. Balance is due within 7 days of auction end by cash or cashiers check. I will assist with shipping or you can pick up the car and drive it home. The car is perfect mechanically and can be driven across country with ease.

Mileage may go up slightly as I am still driving the car until sold.

Please e-mail with any questions and leave your number if you'd like to talk on the phone about the car. I am happy to send any additional photos or info needed.

From 1995-1999 there were approx. 18,961 E36 M3s sold in the US – of which only 6,211 were convertibles – and even fewer of those with manual transmissions. The E36 is already a collectable car and good clean examples will always hold their value and likely appreciate as the E30 M3s are now.

Thanks for reading and happy bidding.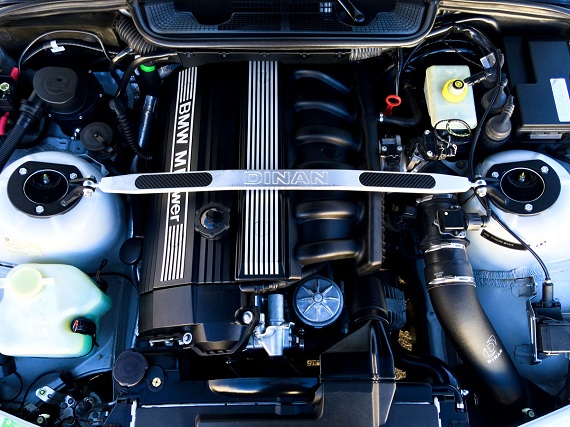 That's a pretty exhaustive write up on what is a fantastic condition M3. By all accounts, this is typically the type of car enthusiasts would like to buy; well optioned, great photography, records and expensive maintenance performed, and top condition. This car was loved and came from a careful owner who clearly "gets it". Whether enthusiasts are willing to pay for all of that is another matter; at a claimed and very believable $30,000 into this car, it's likely that the seller will take a bath selling it unfortunately for them. But for the third owner this represents one of the best E36 Convertibles on the market and if they can break reserve they will be driving way with one heck of a deal. Though admittedly I'm a M3 coupe fan, the prospect of driving this car up the California coast sure seems appealing!
Thanks to our reader Bret for the spot!
-Carter