The Volkswagen Schwimmwagen we featured earlier this month has been relisted with a Buy it Now price of $185,000. Too steep for this piece of military history?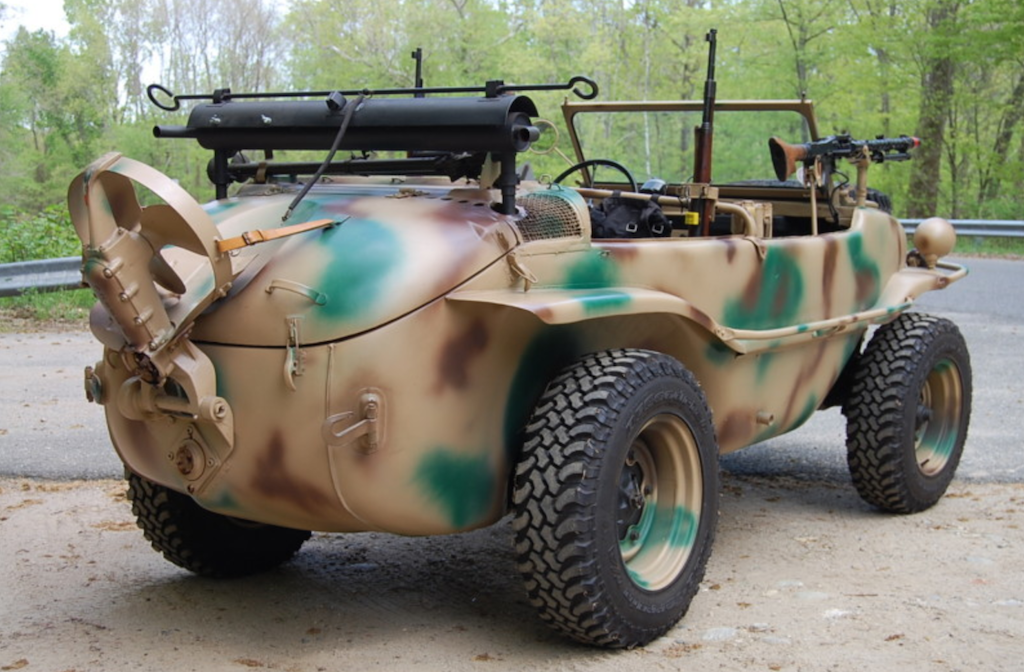 The below post originally appeared on our site January 2, 2013:
As they would say on Monty Python….."and now for something completely different." The Volkswagen Schwimmwagen (or "swimming car" in German) earned the distinction of the most mass produced amphibious vehicle in history. Over 15,000 were produced at the factory in Wolfsburg and in Stuttgart by Porsche, but only 163 are known to survive today. This was no doubt a result of their extensive use in combat by German forces in World War II. Based on Kübelwagen mechanicals, the Schwimmwagen had four wheel drive in first gear only and had self locking differentials on both front and rear axles. A screw type propeller could be lowered when afloat and power was provided directly off the crankshaft while the front wheels acted as rudders.
I've only ever seen one Schwimmwagen on US shores at a Volkswagen show a good while ago. These are rare little beasts and certainly are a conversation starter wherever you might venture. This Schwimmwagen has been restored and is on offer in Connecticut.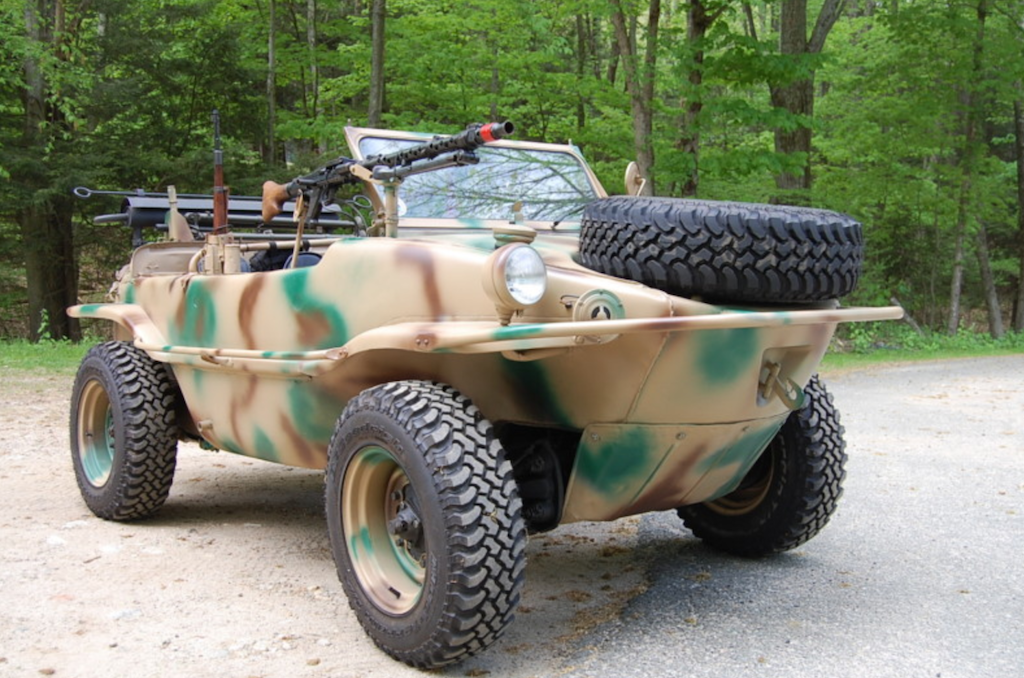 1943 VW Schwimmwagen. 4 wheel drive amphibious with rear propeller. This vehicle was manufactured by Porsche for the German Army during World War 2, it was able to cross rough terrain with the four-wheel drive and high body, it was also able to cross streams, rivers and navigate lakes ,making it a valuable asset to the military. They produced close to 16,000 making it one of the largest production of Amphibious vehicles ever, however almost the total production was destroyed in battle and after the war the allies used them for target practice, now they estimate there are probably less 200 remaining world wide.

This example was purchased in the USA about 10 years ago and totally restored by a collector who lives in my area, this is the second one he has restored, I sold the first one he restored last year and it now resides in a Museum in the far east. Both were restored to identical condition to be as correct as possible. Please study the photos contained in this listing carefully to see the detail and quality of the restoration. There are also many additionalvery detailed photos located on this page forzamotorsports with the usual com ending if you are serious about purchasing this vehicle, please take the time to study these.While the vehicle is in spectacular condition from the restoration if you look closely you can see evidence of past use, we are not sure exactly which campaigns this was used in, but it was used and probably survived several battles.

Please note. The 3 Rifles pictured on the vehicle are not part of this auction, they are not offered for sale with the vehicle, nor can they be purchased separately. They are not for sale. They were legally obtained and they have been deactivated they are only shown for display. They will not be included with this vehicle. Please don't ask because the answer will be no. The vehicle is ready for museum display, military reenactment or just to be added to your collection. Vehicle is located in Northern Connecticut about 2 hours from New York City.International buyers welcome. I can help arrange worldwide shipping.
Before coming across this little bugger and delving into specifics I had no idea that they were so rare and that values are trending in the stratosphere. Just this year, an unrestored Schwimmwagen sold at RM Auctions for almost $150,000. Scanning the web, I spotted a few others that were well into the six figures. Given the condition of this car, I wouldn't be surprised if it did sell for such a price. There's a decent amount of bidding action on this car already, so it might just sell, depending on how reasonable the reserve is. Personally, I'd love to show up to a lake where I knew an Amphicar was rambling about just to see the look on the owners face.
-Paul