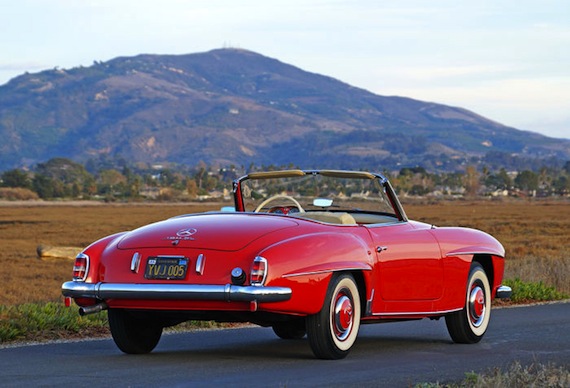 The 1957 Mercedes-Benz 190SL we featured last month is back up for auction. Long forgotten amidst other, more popular SL models, this roadster has finally started to see an uptick in values, with good ones reaching into solid six figure territory. Will this one meet its reserve this time around?
The below post originally appeared on our site February 20, 2014:
-Nate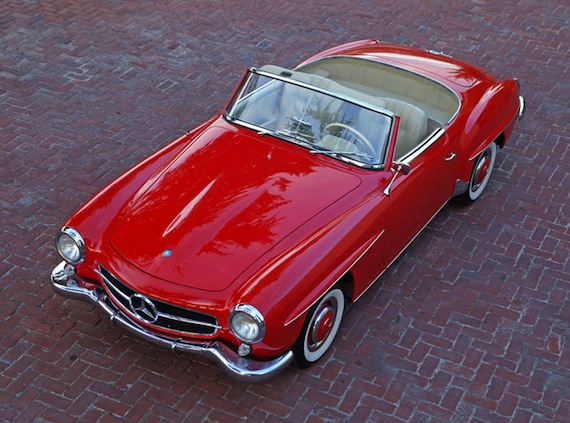 Last year I witnessed a large group of 300SLs driving to the Golden Gate Bridge, and I was (obviously) awestruck. One thing that did strike me was their size. The new SLS's massive hood is no caricature; the original 300 is loooooong. The 190SL is a miniaturized version of that styling, and is striking indeed. I've had the pleasure of riding in one of these, and while not as insanely original and perfect as this example, it was an excellently noisy and wind-blown ride. These are massively attractive rides, and their values are climbing as a result. The seller lists some insane auction prices for 190SLs, making the current $90k bid seem reasonable, despite the fact the uneducated could confuse it with a Karmann Ghia.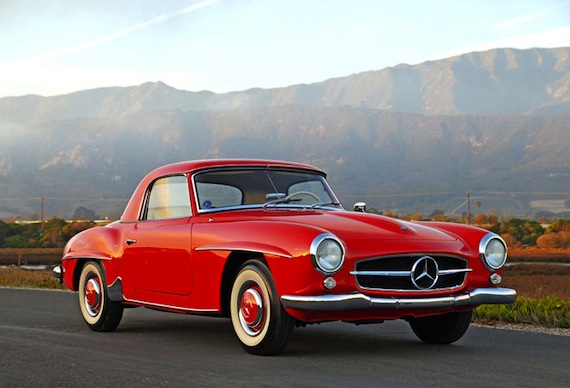 Year: 1957
Model: 190SL
Engine: 1.9 liter inline-4
Transmission: 4-speed manual
Mileage: 47,868 mi
Price: Reserve auction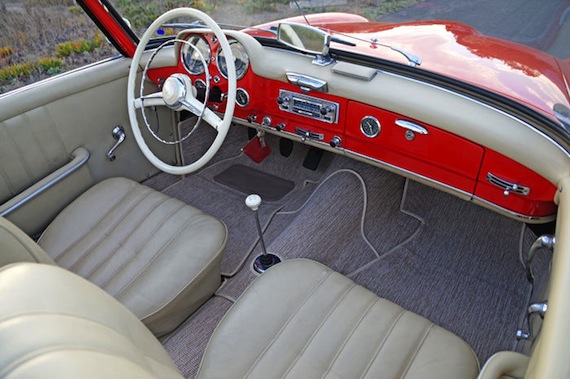 Offered for sale is an absolutely gorgeous, all numbers-matching, entirely rust free and very original 1957 Mercedes Benz 190SL with its original Solex carbs, factory hardtop and striking, factory-correct Fire Engine Red (DB 534) finish over a parchment leather interior. Mechanically sorted and with freshly tuned Solex carburetors, this car runs as beautifully as its elegant, swooping lines present, needing nothing to be enjoyed aside from an appreciative new owner. And speaking of appreciation, there is perhaps no single classic car (with the exception of the V12 Ferraris) that has seen such an explosive rise in valuation over the last five years, with fine examples such as this joining the ranks of true investment grade cars. This is an exceptional, original, and correct example that deserves the serious consideration of anyone in the market.

Meticulously cared for and well preserved under the longtime ownership of a true Mercedes purist and enthusiast, the car was used solely as a garaged and well-taken-care-of weekend driver and event participant. Accordingly, the car remains in exceptional original condition, its Fire Engine Red finish deep, lustrous and consistent, marred only by the most insignificant of imperfections, none of which appear in any of the pictures. The car's body is entirely straight and free of any evidence of accidents or body-work, with exceptionally even and correct panel fits and gaps throughout. The glass and rubber is all in great shape, as is the chrome, which is free of any dings or blistering. The car's undercarriage is entirely solid and correct, always kept out of the elements, with absolutely no rust whatsoever and the car sits on its original color matched, hub-capped steel wheels, which are wrapped in complimentary white wall tires. This is a very honest car.

The car's interior is equally as clean, the parchment leather seats and interior panels showing only the most negligible of wear, the complimentary tan carpets impeccable and the leather wrapped dash free of any wear or sun damage. The car retains its flawless, un-cracked ivory steering wheel, as well as its clock and rare Becker Mexico radio. 190SLs were sold with either a soft top or a desirable removable hard top, but the earlier cars were not sold with both because the hard-top's design prevented both from being on the car at the same time. This car retains its original hardtop (also in gorgeous condition), however, based on the next owner's preference, we also have an original early R121 soft top frame (a photograph is included) and a spare correct canvas soft-top which can be installed upon request. 190SL enthusiasts know just how rare and valuable these frames have become, prompting aftermarket reproductions to cost as much as $7,500.

The car is mechanically superb, its original numbers-matching engine starting right up without any smoke, idling consistently, maintaining excellent, even compression across all cylinders and pulling strongly under acceleration, thanks in part to its accurately tuned original Solex carburetors and decades of detailed care and gentle use. The car's original gearbox is smooth and correct, with effortless up and down shifts across all gears, and the car's brakes and suspension all function as they should, rounding out a visceral, vintage and grin-inducing ride quality.

This is an excellent opportunity to acquire an appreciating classic that ticks all the right boxes: unbelievably original, numbers-matching, rust-free, cosmetically gorgeous in its original livery, mechanically sound and with its original and desirable factory hard top. Show quality examples have been selling routinely above $200,000, and as high as $269,500 at auction, prompting incredible market demand. We can assure you that this fine example will be sold at a much more reasonable price, representing an excellent value for an investment grade classic that can also be driven and enjoyed. Please bid accordingly.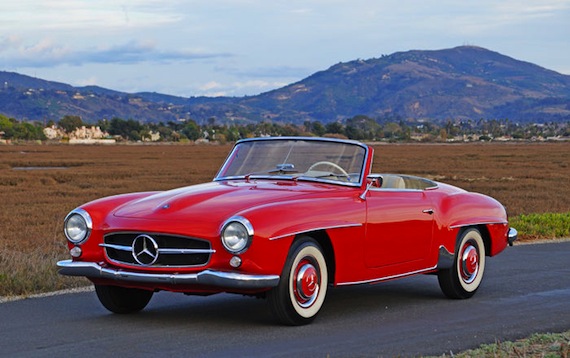 It's crazy how gorgeous this is despite being entirely original and almost 60 years old. That's like waking up in 2045 and seeing Scarlett Johannson looking exactly the same (without plastic surgery). I also enjoyed the history about the top options of the time – for a weekender like this, the hard top is perfect because you'd better know the forecast anyway! It's going to command a pretty penny, as it damn well should. This is a shining example of German automotive brilliance.
-NR