Bubble cars. These little runabouts are possibly the most confounding thing on the automotive scene for me these days. What was originally designed as low cost transport for postwar Germany have become the darling of the auction set, bringing huge sums for well restored and preserved examples of cars like the Messerschmidt, Goggomobil and perhaps the most famous of them all, the BMW Isetta. The Isetta was a curious little beast, with a unique front hinged door and variants produced in both three and four wheel formats. We've featured a couple of these small runabouts here on GCFSB over the years but this one is particularly stunning, given the fact that it is an untouched survivor with only 6,478 miles on it.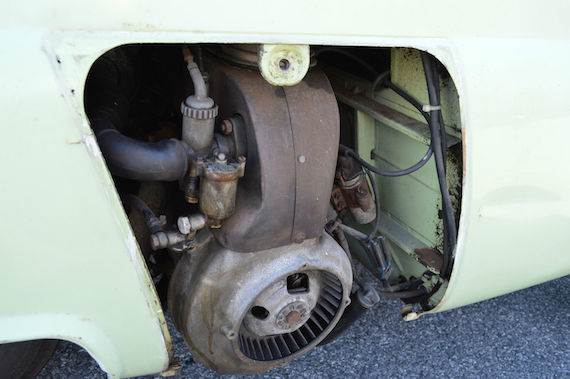 Year: 1958
Model: Isetta 300
Engine: 298 cc single cylinder
Transmission: 4-speed manual
Mileage: 6,478 mi
Price: $22,900 Buy It Now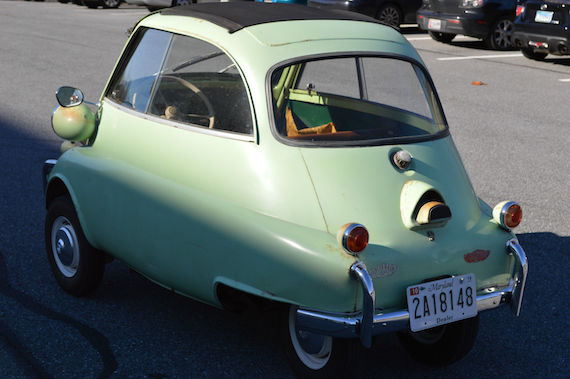 1958 BMW Isetta 300 Absolutely ORIGINAL and in wonderful condition!!! At Speed Motors focuses upon investment-level Porsches…but sometimes BMW's too! Please see my website atspeedmotors for your viewing pleasure! This Isetta has ABSOLUTELY ALL-ORIGINAL PAINT! I have been over and over the body with a paint meter and can't find but very small touch-up spots from chips that are not original. That is beyond amazing for a 55 year old car. In addition, the rest of the car, including the interior, engine, trans, gauges, lights, etc. also all appear to be absolutely original. Yes, original and untouched!!! The odometer shows 6,478 miles and I have little doubt that is absolutely correct.

I purchased the car from a short-term owner (he had the car only 4 months) who bought it from the original owner who purchased the Isetta brand new. The car was shipped to the U.S. with the standard wax undercoating and then was driven very, very little in its lifetime. The original owner lived in Florida so the car was never exposed to any corrosive salts, etc., but it was exposed to humidity. Thus, the undercarriage has this very small layer of humidity induced surfacy rust. You can literally scratch it off with your fingernail. There is ABSOLUTELY ZERO rust-through anywhere on the car or anything other than this type of covering. On the top-side, where the original paint is, there is also a small amount of the same here and there (please see pictures and you'll understand what I mean.) but, again, nothing of any significance. The car is so untouched that one of the original leather exhaust supports is still in place as are the paper-style stickers for the gear pattern as well as the choke/heater position (see the pictures!!!). That is beyond belief.

I see the car simply as the ideal candidate to either keep in its present original form, or to restore at some later date. It is the perfect restoration candidate because ABSOLUTELY EVERYTHING IS THERE…UNTOUCHED AND ORIGINAL. Even the front windshield is original…no kidding. Of course all of the other glass is too! However, my focus upon Porsches has now overwhelmed my business and I don't see touching the BMW for several years. Thus, if I can find it a good home, I will sell it. If not, it certainly doesn't take up much space. Please review the pictures (I have about 100 more if you need them), and call or email me with any questions. Again, this is absolutely a wonderful, original, untouched Isetta that can either be enjoyed or restored…although to be honest, I'd probably just leave it just the way it is… See my 100% eBay rating and bid with confidence. I stand behind absolutely everything I sell…period. My address is At Speed Motors, 7410 Coca Cola Drive, Unit #110, Hanover, MD 21076. Please contact me with any questions at 703-627-9991 or my email which is bob at atspeedmotors dot com.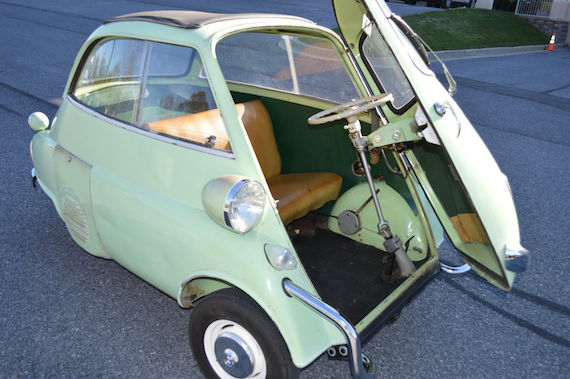 Unrestored originals like this Isetta are wonderous because they offer a window into the world of how things were manufactured years ago. Cars like this serve as templates for enthusiasts clubs when it comes to restoration and judging standards. Given how much restored examples of Isettas are bringing – sometimes upwards of $40,000 – I'd say this particular car won't have any trouble reaching its asking price of just over $20,000.
-Paul