After the destruction of World War II, Mercedes-Benz found themselves, like most German automotive manufacturers at a crossroads. Would the company survive post war, after so much destruction, or would it close its doors for good? It would be about a decade before a clear picture began to emerge and most manufacturers started to churn out new models and so it was with Mercedes-Benz, their new sedan, dubbed the "Ponton," arriving on the scene in 1953. Taking over where the 170 left off, the model would be available in sedan, coupe and convertible variants, with the sedan offering a choice of both diesel and petrol engines. This 220S for sale in California carries a unique story with it, being owned at one time by the service manager of the former dealership, German Motors in San Francisco.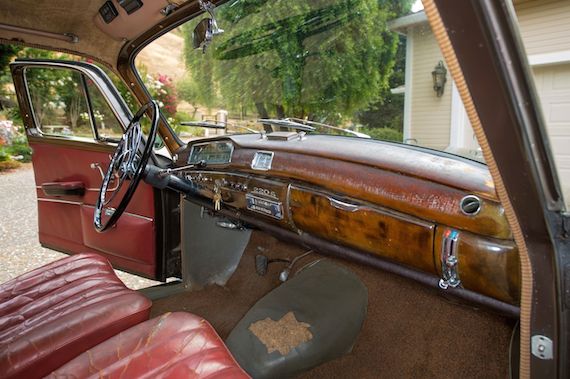 Year: 1958
Model: 220S
Engine: 2.2 liter inline-6
Transmission: 4-speed semi-automatic
Mileage: 89,639 mi
Price: No reserve auction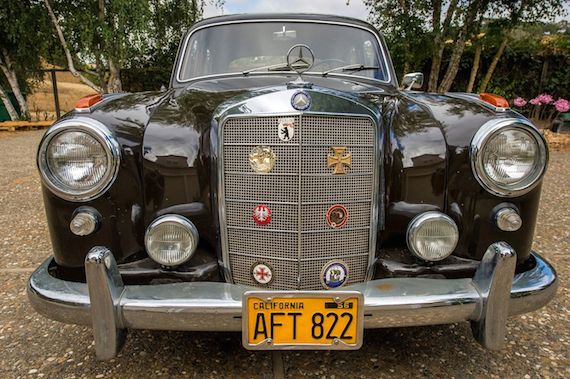 1958 Mercedes 220 S with Hydrak automatic clutch with only 89639 original miles. There may be a few more miles on it at delivery because I drive it a couple of times a week. This Mercedes 220S was owned by the service manager of German Motors in San Francisco which is now BMW of San Francisco. In 1982 Horst retired to Napa California, placed the car in his garage and it has not been driven since. The registration papers for 79,80, and 81 will also be included. Horst recently passed away and I inherited this wonderful Mercedes.

I had it towed to a shop that works on vintage European cars. The brakes were replaced, four new tires installed, wiper blades and all fluids replaced, fuel tank drained, the twin carburetors were rebuilt, fuel filters replaced and a new battery installed. The car started right away, as it does all the time the second the starter is pushed in, even when the engine is cold.

I have put a few hundred miles on the car and I have to say it is a pleasure and exciting to drive. The Hydrak automatic clutch is similar to today's paddle shifting cars, you shift through the gears without having to use a clutch pedal. I assume the Mercedes was meticulously maintained. I believe the car is all original except for the things I have listed above. Also included is the spare tire, jack and tool kit.

The badges on the front of the car are also included. The top Berlin one has a chip probably from a rock. They all are quite old. The most valuable is the WW 1 1917 Iron Cross. I have been offered quite a bit of money for it but have decided to leave it on the car for now.

There are a lot of good things about the car so I will not list them but I will tell you about the faults I have found. I would have to say it drives very close to the way it did back in the day when it was near new. There are NO fluid leaks at all. Truly a pleasure to drive and an attention getter.

Rear leather seats are slightly cracking.

Front leather seats have more cracks with splits in a couple of places. I found a guy in Southern California who can get the same leather; I have also seen these seats on eBay from people scrapping their cars.

The wood trim around the windows is in very good shape except for the windshield. The wood is not split or cracked, it is just the cosmetic finish from what looks like sun exposure.

All the glass is very clear except for the windshield- it has two chips in it. I have also seen windshields on eBay.

The rubber door seals are very tight except for the driver's door; you can hear a little wind noise over 70 mph. I have also seen the rubber seals on eBay.

The body is in very good shape. There are two minor dents, one on the roof over the driver's side door and one in the body. Because they are minor I am sure they can be straightened out easily. There is evidence that the car has been repainted, most lightly in the 1970's.

The trunk appears to have a minor hump on the upper driver's side. When I washed the car it did not leak and I am sure it is just cosmetic.

Fuel gauge does not work. I was told it is most lightly the pickup in the tank. I have found them on the net as well. Dash light does not work. It is assumed it is just a bulb.

The speedometer runs about 10% fast.

I am also including all the manuals seen in the photos. Some are inscribed by the owner of German Motors Dieter Schmitt. Some are in German and some are in English.

The German books are Mercedes-Benz Handbook for the type 190. It is a large book with many illustrations and is stamped German Motors on the inside.

Mercedes-Benz Hydrak Type 220S-219. It appears to be the automatic clutch and has exploded illustrations of all the parts. Also stamped German Motors.

Mercedes-Benz 190-219-220S This is a smaller manual and seams to focus on specific parts of the car like rear end, carburetor and how to remove the engine.

Mercedes-Benz Type 220S Inscribed on the cover is H.D. Schmitt. Appears to be an owners manual on the operation of all the controls and switches in the car.

Mercedes-Benz Type 220S catalog 1958. This manual has what seams to be exploded illustrations of most of the mechanical parts of the car.

Same as above except dated 1957.

English manuals are.

Mercedes-Benz Workshop Manual Type 220. With German Motor stamps on the inside.

Mercedes-Benz Brief Introduction to the Types 190-219-220S for Service and Maintenance.

Mercedes-Benz specifications. 1959

Mercedes-Benz Service Book Type 219

There are other manuals for 300 series etc. I will also include those.

If you have any questions please ask.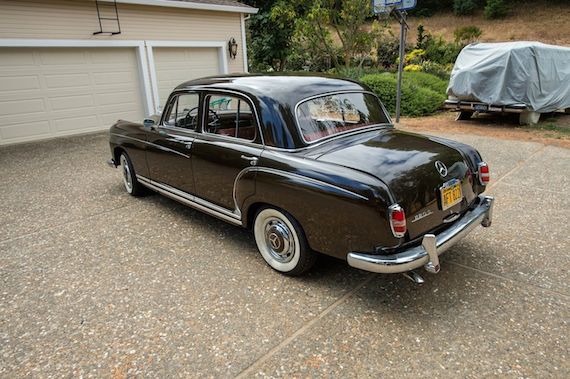 If I had to describe this car in one word, it would be "patina." Far from perfect, this car represents an amazing piece of Mercedes-Benz history at a time when these cars were scarce on these shores. I have to be honest and say that I wasn't aware these Benzes were offered with an automatic clutch, but you learn something new every day. Given the condition and provenance, a six-cylinder Ponton like this one should fetch somewhere in the $20,000 to $25,000 territory if the right bidders come along.
-Paul