Our reader Kyle recently requested to see more magnesium wheels; as I have a bit of a early magnesium BBS wheel fetish myself, I was only too happy to oblige. Here's a quick selection of the magnesium wheels on Ebay – BBS isn't the only magnesium wheel producer, but they've got some of the best designs. Interestingly, a few years back many people thought these wheels were throw-aways as no one wanted old race wheels, but a resurgence in popularity has once again made them a valuable commodity. From vintage racing Porsches to modern track cars, magnesium wheels are still some of the lightest you can get and in the 1980s they were one of the few ways to get really wide wheels on your race car. Generally, BBS wheels with an "E" prefix denote magnesium centers, though the new E88s below claim to be forged aluminum. I'm secretly hoping to find a set of languishing BBS E51s – they were originally 4×108 15″ and 16″ wheels fitted to 924s and would bolt right up to my Audi. What are your favorite?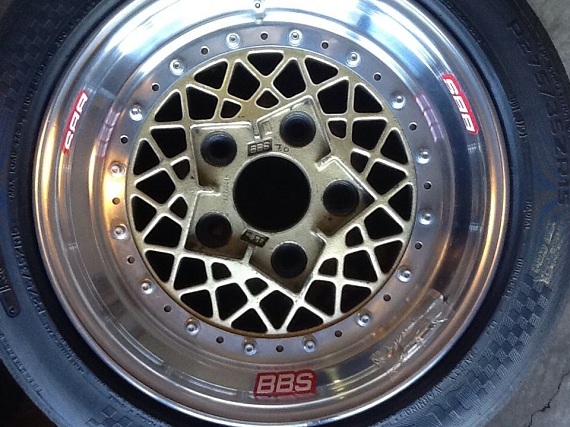 Price: Reserve Auction
BBS Motorsport wheels. E78 Magnesium centers for Porsche 5 lug hubs.

BBS centers are part number 0275001

Currently built 9.5″ wide, et 48. I had them fitted on an 87 944 Turbo.

Note one of the outer halves is a 32 hole with only 16 holes used. Otherwise all wheels are the same.

Fitted with Hoosier R6 tires 275/35/15. Tires are Dot mid 2013. Tires are worn. Lots of rubber debris on them from coming off a hot track. They have maybe 1 sprint race or a practice left. I can leave the tires on or discard and just ship the wheels.

Also included:-
4X 0″ outer halves, BBS part number 0131057
2X 7.5″ inner halves BBS part number 0135012
2X 7.0″ inner halves BBS part number 0135011
4X used sealing rings
46X used bolts.
Price: $2,000 Buy It Now
4 magnesium bbs e52 wheel centers
Also included: 4 porsche center caps made of metal, not plastic.

Local pick up is preffered but willing ship, buyer pays for shipping.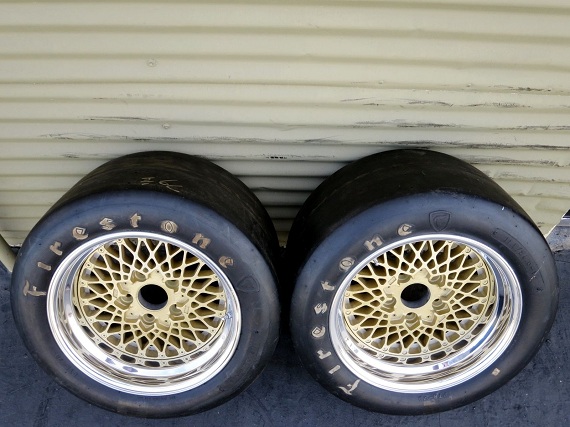 Price: No Reserve Auction
I have two 16X12 BBS Racing Porsche wheels with E50 Magnesium centers. The outer lip is about 4.5″ and the inner lip is about 7.5″. These have been restored and are in excellent condition. The offset or inner measurement from the mounting pad to the edge of the inside lip is just about 7.5″. The rims are wrapped with new/unused Firestone racing slicks (11.5/26.0-16). The whole setup is unbelievably light. Shipping is $40 within the U.S. if outside the U.S please contact me. Contact me with any and all inquires please. 5X130.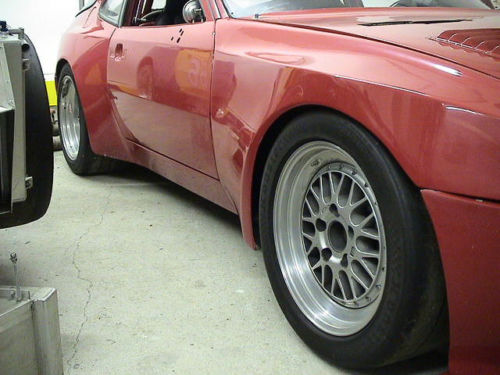 Price: $3,750 Buy It Now
Set of 4 BBS Motorsport Racing Wheels with a set of used 315/35/ZR17″ Hoosier R-6's

The wheels are 11″ fronts and 12″ rears. The wheel centers are magnesium with aluminum wheel halves. Overall condition of the wheels is very good for used racing wheels. A few minor paint chips here and there, nothing distracting. The wheels clean up very well. The wheels were used on an early offset wide-body Porsche 944 Turbo race car, but were also used on a late offset 944 Turbo with appropriate spacers. May also be used on other Porsche, VW, and Audi models depending on body and wheel spacing configuration and backspacing requirements. The wheels can easily be reconfigured by changing the wheel halves to fit your application. Additional wheel halves in varying dimensions can be sourced reasonably online…

Please confirm these will fit your application BEFORE bidding.

The backspacing is approximately 7.75″ for the front wheels and approximately 7.125″ for the rears.

The tires are in good shape, just scrubbed in for a practice session… The tires are several years old… They have been stored off the vehicle in a climate controlled environment and covered… The tires are simply a free bonus for buying the wheels.

Please feel free to ask if you have any questions!

Offers encouraged… The worst I can say is no…

Thanks for bidding!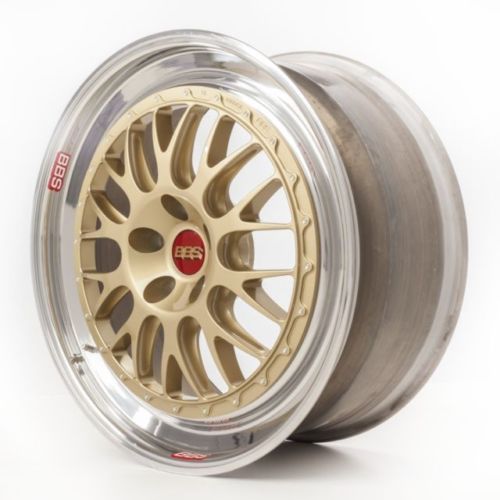 Price: $6,000 Buy It Now
1 Set (4 pieces) BBS Motorsport wheels type E88

8,5×19″ ET45 – 24 hole

LK 5×112

57,1 hub hole

BBS Motorsport wheels of the type E88 are milled from a forged blank aluminum rim center with high-tempered inner and outer wheel rims. And that at a very low weight.

Because for over 40 years BBS has Motorsport Wheels experience, amateur racers enjoy as well as Formula 1 drivers or those who appreciate this unique wheel.

This three-piece BBS Motorsport wheel offers the highest quality. It is made according to your wishes and awarded with a running serial number. This therefore makes any rim a unique piece!

It is a absolutely new product from the manufacturer!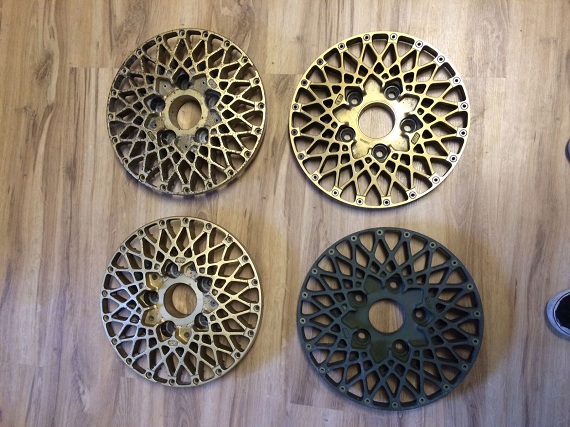 Price: $2,000 Buy It Now
Seller Notes: "Two centers have been grinded down between bolt holes for valve stem clearance. Stripped chipped paint." Four BBS E50 Centers. 911 Vintage Centers. 20 hole. Make 15-19″ with Motorsport halves.
-Carter