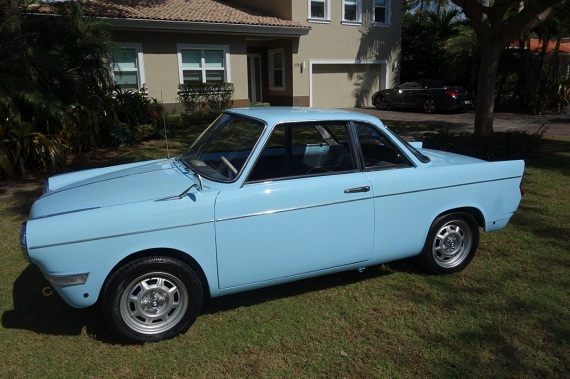 When you think BMW and engine behind the driver, you don't immediately think of an economy car, but rather the iconic M1. But long before the M1 was even conceived, it was the BMW 700 that introduced the automotive world to a BMW with the engine behind the driver. That engine was effectively a motorcycle unit, so this mini-car was efficient if not particularly powerful. However, what it was good at was racing, so in some regards this car which seems at first glance to have little to do with other BMWs helped to solidify BMW's reputation in the motorsport world and thereby helped to create models like the M1. On top of that, the 700 Coupe was a particularly neat looking little car, with plenty of 60s-spectacular tail fins and a smart-looking profile. Today there is a lovely light blue example on Ebay: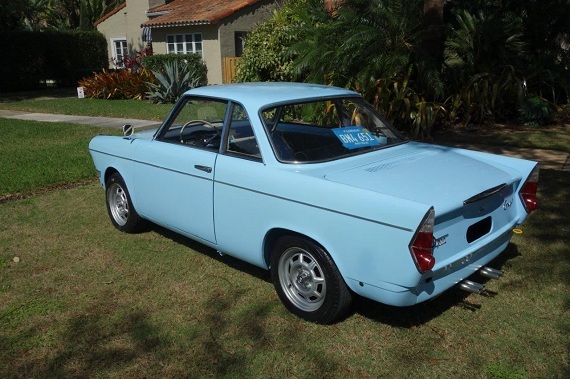 Year: 1962
Model: 700
Engine: 0.7 liter flat-2
Transmission: 4-speed manual
Mileage: "100" mi
Price: Reserve Auction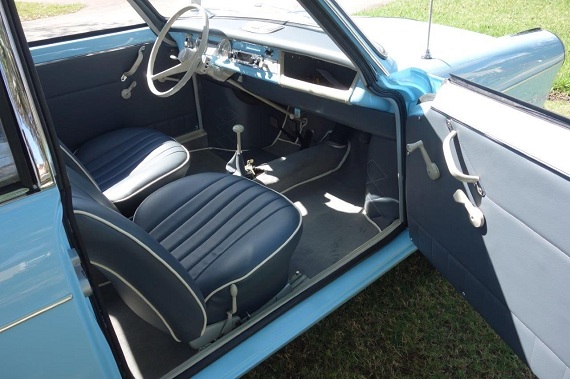 This is a rare and unique chance for collectors to acquire a piece of history of BMW with this BMW 700c.

We have bought these car in the last 12 months among with another 1962 BMW 700 short wheel base limo that will be ready next week ( see attached picture of restoration process) .

The cars have been imported from France last march 2013. We have started with my friend Alberto Cordero in Miami, FL he is a mechanic engineer from Argentina, former chief of mechanics of Renault France, and also former chief mechanic of Juan Manuel Fangio on 1969 84 hs of Nurburgring mission with the Argentinean Torino 380 W. He have raced with the BMW 700 coupe back in Argentina in the middle 60's to the 70's with the 700 sport BMW 700 manufactured in Argentina under the brand of "De Carlo 700" by Metalmecanica in Cordoba, back in 1959 to 1961.

For sale in this auction:

· 1962 BMW 700 Coupe, original France plate.

The car was restored from ground up, nut and bolt restoration involving total bare metal body work and new paintwork, the color match the original BMW light blue color.

DETAILED WORK PERFORMED ON THE CAR:

The car was completely disassembled; all parts up to the last nut and bolt overhauled/replaced. Impossible to describe each task, we will mention only the general items but, everything was done to get the car 100% functional and original. All non-original parts fitted by previous owners, were discarded and replaced with original German parts.

The car is a number matching car, fitted from factory with the bmw 700 engine, 1 carburetor 32 HP.

All mechanical parts were restored at per original specs, brakes, master cylinder, dubonet suspension arms, steering, shock absorbers, all new parts imported from Germany.

New upholstery in grey/blue and white with original insert buttons, new weather strips, new badges, New original moldings, New original tail lights etc.

New retro sound radio model TWO with 4 channels speakers + blue tooth was fitted in the car to replace the non-original one installed on the car.

Restored electrical wiring, new carbons and condenser, new battery, all new terminals were necessary, original ignition coils.

New tires installed .

The body on the coupe was straight, without any accidents, we sandblast the body and proceed with our in house master sheet metal craftsman to restore the rocket panels, floors, and inner fenders areas. All rust areas were replaced or patched; all body was treated with antirust base paint before color base and 2 hands of clear coat.

All aluminum new trims from BMW Germany. The body paint in this car looks astonishing.

All electrical wiring was restored as per original specs; lamps were replaced with LED at instrument gauges and rear lights.

4 original brand new BMW aluminum wheels 5.5 x 13" coming from the BMW 2002 TTI 1967 were fitted in this 700.

We have replaced the pistons for a new ones, same specs as the performance ones, new rings ( 4 per piston) new gaskets, new valves, overhauled aluminum heads, overhauled Dinastar, new engine rubber support, new sport 4 pipes SS competition exhaust.

New front headlights with halogen bulbs, new tailgates with backup light as per European specs ( USA model was originally with yellow side markers without backup light).

New original door handles were fitted, new chrome roof trim was installed, all new badges, trims, and letters were fitted in this car.

An authentic piece to complete your BMW collection and a fun car to drive that will turn heads all the time.
Certainly if you're in the market for one of these early BMWs, the way to buy in is to find one thoroughly restored like this one – if you can afford it. I like the combination of the 2002/320i-spec steel wheels, though if it were mine I'd probably be on the hunt for some period-correct alloys. Bidding has been strong on this car, and it sits at $20,000 as of this writing with the reserve still on. According to Hagerty, that exceeds the value of a top condition car by a few thousand dollars already, so you're really paying top dollar for this car – but this is certainly one of the best condition examples we've seen lately. As an alternative to the increasingly expensive original 2002 market though, this will certainly be an entertaining purchase and draw a considerable amount of attention wherever it goes!
-Carter