In the early 1960s, the BMW lineup was a bit of a mash up of bubble cars, luxury coupes and saloons and the recently introduced, rear engined 700. The 3200CS was the final vehicle to be built on BMW's large car platform, which traced its beginning back to 1951 with the introduction of the 501, or "Baroque Angel" as it was also known. Designed by Bertone, the 3200CS is a car which clearly represents the roots of modern BMW styling, with the Hofmeister kink on the C-pillar and low belt line. It was also the last BMW engine to feature pushrod activated valves. Few of these coupes exist to this day, and this restored example for sale in California is a rare chance to get one in near perfect condition.
Year: 1965
Model: 3200CS
Engine: 3.2 liter V8
Transmission: 4-speed manual
Mileage: 50,048 mi
Price: $199,900 Buy It Now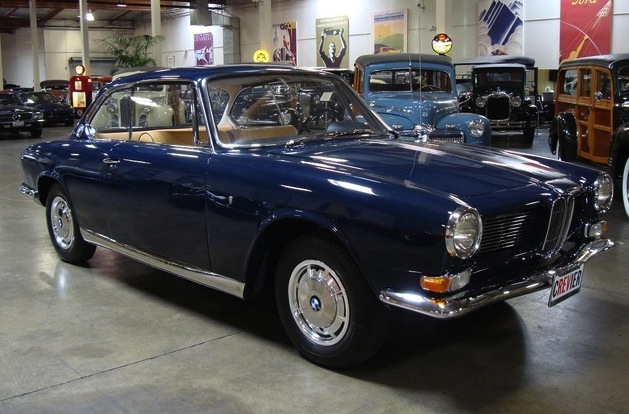 The BMW 3200CS was the first to wear the CS or Coupe Sport moniker and featured the latest high-performance V-8. It was constructed in partnership with Bertone, who both designed and built the body. The 3200CS was unveiled at the 1961 Frankfurt Motor Show and the first cars were delivered in February 1962. The stunning bodywork introduced many styling cues that were seen on later models such as the slim roof section, round taillights with central indicators and distinctive C pillar kink.

Aimed at a select clientele, the high-fashion CS was priced at $7,500 and was often made to suit customer specifications. BMW soon realized that complications arising from the hand-built bodies, plus the tremendous success of their other models made the Bertone coupe too expensive and stopped production after only 603 were built. The 3200 was the last remnant of BMW's luxury V-8's, but the beautiful model left its mark on virtually every future coupe, with its timeless styling and exclusive appeal.

This rare 1965 BMW 3200CS was found by Don Dethlefsen in 1996, a collector, restorer and owner of the distinguished Werk Shop, after it was left sitting behind at another restoration shop. The car was taken back to Don's shop in Illinois and treated to a full nut-and-bolt restoration to showroom condition. The finished bodywork was painted a deep dark blue and was fitted with all of the hard to find badges and trim. The interior was also restored to as-new condition with its tan leather seats and blue carpet.

The smooth V-8 was completely refurbished and runs silently at idle with a wonderful sound as the revs build. The car also has the rare, factory electric sunroof, Becker Mexico radio and a floor mounted 4-speed manual gearbox. This car is one of approximately 50 remaining 3200CS coupes worldwide. This is an extremely rare Italian designed BMW of which few remain today. Please contact us with any questions at 714-426-0238 or mark@crevierclassiccars.com
Given their rarity and that they represent a link between the past and future of the brand, the 3200CS is a car for serious collectors. A good example will typically range between $75,000 and $100,000, with exceptional examples reaching up around $125,000. I wouldn't doubt that a car of this quality could bring six figures, but at $200,000, the asking price for this example is a bit reaching. It would be nice to know whether there is any documentation available, such as the vehicle history and what the original color of the car was. Overall, though, this is a great looking example of a classic 1960s coupe with which few are familiar and was highly influential to BMW design.
-Paul