If I were to attempt to draw a Mercedes Benz 280SE Convertible, my rendering would likely be confused with this car. Looking like a jacked up Mercedes that spent a little too much time in a J.C. Whitney catalog spending spree, the Amphicar was neither a particularly good road car, nor was it a particularly good boat; but it was one of a very select few automobiles that could be both on demand. It's fairly amazing that even with the budget of the BBC James May couldn't get a Triumph Herald convertible to float, but in their own way, of course the Germans did! If you're not in a hurry to get anywhere on either land or sea, today's 1966 example looks ready to cast off in Lagoon Blue: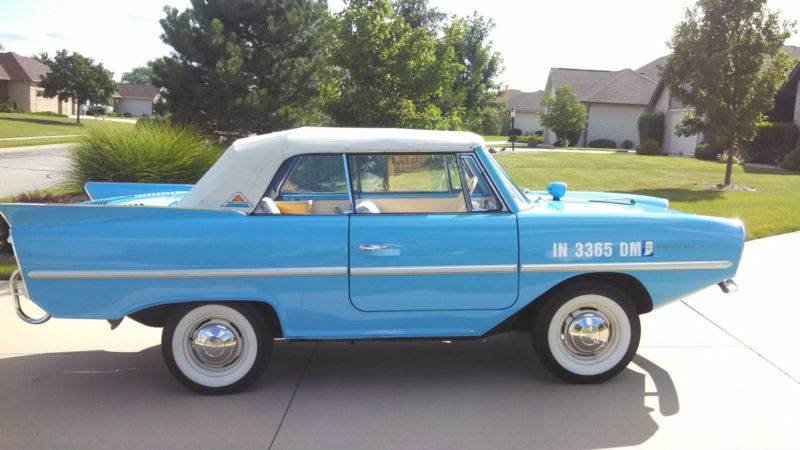 Year: 1966
Model: 770
Engine: 1.1 liter inline-4
Transmission: 4-speed manual
Mileage: 5,500 mi
Price: $60,000 Buy It Now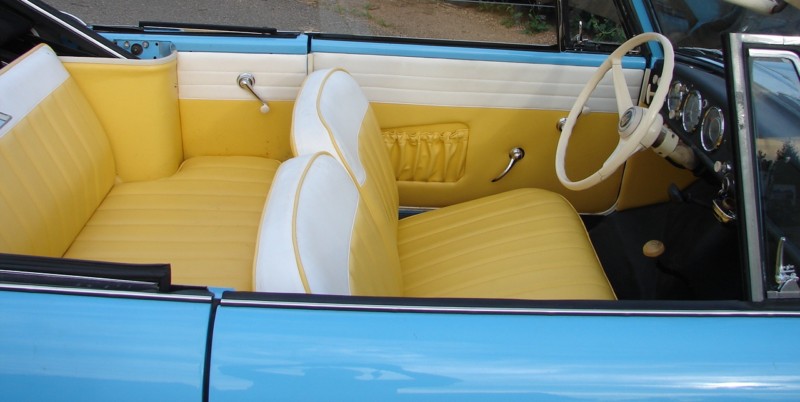 I also have this vehicle for sale locally and reserve the right to end this offering at any time.

This is a 1966 Amphicar 770 and is a two owner car. In 2010 Rocky Mountain Amphicars did some work to ensure it was preserved in excellent working condition.

It has had a complete paint job, new upholstery, all new seals, gaskets, engine mounts, brakes, bilge pump, tires, top, muffler, tailpipe and front and rear bumpers The original radiator, heater core and oil cooler were checked and all found to be leak free! Both radiator hoses and clamps are new and all heater hoses were replaced. The fan shroud is painted black, has new rubber seals all around installed and assembled to radiator with stainless screws and bolts etc. It has a new fuel valve and the ON/OFF/RESERVE selector works as it should. The wheels were sand blasted and repainted with epoxy. It has the original 1147 triumph engine with less than 5,500 miles. The carburetor was overhauled. The rear axles (also called drive shafts), have new spline boots and tight u-joints. All 4 rear wheel bearings, hub keys, axle nuts and seals are new. All front wheel bearings and seals are also new. The propellers are both original, in great condition and favored by many over new replacements. All original controls work as built, bilge, blower, heater controls, wipers, head lights, cigarette lighter, etc..; However, the horn is not currently working. 🙁

The Amphicar was built in Berlin Germany from 1961 to 1968. The total production was 3,878 vehicles and the Amphicar is the only civilian amphibious passenger automobile ever to be mass produced. 3,046 Amphicars were imported into the United States between 1961 and 1967. The Amphicar is rear engined and uses a 4 cylinder British-built Triumph Herald motor producing 43 horse power.

All Amphicars are convertibles, and the civilian models were originally offered in only 4 colors, Beach White, Regatta Red, Lagoon Blue and Fjord Green (Aqua).

The backbone of the Amphicar's electrics is basically a Lucas 12 volt positive ground system with certain items such as the horn, lighting and switches made by other manufacturers such as Hella and Bosch.

The Amphicar has a top speed of 7mph on water and 70mph on land. Hence, it was dubbed the "Model 770". It is moved in the water by its twin nylon propellers. A special two-part land-and-water transmission built by Hermes (makers of the Porsche transmission) allows the wheels and propellers to be operated either independently or simultaneously.

The "land transmission" is a 4-speed-plus-reverse unit similar to those found in the old Volkswagen Beetles. The "water transmission" is a 2-speed offering unique to the Amphicar featuring single forward and reverse gears. In the water, the front wheels act as rudders.

This is an awesome running/swimming Amphicar. It will bring a smile to you and everyone you see while driving it. This car is sold where is and as is.

Buyer is responsible for shipping. Payment: The purchase price MUST be paid for by cash in person, cashier's check (like you would get from most banks & credit unions), or bank wire.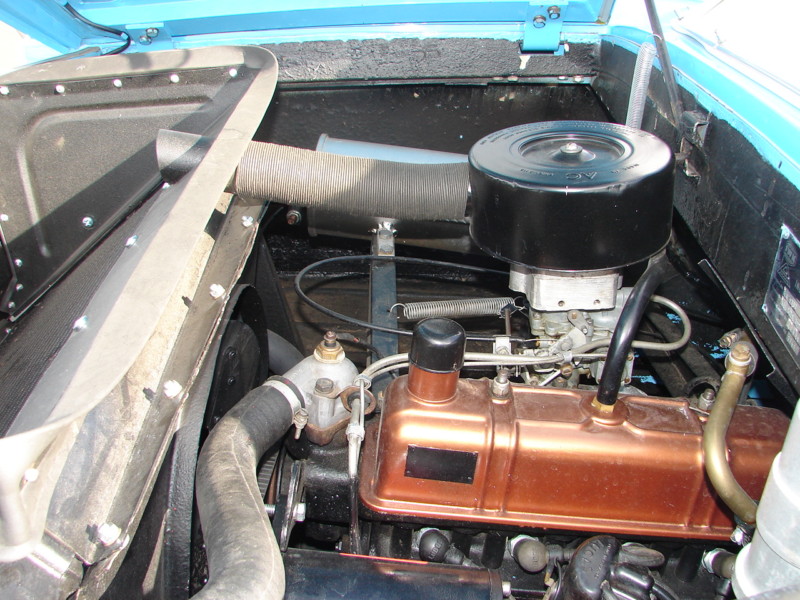 These are cool cars and make a scene wherever they go. You won't win any drag races or the America's Cup, but you'll sure win a popularity contest at your local lake. That said, when buying an Amphicar the prospective buyer needs to not only consider the needs of an older German car, but an older German boat as well. This is very much the case of finding the right one that has received extensive work over its life and hasn't been abused. This car certainly falls into that category, with the seller obviously quite the proud and adoring owner. I really love that it's been used, too, rather than just stuck somewhere to gather dust and visit an occasional show. It is because of this, though, that the car is not a top condition car – close, but it's not a museum piece. While that makes it more attractive for ownership, it also takes it's value down a notch. Hagerty puts Concours condition Amphicars at about $65,000 and condition 2 around $48,000 – far short of their 2008-2009 highs which exceeded $100,000. This car is probably a good condition 2 car, and as such should bring around $50,000 for the right buyer. The question I want answered, though, is "Does it comes with the hat?"
-Carter