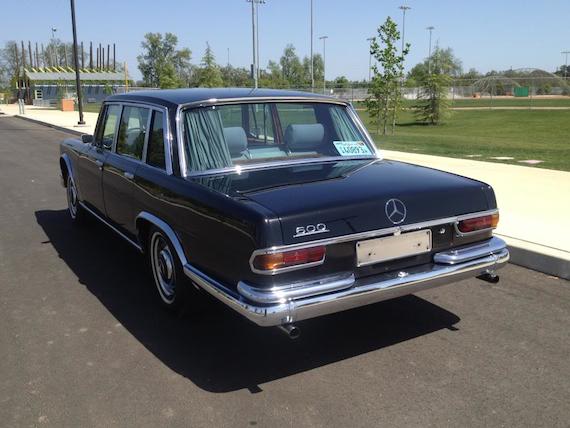 Besides the good weather, one benefit to living in California is the never ending stream of privately imported vehicles that arrive regularly from the Far East. Most coming into the ports these days are Japanese machinery forbidden to us, such as Nissan Skylines, Toyota Soarers and the odd, diminutive Kei car. Occasionally, a few European motors will be sourced, such as this 600 SWB. Just a few days ago, we featured a very nice, original 600 SWB, but this one is a bit different. This 600 comes equipped with the divider between the front and rear passenger compartments, a rare option for the "smaller" variant of the 600 range. Also, velour upholstery is present in the rear compartment in place of the more common leather.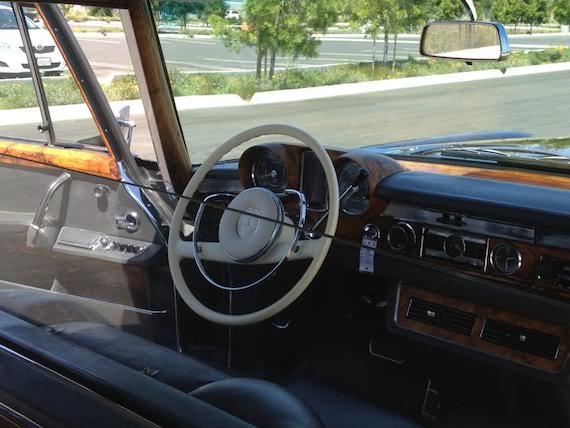 Year: 1966
Model: 600 SWB
Engine: 6.3 liter V8
Transmission: 4-speed automatic
Mileage: 102,000 km (~ 60,000 mi)
Price: No reserve auction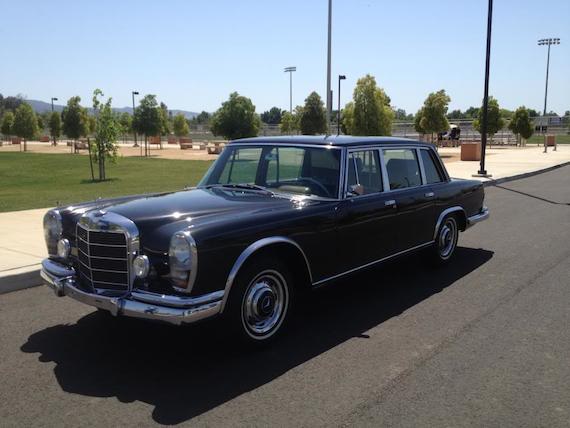 This vehicle is an exquisite example of an extremely rare Mercedes Benz 600 4-door Pullman 1966. In 1964 Mercedes designed an automobile that was second to none. It was the Mercedes 600 Pullman. There were a few different versions made over the 18 years of production. The 600's are extremely rare to begin with. This specific model is even more rare because it has the limo divider in a SWB. This feature is great for everyday driving or being Chauffeured around town. This specific car was originally owned in Japan was imported to the United States in the mid 90's. The car was believed to be owned by a wealthy Japanese Businessman and only has 102k Kilometers or approximately 60k Miles. Mercedes Benz factory in Germany restores these cars at $500k-$600k for a full customer ordered restoration. This car is excellent for any collector looking to add a prestigious one of a kind 600 to their collection with little or no additional investment.

This car has been meticulously cared for and everything works perfectly. Absolutely no mechanical problems! The car has the full hydraulic and suspension system restored. The car fires up effortlessly and has a spare key as well. This car is coming up on close to 50 years in 2016 and will then be worth even more. For the amount of years its been around it's condition is unmatchable. The car has absolutely no rust and has been kept in its original condition. The paint as well as the interior are 100% original and in excellent condition. BOTH of the cars' air-condition systems have been rebuilt and work perfectly as well. The car runs like a fine swiss watch.

MECHANICS – The car has been inspected and has had all mechanical work done by a highly experienced Mercedes Benz technician with over 30 years of experience. Upon sale the car can be evaluated again.

PAINT – For a 47 year old car the paint is amazing condition and will draw attention everywhere it goes.

SUSPENSION & HYDRAULIC – Most people know these cars have suspension issues. This car's suspension and hydraulic systems were all full rebuilt and or replaced. The car drives like a dream with no leaks at all.

INTERIOR – All of the walnut wood is in great condition with very few cracks only in areas where it might be exposed to the sun. The entire rear divider/bar is all in impeccable condition. The rear velour seats have no rips. tears or any signs of distress. The front leather seats are also in excellent condition.

TITLE – The car has a clean California title and can be transferred with ease. We can help organize shipping to anywhere in the world including the Middle East. South America. East Asia. Europe etc.

In Senegal, the first regime (1960–1980) under president Leopold Sedar Senghor had in its fleet three 600s: a short wheel base, a long wheel base and a Landaulet. These were later 'replaced' by the W126 based Carat Limousine. In Colombia, former drug dealer Pablo Escobar owned a LWB six-door 600. This example was destroyed in an attack towards Pablo in 1988 in Medellin. Iran's Royal Court and Iran's Shah Mohammad Reza Pahlavi owned multiple 600 models that were used for official and personal use of the late Shah and his court. Some of them were sold after the 1979 Islamic revolution and three of them are in the National Car Museum of Iran in Karaj.

Other notable owners include Anwar Sadat, Hafez al-Assad, Sukarno, Frederik Willem de Klerk, Éamon de Valera and Archbishop Makarios III of Cyprus. Former Chinese Foreign Minister Chen Yi, Deng Xiaoping, wife of the first Chinese Premier Zhou Enlai Deng Yingchao and the former King of Cambodia Norodom Sihanouk when he fled to Beijing after the Cambodian coup of 1970 all used the 600. In television, a Mercedes Benz 600 limousine was used by Angela Channing, matriarch of the fictional Channing/Gioberti family in the American television series Falcon Crest. Images of the car driving from San Francisco over the Golden Gate Bridge to the Falcon Crest vineyard were featured in the opening credits of the first four seasons. The Mercedes 600 has also featured in the James Bond films, most notably as transport of the villain Ernst Stavro Blofeld in On Her Majesty's Secret Service and Diamonds Are Forever. Kamal Khan is also seen leaving Sotheby's in a 600 in Octopussy.

FOR ADDITIONAL QUESTIONS PLEASE CONTACT ME AT (818).825-8704. FOR ADDITIONAL PHOTOS AND VIDEOS PLEASE VISIT THIS LINK

http://i803.photobucket.com/albums/yy317/zgabay/1966%20Mercedes%20Benz%20600/IMG_1902.jpg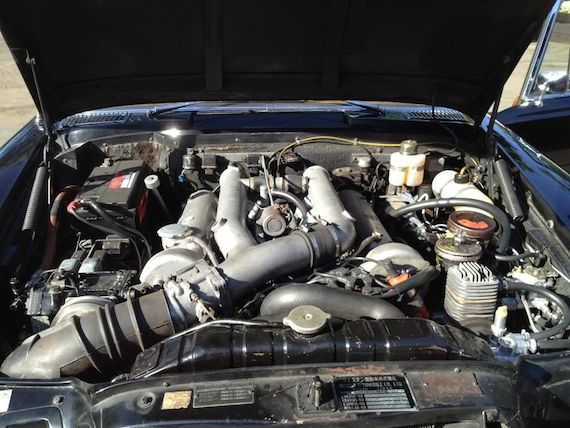 As we noted with the 600 featured last week, a big issue with this car is the hydraulic system, which powers numerous accessories on the car. Thankfully, that system has been sorted on this car. Given the stratospheric prices of 300SL Gullwings and Roadsters, late model W111 coupes and cabriolets and now even W113 Pagodas and R121 190SLs, it's surprising 600 prices have not shot up. Prices have stayed rather level over the last several years, but not at a level where you would consider it a bargain classic. Nice SWB examples can range between $70,000 to $150,000 depending on options and provenance. The 600 we featured last Sunday was a final year, original example up for sale at $125,000. This example is much earlier but comes with an interesting history and the interior divider. At no reserve, it will certainly be interesting to see where the bidding settles. Whatever the number may be, the 600 Grösser will be collectable for years to come, marking a high point in executive class motoring.
-Paul