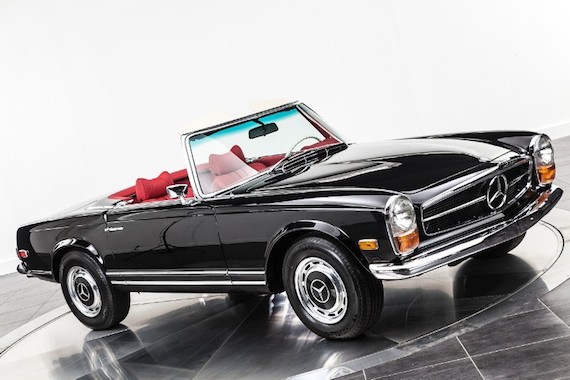 We like to speculate about "what ifs" here at GCFSB when it comes to models a particular manufacturer may have not offered. The Mercedes-Benz SL was in for a large change in the early 1970s with the introduction of the R107 SL. Mercedes' roadster would be transformed into more of a cruiser than a sporting machine, with a myriad of V8 engines on offer throughout its lifespan. Some lamented the fact that the SL was taking a turn towards luxury and abandoning the "sport light" formula embodied by its predecessors. A V8 was never offered in the W113 SL, but a few intrepid enthusiasts have taken it upon themselves to slot two extra cylinders under the hood of these drop tops, as we see with this restored 1968 280SL sporting a period 3.5 liter V8.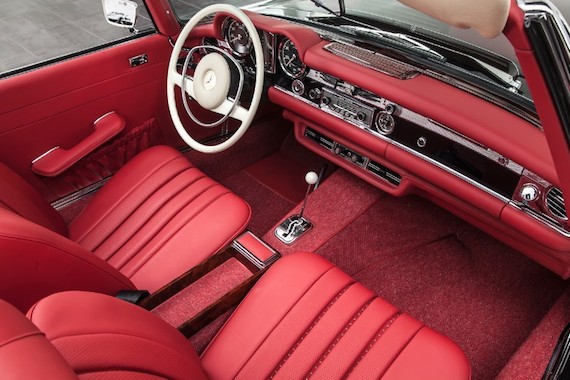 Year: 1968
Model: 280SL
Engine: 3.5 liter V8
Transmission: 4-speed manual
Mileage: 1,914 mi
Price: $225,000 Buy It Now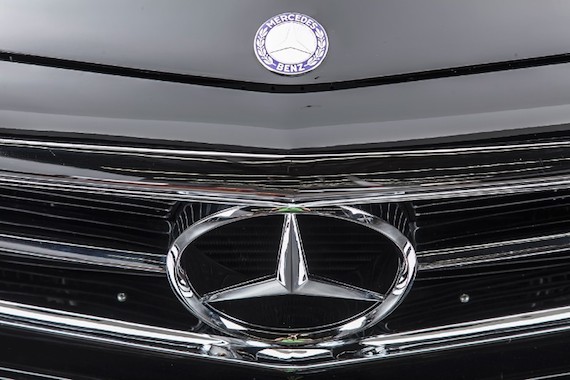 ONE OF A KIND

MERCEDES 280SL 3.5

FULL ROTISSERIE RESTORATION OVER 6 years and $160,000.00 spent

OEM MERCEDES 280SE 3.5 DRIVETRAIN

FEATURING:

REBUILT MERCEDES 3.5 V8 ENGINE WITH ALL NEW MERCEDES PARTS

REBUILT MERCEDES 3.5 TRANSMISSION

REBUILT 3.5 DIFFERENTIAL

FACTORY HYDRAULIC COMPENSATOR

NEW RED LEATHER INTERIOR

NEW CARPET

REBUILT FACTORY BECKER RADIO

CUSTOM NEW 3.5 AIRCONDITION SYSTEM

NEW BURL-WOOD

ALL NEW SEALS

ALL NEW GLASS

REBUILT GAUGES & CLOCK

ALL NEW BRAKE AND FUEL LINES

REBUILT FRONT END

REBUILT BRAKES

RESTORED HARDTOP

NEW SOFT TOP

NEW MICHELIN TIRES 205/70/14

NEW FACTORY EXHAUST SYSTEM

NEW CHROME ON ENTIRE CAR

$15000.00 PAINT JOB

FULL UNDERCARRIAGE RESTORATION

Thank you for viewing this one of a kind historic Masterpiece, this fully restored Mercedes 280SL with a factory Mercedes V8 3.5 Drivetrain. This amazing restored 280SL 3.5 took Years to complete. Every detail was completed with passion. We replaced simply every nut and bolt so to say.

I had the entire car stripped to bare metal after every single part and wire was removed. During the time the body was completely refinished and painted in Mercedes 040 Black, the OEM 280 3.5 drive train was rebuilt with every single component necessary to bring it as close to factory new as possible. A all new factory wiring harness was installed. Every piece of chrome was redone or replaced. The factory original 3.5 Gauges were sent out to be restored to new condition. Famous Mario's Upholstery installed complete new red Mercedes leather and carpet. A brand new soft top was installed as well.

All wood was replaced with original Mercedes burl wood finish. Windshield and all seals are new.

To write every detail will take a book "lol"

Please view the over 150 quality Photos to see details.

Feel free to ask any question you may have via email or phone.

sales@eurocaroc.com

949-722-7121
We've seen R107 SLs start to take off in value, and with it, the W113 SL has begun to make the long march away from the means of mere mortals. In top condition, a 280SL of this vintage may approach $150,000, so we're talking around a $75,000 premium for this particular SL. Is the exclusivity worth it? Will a modification like this appeal to the purists looking to spend this kind of money? Not having driven a V8 engined W113, I couldn't say whether I'd be sold on the idea, but this looks to be a top notch conversion. It would also offer the chance to surprise a few folks off the line, as well.
-Paul