Warning!
This post is in our archives. Links in this post may have been updated to point to similar cars available to bid on eBay.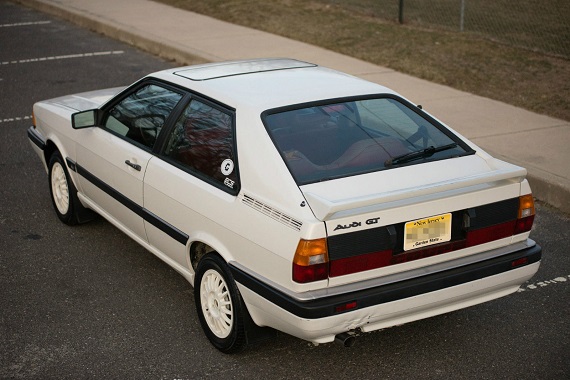 One thing I truly appreciate about my wife is that she not only listens to my interests, but provides unique insight into them as well. Not that long ago, I was talking to her about the whole E30 and 911 craze, saying how insane prices were getting. She immediately stated something to the effect that if someone walked up to me and offered me $20,000 for my Coupe GT, I had better sell it. In part, I'm torn; I've logged countless hours driving the GT, and have so much blood, sweat and swears in the car I'm not sure you can put a dollar value on it. I love how the car looks, how it performs, the sounds it makes and the way it stands out from the crowd. But then there's the moment of pause – seriously, what if someone told me suddenly that my car was worth (to me) a large amount of money? Would I keep it? Would I gamble that it would continue to increase or that the market would pop? While the dollar figure varies greatly for the E30 M3 market, I imagine it's a similar thought that is going through many E30 owner's minds – when is the right time to sell?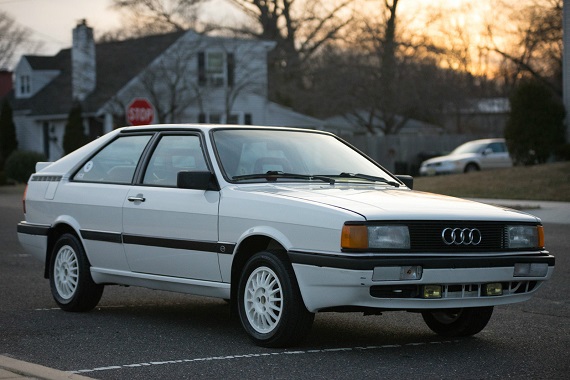 Year: 1986
Model: Coupe GT Commemorative Edition
Engine: 2.2 liter inline-5
Transmission: 5-speed manual
Mileage: 276,313 mi
Price: No Reserve Auction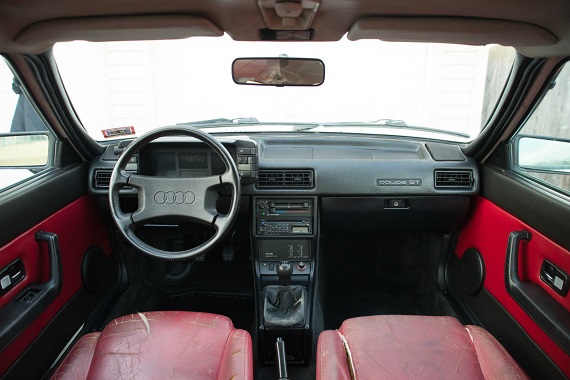 Up for your consideration is a 1986 Audi Coupe GT Commemorative Edition. It was purchased by me in 2008, and used for the daily commute to work. At 275,000 miles the original head gasket failed. I decided it was time for a full restoration, to return the car to it's former glory. Over the past year and a half, almost everything mechanical on this car has been disassembled and inspected. Anything that was out of tolerance or failing was replaced or upgraded. The Audi was driven for about 500 miles afterwards to make sure everything was working perfectly. Unfortunately, I've had less and less time to dedicate to this great car lately. It's been sitting in my driveway for 6 months without being driven. Now, another member of the household is getting their licence and we'll need the space in the driveway for another vehicle. I'm hoping another enthusiast will purchase it, and give it the love and care it needs. This Audi Coupe has had a LOT of time and money put into it. It turns heads wherever it goes. However, it is a 28 year old car, and it is not perfect. Please see the categorized lists below, which will tell you everything right and wrong with this vehicle.

Additional photographs are at the end of the listing description!

The Good:

The engine, when torn down, was in immaculate condition, other than the tear in the head gasket. The original crosshatch pattern was still visible on the cylinder walls and there was no scoring on any wear surfaces. The engine was rebuilt without having to use any oversize bearings or major machine work. The engine was then reinstalled into the chassis and broken in with special oil containing ZDDP additives. The fuel system wasn't performing at 100%, so it too was taken apart and checked. The fuel distributor head was cleaned, rebuilt, and calibrated. Injectors were tested for flow and spray pattern. Three injectors did not meet OE specification and were replaced. The fuel flow to each cylinder was then balanced and adjusted to within 5% of each other. The ignition system got the same treatment, with most parts being replaced. The original ignition coil was swapped out with a MSD Blaster 2, which can deliver a more powerful spark.

The car easily passed NJ state inspection with the new engine, and it is good until 2016. NJ supposedly has strict emissions standards compared to most states.

The transmission was removed with the engine, and it was cleaned and inspected. Bearings were checked for play and looseness. All seals were replaced and it was refilled again with synthetic oil. The transmission was reinstalled with a new clutch kit and slave cylinder. All gears shift smoothly.

Brakes and Suspension were disassembled next. Almost the entire braking system was replaced and many suspension parts that were old or worn were replaced. The entire brake hydraulic system was drained, filled with fresh fluid, and power bled.

The power steering system was refreshed too. The pressure and return hoses were replaced. The OE return hose was no longer available, so a custom one was made using a heavy duty EATON hydraulic hose which was compatible with the Audi's mineral oil based fluid.

There's brand new bearings and seals behind all four wheels on this car. Those wheels also got a new coat of Alpine White paint. The wheels were then wrapped with new Sumitumo high performance all season tires. The wheels were balanced and then installed with 16 new bolts.

I took one of the lock cylinders to a locksmith, and have her cut new keys from that instead of copying already worn keys. Now you'll have keys that work perfectly in every lock. The fuel cap was replaced with a new OE unit, and that was also rekeyed to match. One key opens both doors, ignition, glove box, and fuel cap!

The original R12-based air conditioning system was no longer working. Instead of "retrofitting", the entire system was reworked and designed for modern R134a refrigerant. The original A/C compressor was replaced with a rebuilt unit for a Ford application. This compressor is a York 210 like the original, but it utilizes Tube-O fittings instead of Rotolock fittings. Directly on top of the compressor are fittings with high and low side charging ports. All the high and low pressure hoses were custom made with Parker FUTURA hose. This hose is a barrier-type hose, which is required for R134a. The smaller molecules of R134a will actually seep through a hose designed for R12! The drier/accumulator was also replaced, along with the expansion valve. The system was brought under a vacuum and tested for leaks before filling. You'll probably have the only Coupe GT in the country with functioning A/C!

A brand new Bosch battery was installed. Both power and ground cables were replaced with new cables and terminal clamps. A 6 AWG accessory power cable was run through the factory wire channels and clips into the trunk of the car. A premium Sony ES 4-channel amplifier was mounted in the trunk on a custom platform under the sunroof storage tray. A Blaupunkt receiver was taken from a newer Jetta GLI with premium sound. The backlighting was changed to match the Audi interior. An auxiliary audio input was mounted in the center console and connected to the Blaupunkt unit. Mogami shielded audio cabling was run through the factory channels on the opposite side of the car from the power cable. The rear deck is reinforced with thick particle board, and two Rockford Fosgate midbass woofers were mounted in it. These woofers were custom designed by Rockford for Mitsubishi, and they handle the low frequencies very well. Mounted next to these woofers are 3/4″ dome tweeters and crossovers (underneath), which separate the high and low frequencies. The front door panels were reupholstered by a local shop without the plastic pockets (they were broken). This space was now available for speakers! Two Rockford midrange woofers are mounted in the doors on birch plywood baffles. The original dash speaker brackets now house two wide dispersion dome tweeters. This audio system isn't going to rattle the trunk, but the sound quality is absolutely stellar! It plays the lowest lows and the highest highs, and it's hundreds of times better than the factory setup!

The body of the car is virtually rust free, with the exception of a few small areas where the paint rubbed off. It is very clean inside and out. The carpet is great, with no stains or holes. The seats were removed to have the carpet shampooed. While the seats were out, the tracks and guides were cleaned and re-greased!

Here's an itemized list of all the repairs and modifications that were done:

Engine

Engine Assembly Removed and Disassembled
Cylinder Head Cleaned / Inspected
NEW Camshaft Seals
NEW Valve Stem Seals
Valve Seats Refinished
NEW Cylinder Head Gasket
NEW Cylinder Head Bolts
NEW INA Hydraulic Camshaft Followers / Lifters
Cylinder Block Cleaned / Inspected
Cylinder Bores Honed
NEW Piston Rings
NEW Crankshaft Main Bearings
NEW Connecting Rod Bearings
NEW Crankshaft Rear Main Seal
NEW Crankshaft Front Seal
NEW Intake Manifold Gasket
NEW Exhaust Manifold Gasket
NEW Oil Pan Gasket
NEW Valve Cover Gasket (One Piece Rubber)
NEW Oil Filler Cap
NEW Timing Belt
NEW Timing Belt Idler Pulley
NEW Water Pump
NEW 192F Thermostat
Throttle Body Cleaned / Lubricated
Rebuilt Fuel Distributor
NEW Silicone Fuel Distributor Base Gasket
Fuel Distributor Calibration / Balancing
NEW (3x) CIS Fuel Injectors
NEW Fuel Injector Hose Washers
NEW Fuel Injector Inserts / Cups
NEW Fuel Injector Upper O-Rings
NEW Fuel Injector Lower O-Rings
NEW Primary Fuel Filter
NEW Secondary Fuel Filter
NEW Bosch Distributor Vacuum Advance Assembly
NEW Bosch Distributor Pickup Coil
NEW Distributor Cap
NEW Distributor Rotor
NEW MSD Blaster 2 Ignition Coil
NEW Bosch Spark Plug Wires
NEW Bosch Platinum Spark Plugs
NEW 034 Motorsport Silicone ISV Breather Hose
NEW 034 Motorsport Silicone Valve Cover Breather Hose
NEW Rubber Vacuum Hoses
NEW Solid Rubber Engine Mounts
NEW Goodyear Gatorback Accessory Belts
NEW Exhaust Pipe Hangers
NEW Exhaust Flange Gaskets
Rear Muffler Delete
Stainless Ceramic Core Catalytic Converter
NEW Upper Radiator Mount
NEW Lower Radiator Mount
NEW Coolant Return Hose
NEW Coolant Temperature Sensor
NEW Coolant Bottle Cap
Pentosin G11 Coolant Flush / Fill
NEW MANN Air Filter
NEW MANN Oil Filter
Mobil 1 Synthetic 10W40 Oil Change

Transmission

NEW Sachs Clutch Pressure Plate
NEW Sachs Clutch Friction Disc
NEW Clutch Release Bearing
NEW Clutch Slave Cylinder
NEW Transmission Input Shaft Seal
NEW Transmission Output Shaft / Axle Seals
NEW Transmission Mount
Transmission Linkage Adjusted / Lubricated
Mobil 1 Synthetic 75W90 Transmission Drain / Fill
NEW Driveshaft Inner CV Joints
NEW Driveshaft Outer CV Joints
NEW Driveshaft Inner CV Gaskets

Suspension

NEW Monroe Front Strut Cartridges
NEW Front Strut Mounts / Bearings
NEW Front Strut Bellows
NEW Gabriel Ultra Rear Shock Absorbers
NEW Rear Shock Absorber Mount
NEW Front Lower Ball Joints
NEW Stabilizer Bar Frame Bushings
NEW Stabilizer Bar End Links
NEW Stabilizer Bar End Link Bushings

Steering

NEW Outer Tie Rod Ends
NEW Steering Rack Bellows
NEW Power Steering Pressure Hose
NEW EATON Power Steering Return Hose
Pentosin CHF 7.1 Power Steering Fluid Flush / Fill

Brakes

Remanufactured Front Brake Calipers
Remanufactured Front Brake Caliper Brackets
NEW Brake Caliper Guide Pins
NEW BENDIX Front Brake Rotors
NEW Hawk HPS Front Brake Pads
NEW Front Brake Hydraulic Hoses
Resurfaced Rear Brake Drums
NEW Centric Rear Brake Shoes
NEW Rear Brake Drum Hardware
NEW Rear Brake Adjusting Wedges
NEW Rear Brake Drum Adjusting Bar
NEW Rear Wheel Cylinders
NEW Rear Brake Lines (Steel)
NEW Rear Brake Hydraulic Hoses
DOT 4 Brake Fluid Flush / Fill

Chassis

NEW Front Wheel Bearings
NEW Rear Inner Wheel Bearings
NEW Rear Outer Wheel Bearings
NEW Rear Wheel Seals
NEW (16x) Wheel Bolts
NEW (4x) Sumitumo HTR A/S P01 195/60R14 High Performance All Season Tires

Body

NEW Hood Release Cable
NEW Hood Prop Rod Clip
NEW Outer Door Handle Gaskets
NEW Ignition / Door Lock Keys
NEW Door Latch Striker Pins
NEW OEM Locking Fuel Cap (Keyed to Match)
NEW OEM Fuba Power Antenna Shaft / Cable
Rebuilt Power Antenna Motor
NEW Front Windshield Washer Pump
NEW Front Windshield Washer Hose
Windshield Wiper Transmission Disassembled / Lubricated
NEW Bosch 21″ Clear Advantage Front Wiper Blades (Beam Style)
NEW Bosch 18″ Clear Advantage Rear Wiper Blade (Beam Style)
NEW Clutch / Brake Pedal Pads
NEW Throttle Cable / Accelerator Pedal Bushing
Clutch Pedal Rod Adjusted

HVAC

Remanufactured York 210 A/C Compressor
NEW A/C Clutch Bearing
NEW A/C Compressor Suction / Low Side R134a Charge Port
NEW A/C Compressor Discharge / High Side R134a Charge Port
NEW Drier / Accumulator
NEW A/C Expansion Valve
NEW Custom Parker FUTURA R134a Barrier Hoses
NEW A/C O-Ring Seals

Electrical

NEW Bosch Group 41 650 CCA Battery
NEW Positive and Negative Battery Cables
NEW Engine Ground Strap
NEW Alternator Voltage Regulator
NEW Alternator Bearings
NEW Heavy Duty Headlamp Connectors
Refurbished Fuel Tank Sending Unit
NEW Power Mirror Switch
Blaupunkt Miami CD127 Audio Receiver
Sony Mobile ES 35W x 4 Channel Amplifier
Fused 6-AWG Amplifier Power Cable
Mogami Shielded Audio Signal Cables
1/8″ (3.5mm) Console Mounted Aux Input
Front Rockford Fosgate 5.25″ Midrange Woofers
Front 1″ Wide Dispersion Dome Tweeters
Rear Rockford Fosgate Long Throw Midbass Woofers
Rear Rockford Fosgate 3/4″ Dome Tweeters

The Bad

I'm going to be as thorough as possible here. I've gone over the vehicle and wrote down everything that I could find that was missing or broken. There's some other things worth noting though.

When the engine has been sitting for a few days, one of the hydraulic lifters will lightly tap for a minute. They are all brand new OEM, INA brand lifters, but one of them slowly loses oil pressure when sitting.

The engine idle speed is turned up via the screw on the throttle body. It was idling too low when cold. Now it idles around 700 RPM cold, and 1000 RPM warm. I haven't had time to diagnose this.

The cruise control system was repaired, and was working perfectly. However, I broke the switch while testing it. With a new switch it will work awesome again!

There's a pop from the front end when you turn hard. I'm not sure if this is due to needing an alignment or from sitting.

Cosmetically, the car needs work to be show quality. I don't specialize in body work, so this area has gotten the least attention so far. The paint on this car is pretty decent for it's age. However, it has a lot of swirl marks and it's thin in some spots.

The trim moldings are missing from both doors. I painted stripes on the doors with Plastidip where the molding would be and it's barely noticeable. Plastidip paint isn't permanent, and they can be peeled off if you wish to replace the molding.

The rear bumper is warped around the exhaust tip. The previous owner was driving it with a broken exhaust mount, and the pipe was pointing upwards. The hot gasses must have melted the plastic.

The driver side fender is slightly wrinkled near the front. It appears to have been bumped at some point. I attempted to flatten it out and paint it. It would look better with a new fender.

The windshield has a chip and a crack in it from a stone. It hasn't spread, and it's not in the driver's line of sight. (See photo above)

The air conditioning system charge may need to be adjusted. The system is filled, but a little bit of refrigerant may have to be added or bled from the system for ideal efficiency. Warmer temperatures are required for this.

The car needs a proper front end alignment. I aligned it myself the old fashioned way with chalk lines when I rebuilt the suspension. It drives straight but isn't perfect.

The side mirrors are loose where they pivot.

The front turn signal lenses are cracked or broken.

Two of the three lower grille pieces in the front bumper are missing. There are fog lights in place of the center one.

The fog lights need to be aimed / adjusted.

The weatherstripping around the driver's door opening needs to be replaced.

The outside weatherstrip / window wiper on the driver side door needs to be replaced.

Rear view mirror glass is slightly delaminated.

The leather shifter and parking brake boots are faded.

There's a little bit of cleaning product or something behind the lens on the instrument cluster.

The plastic cover / rain gutter that goes under the hood vents is missing.

The Ugly

The absolute worst thing about this car is the seats. The leather is dried up and torn. They're ugly for sure. The rear seat is okay, except for the very top where the sun hits it through the back window. They really need to be reupholstered. Any decent upholstery shop should be able to recover them with new leather. You can even opt for different colors. If you're local I can recommend one.

This vehicle is being sold in "AS-IS" condition, with no guarantees or warranties, either expressed or implied.

Please read the description and familiarize yourself with the vehicle before bidding. Do NOT bid unless you intend on purchasing the vehicle.

The winning bidder will be required to pay a $400 deposit via PayPal within 48 hours of the auction closing time. The remaining balance can be paid with cash or via certified check. If paying by check, the car will NOT be released until the check has cleared.

Vehicle can be picked up locally in Pitman, NJ. If the vehicle must be shipped, arrangements must be made by the buyer.

Appointments to view the vehicle can be made by contacting me through eBay. Unfortunately no test drives are allowed, as the car no longer has valid insurance or registration.

Please don't hesitate to ask if you have any questions regarding the car or anything described here!

-Chris

On Mar-20-15 at 13:05:41 PDT, seller added the following information:

Edit 1: Most parts were purchased from ECS Tuning, German Auto Parts, 034 Motorsport, Jim Ellis Audi of Atlanta, RockAuto, and Autohaus AZ.

Edit 2: In addition to the car, you will receive everything shown in the last photograph: The original floor mats (no holes), two new keys, wheel center caps, CARFAX report, NJ Emissions report, and all the original documentation that came with the car when it was purchased new from Behm Motors in November of 1986.

On Mar-21-15 at 20:12:08 PDT, seller added the following information:

Edit 3: Here's a quick video: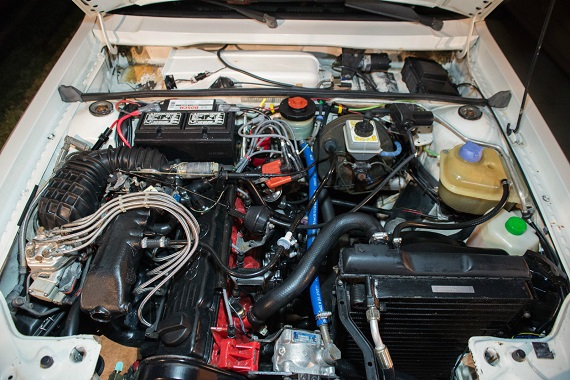 Anyone who looks at a nearly 300,000 mile Audi and sees potential is a devoted fan. And as the owner of a well over 200,000 mile example, I sure do see a lot of potential here. First off, it's one of the limited Commemorative Design Coupe GTs. They're not for everyone in terms of coloring, but I personally like the Alpine White with red leather interior. The CEs got a few special bits; body colored mirrors, wheels and spoiler that was seen again on the "87.5 Special Builds" later on. They also received a digital dashboard that was featured on some other models as well; they can be a bit temperamental but when working are sort of neat. They have a "night" model, hold down on the dash-mounted switch and the gauges go through two stages of disappearing, leaving only the speedometer. It's overridden if there's a warning like low fuel, and is somewhat of a gimmick, but it's cool nonetheless. The fun I always had was switching the display to metric whilst on the fly and then declaring we were going "120" on the highway, commenting to the passengers "See how refined this car is? You'd hardly know we were going so fast!". Of course, if there was other traffic around that was also going "120" your gig was up.
Condition wise, this car has undergone a pretty serious refresh and those in the know understand that sourcing all the parts to do this level of work is both time consuming and not particularly cheap. The result is that you should have a pretty reliable ride for some time to come. What's left is mostly cosmetic issues; the most expensive of which are fixing the windshield (NLA in the U.S.) and recovering the seats. One of the previous owners already started; the door cards are not the correct and original leather. But honestly, is this a car worth restoring fully in the hope that it will someday be worth a mint? No, like the current seller, you'd take a bath trying to correct this car to completely original spec. Many of the items that aren't right or complete are difficult to source items, no longer available, or even rare to find used. However, at the current bid of $2,500, it's a car that could be bought, driven and enjoyed for some time to come. It even has a sought-after factory fog light switch! Source some cheap replacement seats or covers, turn the key and drive this car at 10/10ths for the next few decades. It's a commuter that's capable of putting a smile on your face and can still be run cheaply. It has lots of character, is a great drive and very unique to see. In short, it's what the E30 used to be.
-Carter