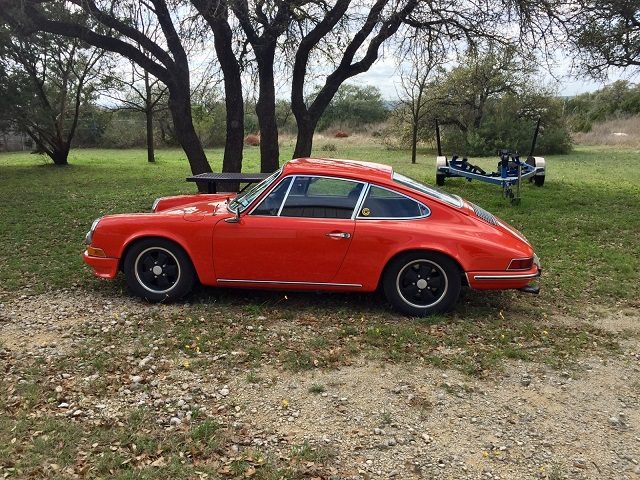 For quite a while posting any Porsche 912 was a chance to showcase a car that held significant similarities to the long-hood 911, and which could be just as enjoyable to drive, but came at a fraction of the 911's cost. But that slowly changed. While the 912 has remained the less expensive alternative to the 911, the gap between the two models has closed and with that closure the 912 began to make less sense. Here is one that might get things back to making sense. It's far from original, which helps explain some of why we should expect it to come in at a lower price. However, for those looking for a driver the modifications may just make this 912 even more appealing.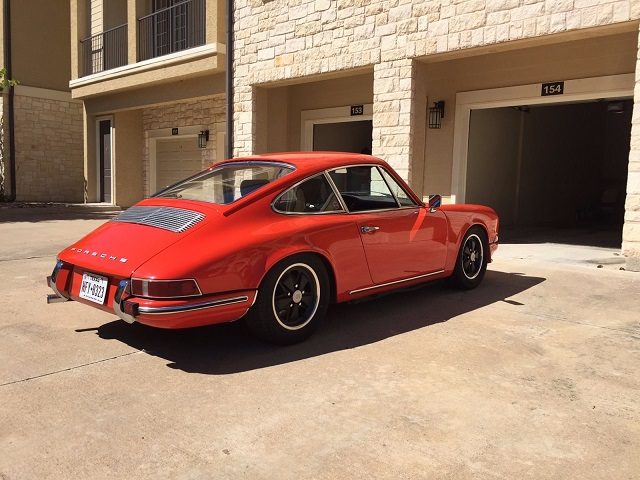 Year: 1969
Model: 912
Engine: 1.8 liter flat-4
Transmission: 5-speed manual
Mileage: 51,000 mi
Price: Reserve Auction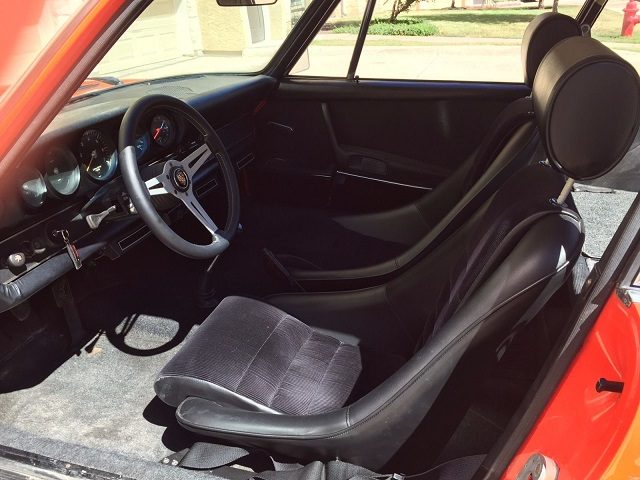 Wonderful tangerine 912, 5 speed, outlaw(ish). I acquired the vehicle from a friend and spent over $15,000 this past year to make what it is now. I wouldn't hesitate to go on a road trip to California and back tomorrow, it drives like a dream.

The car is fitted with A/C. This isn't an original Porsche A/C system, and I have no idea when it was installed. It didn't work when I bought the car and I thought about removing it all together. But I live in south Texas, and I wanted to drive the car year around, so I decided to get it fixed. It works pretty good actually.

All the work as been done (beside the A/C) by Steve Henry @ Eagle Racing in Dripping Springs, Texas. Steve is one of the most respected Porsche aircooled mechanic in the south. He works on a lot of aircooled race cars for the PCA. You can get in my car and drive it everyday without worrying about anything. Also, it is a lot quicker than a stock 912.

Here is a quick description of the vehicle:

– 1.6L 912 engine bored to 1.8L (I do not have any paperwork unfortunately).

– Dual Weber 40 IDF carbs.

Engine was pulled out and checked. A tune-up with valve adjustment and carburetor sync were performed.

– Rare working a/c converted to R134A freon

– New transmission mounts

– New fuel tank

– New starter

– New torsion bar

-New torsion bar bushing cover plate

-New rear wheel bearing

-New adjustable spring plates

– New front lower control arm bushings and inner tie rod ends

– New front strut inserts (Koni) and upper strut mounts

– New rear shocks (Koni)

– Brake system flush

– New Bosh generator

– New Euro H4 headlights

– New Nurburgring seats from GTS Classics

– New Momo retro steering wheel

– New front bumper (not installed)

– 5 Fuchs 5.5×15 rims en perfect condition

– New Lloyd floor mats (still in box)

– New Durant mirrors

The list goes on!

The body is straight with no ding of any kind. The car had been lowered, the handling is amazing and it looks great. It is a head turner wherever it goes!There were some cracks around the Porsche crest on the hood, so I had it repainted 6 months ago by a reputable shop in Austin. There was a rust spot around the windshield that had been fixed in the past, it's not perfect but it didn't bother me. The front bumper is a RS type. It looks okay beside a small crack on top of it. Some of my friends love it, I am not particularly crazy about it, this is why the car is sold with a new front bumper from Rennspeed Motorsport.

I am a PCA member and I own a few aircooled 911. This is my favorite car to drive but I have to make room for other projects, so some toys have to go.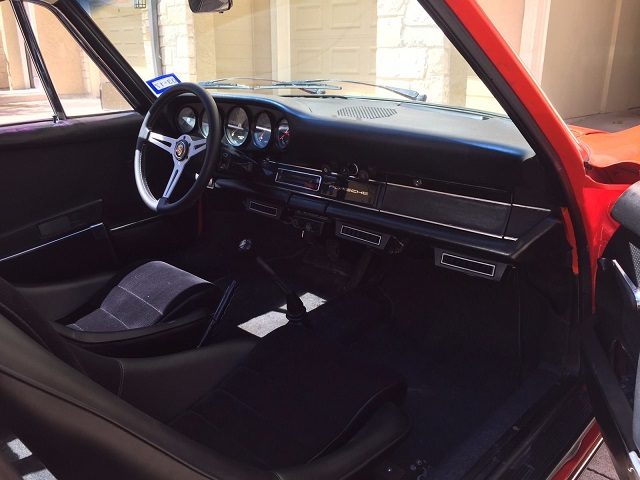 On appearance this 912 looks pretty good. As with any driver quality car it isn't perfect and the seller has a noted a few spots that may be worth attention. Tangerine is always a wonderful color on any Porsche and here is no different, though this one of the cases when I don't like the black wheels. The biggest difficulties will be the lack of documentation on certain parts. The A/C is of uncertain provenance, though that may not trouble buyers too much. Of greater concern might be the engine work. It's been bored to 1.8 liters, but the seller has no paperwork for that. If an inspection and some time behind the wheel shows everything in proper order then that too could be unproblematic. Taken altogether even with those lacks the seller sounds plenty knowledgeable about his car so hopefully any other questions or concerns can be addressed.
As for that all important price: bidding sits currently at $26,766, which is the sort of reasonable cost we'd hope for. However, that is with reserve unmet so we'll have to see how much higher bidding will have to go. This looks like a fun 912 and could represent a pretty nice opportunity at a long-hood model, but without those long-hood 911 prices.
-Rob