Warning!
This post is in our archives. Links in this post may have been updated to point to similar cars available to bid on eBay.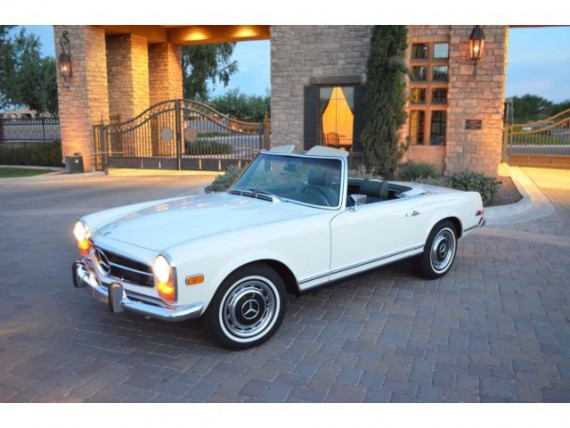 I've been meaning to write up a W113 SL for some time now, and with it being Labor Day weekend, I thought there's no time like the present. The "Pagoda SL" is the perfect convertible and every time I see one in person it stops me dead in my tracks. Doesn't matter if the hardtop is on, the convertible top up or down, the car is beautiful in any of its 3 forms, and even the U.S. mandated bumpers can't ruin the look of the thing, it's just so damned pretty!
The W113 had a good run from 1963-1971 with 19,440 sold here in the States, but it was the '68-'71 280SL that really captured people's hearts. More than half of the 23,885 280s built came to America, though the majority of them were fitted with an automatic transmission. In addition to the really cool color combo on this example, you'll also find a 4 speed manual, which is the key to making your classic grand touring fantasies come true. As summer turns to fall, imagine spending an evening out with this car on a quiet two lane stretch of blacktop, cool air all around you, the M130 straight six humming away. You come up on a perfect lefthand sweeper with a little camber, downshift to 3rd, turn in, nail the apex, shoot out of the corner, and shift back up to 4th. That sequence right there is why you don't bother with an automatic transmission on a car like this. Unless of course you just want it for a show piece vs a means of achieving moments of automotive nirvana.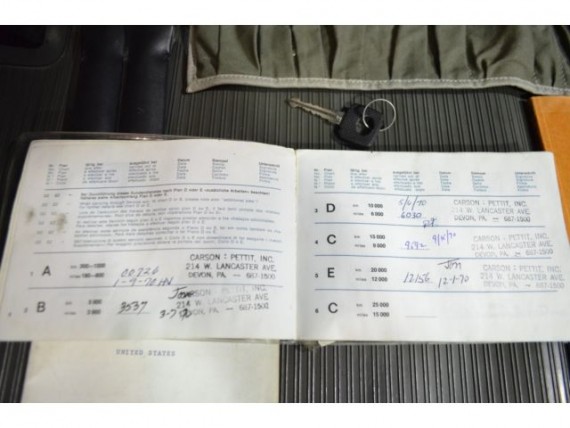 Year: 1970
Model: 280SL
Engine: 2.8 liter inline-6
Transmission: 4-speed manual
Mileage: 137,498 mi
Price: $84,995 OBO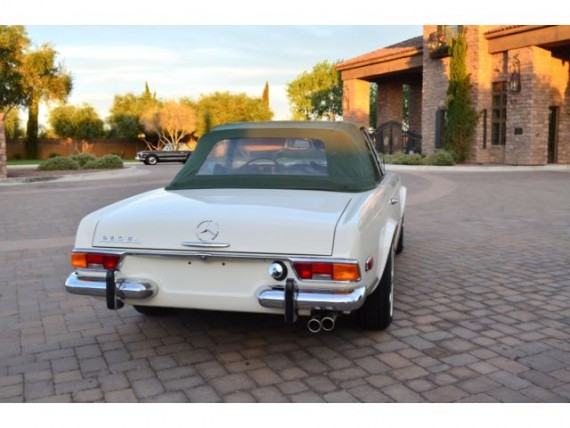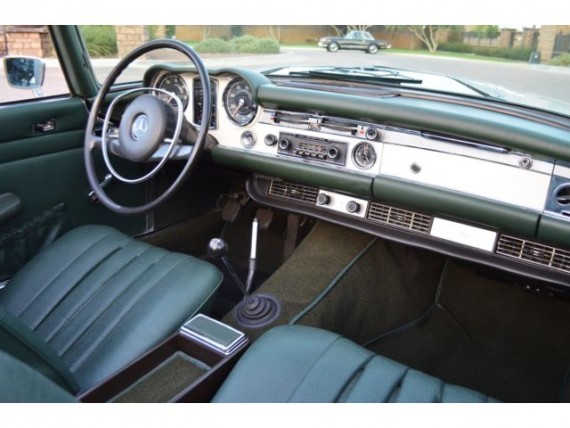 There are three reasons I chose to write up this particular W113, though the most important one may surprise you. The 280 was the SL that finally got the power it deserved with the M130 cranking out 170hp and 180 lb-ft of torque, and this one has that all important 3rd pedal, but neither of those things are what makes this car standout. It's the outstanding original color combo of White and Olive Green. So many of these cars are White/Blue or White/Red, both of which are certainly good looking in their own right, but I'll be damned if the Olive Green isn't the perfect combo. The seller notes that the car was stripped down in 1987, resprayed, and had a new convertible top fitted as well. The interior of the car is original and it appears to have a perfect patina.
I could gush over the aesthetic of this thing all day, I really could. White and Olive Green?! Come on, it's almost too good. It needs period correct Vermont plates, it needs them so badly. Current one would look OK, but '69-'71 plates would be perfect. I know I keep using that word a lot in this post, but that's really how I see this car. Even the asking price is pretty good, especially since these cars are going nowhere but up in value. Hagerty places a Tier 2 example at $96,800 and Tier 3 at $70,400, I'd say this one falls somewhere in between, as many classics often do. It has the added value of being certified as a numbers matching car, by the Mercedes-Benz Classics Center and it has that awesome original service booklet documenting everything from the day it sold in Devon, PA, right up until it was restored in the late 80s. If you are in the market for a Pagoda, this example has to be one of your best options. There are likely all original examples with fewer miles out there, but you'll be hard pressed to find one that checks all the boxes that this one does. Big motor, 3 pedals, service history, absolutely gorgeous color combo. Yep, this one is a winner, time to empty the 'ol piggy bank. Or in my case, just scroll through the many high quality photos the seller has taken for the umpteenth time.
-Andrew