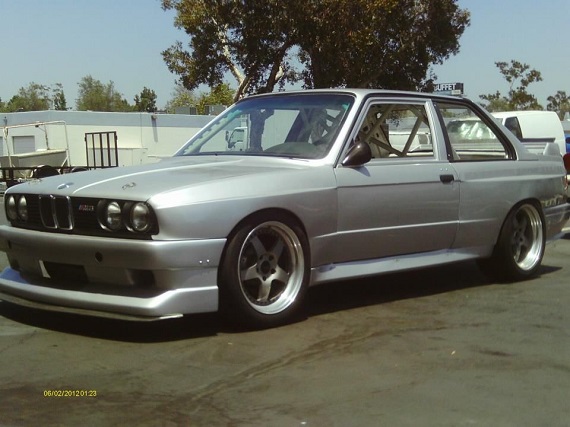 Last week, I pitted a wickedly turned up 944 Turbo against a much more tame E30 M3. My feeling was that the M3 was overpriced in comparison to the 944 Turbo – especially when you considered the performance envelope the 944 was capable of. That particular example was churning out in excess of twice what the M3 was producing from the legendary S14 – not exactly an apples to apples competition in anything but pricing. To equal the playing field a bit, this week I have two different racing M3s – the first and last of the two door variety. How does a very tuned E30 compare in value to a E92?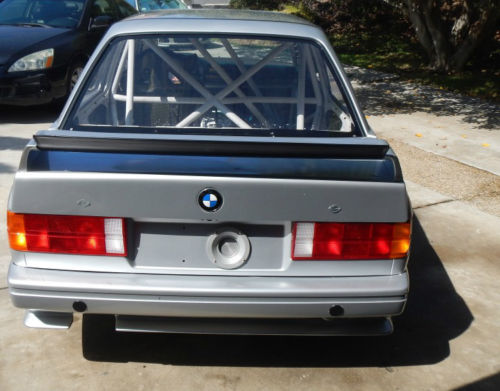 Year: 1988
Model: M3
Engine: 2.5 liter inline-4
Transmission: 5-speed manual
Mileage: Not Listed
Price: $75,000 Buy It Now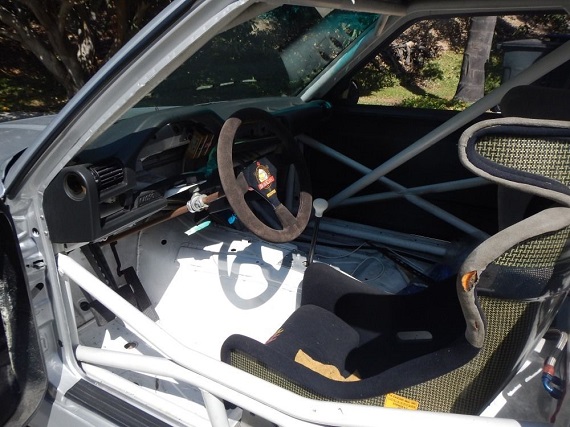 First I want to mention you are looking at a project that is 90% to 95% complete. Work still needs to be done. I have spent over $150k on this and know I wont get anywhere near it. Please email any questions you may have about the build or if you want to see specific pictures. The prices appearing on engine specs are for reference only. I will not be parting out this car. If you want to save money and dont care for the MOTEC system then we can probably talk as I have a use for it. Thanks.

E30 M3 GT2 Race Car.

Chassis: Full tubed chassis Built by Apex Motorsports in San Diego.
Time to sell my race car project which I have been working on for years. This project had to be put on the back burner as I needed to focus on work and family. Car is about 90% complete and needs the following to start racing.
-Coolant hoses.
-Final Oil line to the Dry Sump System
-Exhaust. Which would probably need to be custom fabricated to bolt up to the Butler custom header.
-Rear fire wall. To separate main cabin from fuel cell. Required by most racing organizations.
-Race seat.

I have invested over $150,000 in this project and the engine alone has $35,000 in to it. I know race cars never retain value and I am wanting to sell at a reasonable price. Car is located in San Diego and one must come to San Diego if they would like to see it.

This race car has been built from a 1988 E30 M3 chassis and a totally redesigned S14 power plant estimated to produce about 300 hp to the wheels.
Chassis Vin#: WBSAK0309J2195301 Title on hand.

Below is a list of things done to produce this race car:

Panels: All panels are carbon fiber with the exception of the front and rear bumpers as those are fiber glass. Doors are also carbon and glass composites. Front and Rear fenders are complete carbon fiber, each fender is 1.5 inches wider than stock. (Molds included).
Aerodynamics: Front bumper is molded into an EVOII and an EVOIII front splitter has been added for additional downforce. Rear deck spoiler is a carbon fiber EVOIII adjustable wing with a much bigger adjustable DTM flap.
Brakes: Front and rear brakes are CNC Inc. billet aluminum calipers. (cncbrakes) hats are fabricated by Apex Motorsports in San Diego. Rotors are Wilwood
All windows are made of Lexan and molded to look factory. Windshield is an OE replica glass windshield as required by SCCA, BMW CCA, AND NASA race organization.

Suspension: Coli over, custom valved shocks made by Bilstein and are 9 way adjustable. Springs are ERS (Eibach Racing Springs) 700.250.0400. 7″ in length 400 lbs springs.
Fuel System: Fuel Safe Racing Cells with dual fuel pumps to prevent fuel starvation.
Halon Fire Extinguisher System: Safecraft Safety Equipment LS5
MOMO: Steering MOMO Montecarlo KBA 70068
Dry Sump System starts with a 3 gallon Peterson tank that flows a Peterson 400 Series filter and on to the 4 stage Peterson dry sump pump. OIl pan is custom made from a factory S14 pan by Apex Motorsports in San Diego.
Wheels: Kinesis K57
17 X 9 FRONTS
+19.05 Offset
5 x 120

17 X 10 REARS
+ 6.35 Offset
5 x 120

TOP END
Camshafts: Crower Custom Spec Race Cams $3800
Shim Under Bucket E30 M3 Kit: $820
Modified Cam Box: $600
High Performance Valve Spring & Retainer Kit: $600
Throttle Bodies: 48mm $1200
Air Horns: Ported to match 48mm TB $500
Performance S14 Cylinder Head: $2600

Total: $10,120

BOTTOM END
JE Pistons: Compression 12.5:1 $750
Pauter Rods: Chromoly $1000
Crank: BMW MOTORSPORT Factory 2.5L Knifed $2900
Oil Pan (Dry Sump): $600
Dry Sump Kit: $2700
Dry Sump 3 Gallon Oil Tank: $550
S14 Performance Block: $1200
Total: $9700

Total Engine Package: $19,820

Carbon DTM Air Box Intake: $1700
MOTEC M400 W/complete Harness: $3500
MOTEC Harness: $10,000

Full Motor With engine Management and Intake System: $35,020

Contact me with any questions (916) 538-1466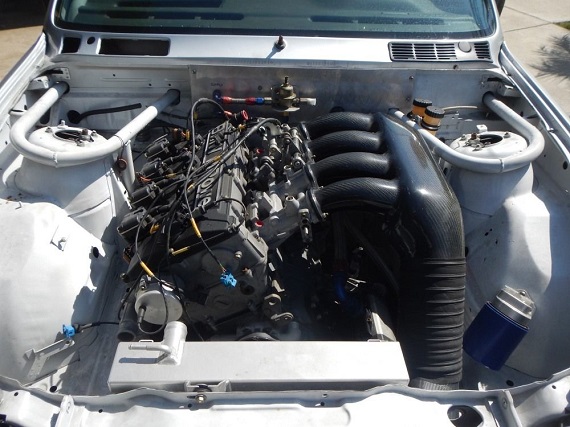 I have to say, from the limited photos presented this M3 certainly looks impressive; especially that intake plenum on the massively modified S14. But look at the bills incurred in the development and things start to go slightly off-kilter; it's a great reminder of not only how expensive building a race car is, but specifically how expensive that S14 motor can be. You'll note, for example, that there was $10,000 invested just in headwork alone. With over $35,000 "invested" in the motor alone, it's understandable why the seller is looking to recoup with the $75,000 asking price. But there are so many problems; from the only reasonable photo which is 3 years old to the "90-95% complete" project status. Anyone who has built a car for the track knows that last 5-10% is a frustrating finish; there's lots of fine tuning and problem solving still to do here. Then there's the claim of 300 horsepower at the wheels. I know the compression is high, but really? That would put the output at 350-360 crank horsepower from the S14 – more than BMW developed themselves with the DTM motors. To say that's an ambitious claim is understatement. How about a car which genuinely develops over 300 rear wheel horsepower then?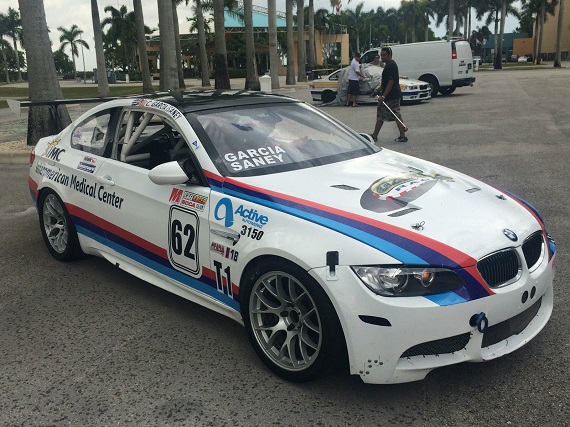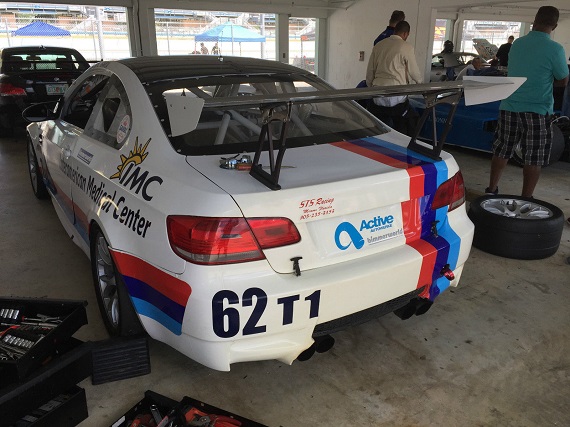 Year: 2010
Model: M3
Engine: 4.0 liter V8
Transmission: 7-speed dual-clutch automatic
Mileage: Not Listed
Price: $70,000 Buy It Now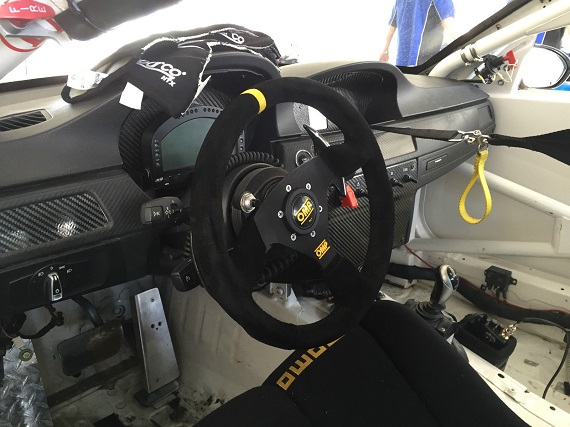 Don't miss out on this great opportunity. Former SCCA World Challenge car. Car is running perfectly and is very reliable. Ready to take out and have fun in either NASA, SCCA, PBOC, FARA or driving events. Handles amazing and is very very fast. Holds track records for T1 at PBIR set in 2014. It is completely legal for T1 SCCA and whatever else that category is like in another club. Passed 2015 SCCA Tech and FARA.

Car has:
Ohlins remote reservoir struts custom made front and rear
Stoptech brakes with custom made cooling ducts front and rear
3.9 and 4.1 final drive ratios
Carbon fiber hood, doors, roof and trunk
Front and rear spolier
AIM dash and data logger
Completely refreshed engine by STS Racing (extremely reliable and knowledgable builder)
Custom software for DCT transmission. You don't have to change the car to manual, it runs GREAT with the DCT transmission custom programmed.
Custom software for DME. Custom tuning
Custom Headers and Exhaust system
Spherical Bearing Suspension
Custom non fading racing windshiled front and rear
Water bottle holder
Radio holder and Car is fully rigged for radio with antenna

Spares:
Brakes/Rotors/Pads
Radios
Spark Plugs
Steering Wheel
FULL car cover custom made
3 sets of rims with tires and two extra rims with tires. 1 set mounted on BRAND NEW never run Hoosier rain tires. 1 set mounted on BRAND NEW never run Michelin slicks and the other set of four rims plus the two extra rims have used hoosiers mounted on them.
Other spare items also

Please call Steve Saney from STS Racing at 786 301-3153 with any questions or to see the care or email at stsaney@bellsouth.net

Brand New enclosed 28 ft car hauler purchased last year and towed three times with everything custom can be sold with car for special price.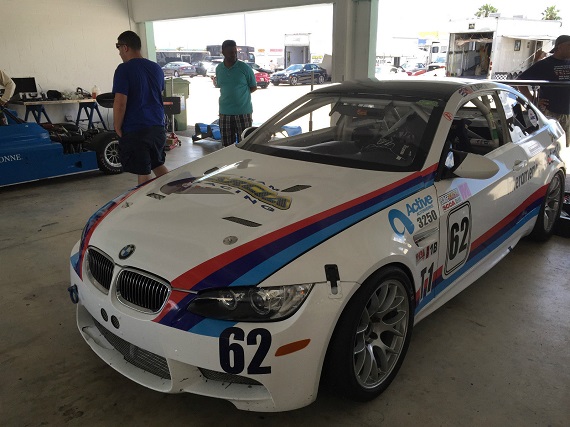 Off the bat, here's a turn key, proven M3 for $5,000 less with spares. Pictures are current, as is the refresh on the motor. That said, the World Challenge cars often lived a hard life; that's not to say this particular one did, but if you were serious I'd want to check for frame damage as many cars in that series see contact. As this is a race car, the DCT is quicker in nearly every situation and works well, and coupled with the turned up S65 this car should easily be quicker than the E30. The color combination is classic BMW, too, and looks great.
For both of these cars, though, it's likely the asking prices are just too high. In general, race cars – without serious provenance or desirability, don't hold stronger values than street examples. In both cases, these cars are well north of what they'd be in they were street-able. If you really want a collector/driver M3 to have fun in, this isn't the one; and if you just want a track toy you can find E36s – as Nate did last week – for a fraction of the price. For that matter, you could have Nate's E36 M3, a high mile project E30 M3, and a nice driver E92 for less than the asking price of the newer M3 racer here.
-Carter