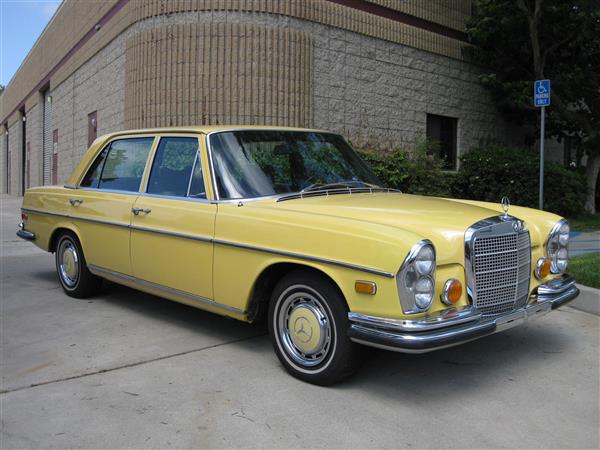 Growing up, I was exposed early on to the merits of Mercedes-Benzes. There's been quite a few of them to pass through my family, with one still hanging around to this day. There's something instantly familiar about the vintage models. From the way their doors shut with a solid thunk to the way they seem to smooth out the road ahead, seamlessly combining comfortable cruising with sure-footed handling. One of my favorite vintage Mercedes sedans is the late model W108/W109. The forerunner to the S class, these cars gained a new lease on life towards the end of their production run with the addition of the 4.5 liter V8 engine.
I've never seen one of these sedans painted in this eye-popping color before. It's an uncommon choice and one that won't be to everyone's taste. But this final year 280SEL 4.5 is an original car, save for a new interior and some exterior touch ups along the way.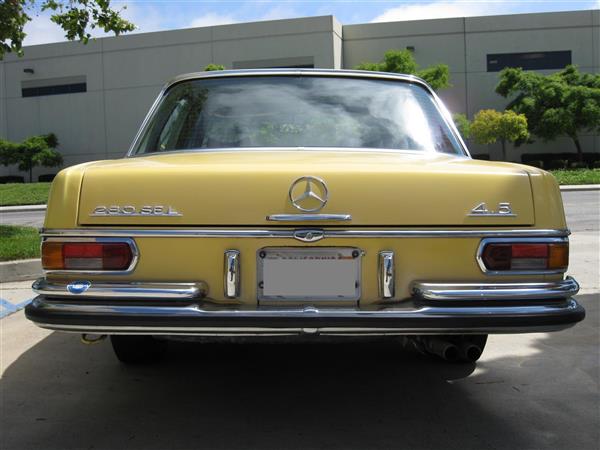 Year: 1973
Model: 280SEL 4.5
Engine: 4.5 liter V8
Transmission: 4-speed automatic
Mileage: 66,704(?) miles
Price: Reserve auction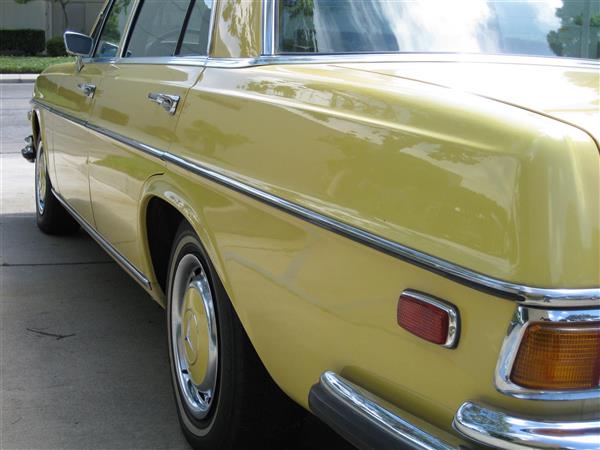 Before you is a stunning 1973 Mercedes Benz 280SEL in 624 Yellow with Dark Brown Leather Interior. This 280SEL was purchased new at Mark Motors, Inc., Illinois in 1973. The original owner then moved to Montecito, California and the car was transported by truck. I purchased this car 10 years ago from the original owner, an elderly lady, and sold it locally (Ventura, CA) to another mature woman. I purchased the car back recently. This 280SEL is truly unique because of its color. In person, it's magnificent. I've never seen another like it. When you drive up in this vehicle, people know that you've arrived.

The front and back seats have been reupholstered in dark brown leather. Due to 40 years of age and use, parts of it could not be saved. The exterior paint is probably 75% original. The car runs and drives great. This car comes with all the original books, the new car pre-delivery inspection, a little key fob, the original Protect-O-Plate, and the owner's service and warranty book made out to original owner. Please see pictures for details – TAB 11.

If you're serious about this car, you should really call me so we can talk about it and I can give you more of the history etc.: RICK – 805.218.0606. Happy bidding!

PS – A little story about the car… I asked the owner why she picked this color. She said she didn't. She sent her husband to the Mercedes Benz dealer to get a red with white interior. He called her from the dealership and told her that they didn't have the red with white, but had the yellow with dark brown interior. So she said fine and bought the car. Then she looked at me with a stern face and said, "now remember young man, colors in the 70s were quite different than they are today."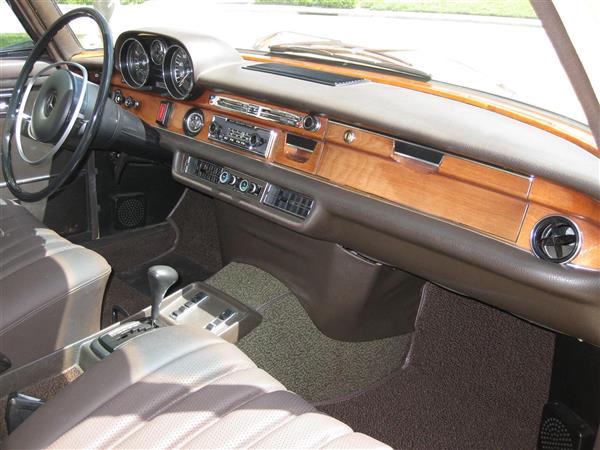 As with a lot of cars we feature here on GCFSB, the color is the main issue with this car. The seller isn't joking when he said "people will know when you've arrived." Some will love this shade of yellow, others will hate it. Personally, it's not my cup of tea and I could envision people flagging you down in urban areas having mistaken you for a taxi. Disregarding the color, the car has an interesting history and certainly presents well. It's apparent that it's been cared for over the years. Similar late model 280SEL 4.5s in good condition can fetch between $15,000 and $25,000. Bidding is stronger than I would have thought for a car with such a loud color, but in the end, it may be a factor that holds its value back.
-Paul