Following on to the trio of 8 series coupes Nate featured, here is the 8 series progenitor, the E9 3.0CS coupe. From 1968 through 1976, this was BMW's flagship model with the 3.0 liter straight six with twin Zenith downdraft carburetors. With 178 horsepower on tap, these were comfortable cruising machines which left little to be desired for the ultimate motoring experience. The E9 has seen a bit of a resurgence in values in the last decade, as the later and more refined E24 6er seemed to always garner more favor with BMW enthusiasts. This particular 3.0 CS for sale could quite possibly be the best you could buy, but it begs the question: is this car over the top for most collectors and encroaching too much on the rarified air of the legendary CSL?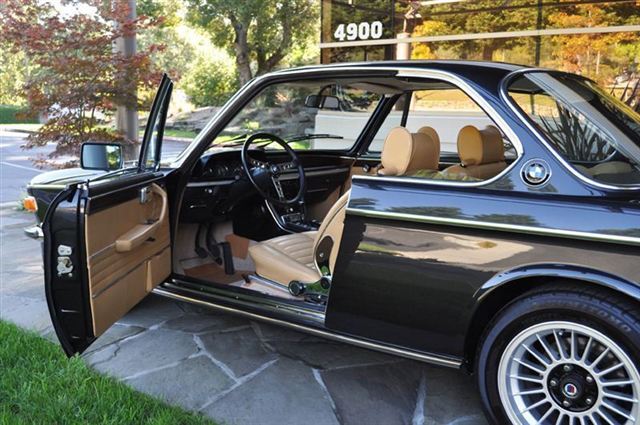 1974 BMW 3.0 CS, VIN: 4310374

This stunning BMW has seen only 7,076 miles since its 2008 restoration. The meticulous revival was overseen by La Jolla Independent of La Jolla, California who performed all the mechanical restoration work including the suspension, air conditioning, and full assembly with invoices totalling over $43k.

The mechanical restoration featured:

– 1988 3.5 liter fuel injected BMW motor. Completely rebuilt including new pistons. 250 hp.
– New BMW 265 5-speed gearbox
– Air Conditioning
– All parts were NOS BMW

Body and paint work was done by Robbie, a renowned independent body and paint contractor from Southern California. Additionally, the tan leather interior was meticulously restored by Juan Ortiz of Ortiz Auto Trim in Costa Mesa, California.

Features:
– Alpina 16" Wheels
– Garmin Navigation System (hidden in dash)
– Original AM/FM Becker Europa Stereo (upgraded with Ipod adapter)
– Carl Nelson lowering springs
– Newer Bilsteins all around
– Suspension Techniques sway bars
– 5 series window motor upgrade on front windows
– Quartz conversion for clock
– Nardi steering wheel
– AC upgraded to a sanden pump and converted to R134-A
– 3.0 CSL front airdam
– Sunroof

The original matching numbers engine and transmission were preserved and are included with the sale. This exception 3.0 has recieved a thorough concours quality detailing at Canepa Design and is ready for touring and enjoyment!
From the dark graphite paintwork to the Alpina wheels, this E9, at least for me, sums up BMW perfection. There are just so many details on this car that I am pouring over, like the steering wheel and the slick job of integrating a modern navigation system, not to mention the upgraded 5 speed gearbox. Hats off to the restorer for doing such a great job, but I can't help but think this is a classic case of someone investing money in a car that won't recoup it anytime soon. Those familiar with Bruce Canepa knows he offers quality cars that fetch commanding sums, but the best example of a 3.0 CS might hit in the mid to high $30,000 range, with the possibility of reaching into $40,000 territory. The restoration alone on this car cost $43,000, so if I had to guess, we're probably looking at around a $60,000-ish E9 coupe. I could obviously be way off, however. If I was independently wealthy, price no object, I would pull the trigger because I think this is an absolutely stunning example of one of the most graceful pillarless coupes ever produced.
-Paul