From the very beginning, "Porsche" and "motorsport" are two words that have lived in harmony. From LeMans to the Paris Dakar Rally, there are few venues the sports cars from Stuttgart have not competed in. Oftentimes, race series will crop up around one specific vehicle, such is the case with our feature car, one of 192 factory built race cars for the Rothmans Turbo Cup Series, run from 1988 through 1990. This particular vehicle was last raced in October of 1990 in Canada and has been restored to pre-race condition.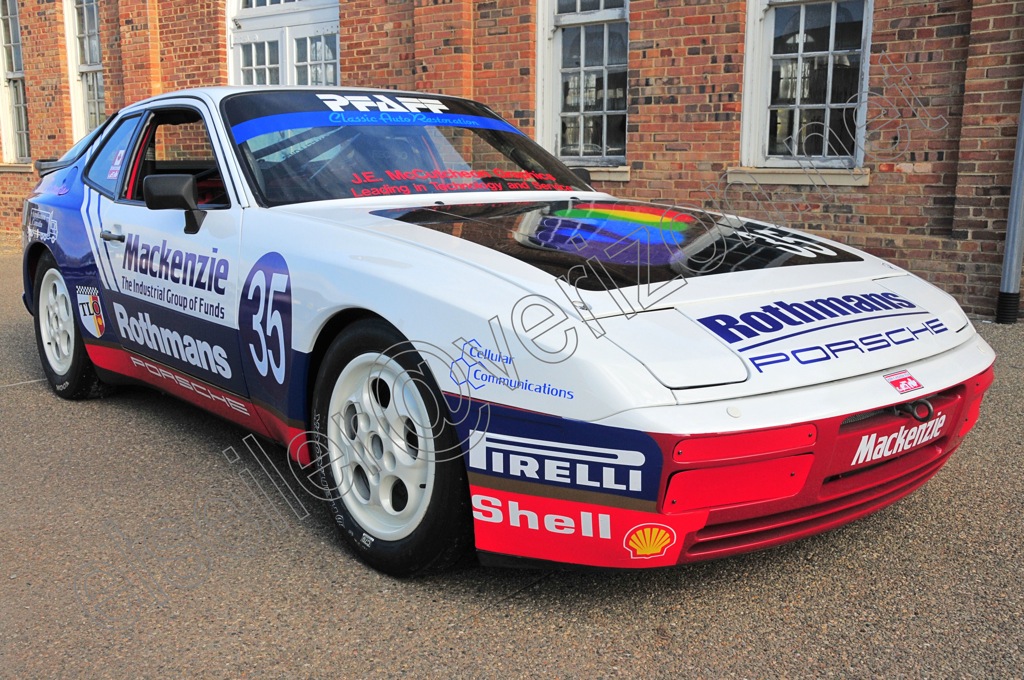 An outstanding example of one of the 192 factory-built race cars created for the Rothmans Turbo Cup series in 1988. The series was conducted in Germany, England, Canada, France, Australia and South Africa in 1988 through 1990. This particular car was one of 32 brought into Canada for their series and was driven by Ron Fellows in the 1990 season and by Ted Powell in the 1988 and 1989 seasons. Ron Fellows frequently took the car from the back of the pack at the start (as a result of being unavailable to qualify the car) to a leading position when the checkered flag dropped. Except for taking the photos in this listing, the car has not been driven on the street or track since its last race (Moosehead Grand Prix of Halifax – October 7, 1990) and has been meticulously restored to pre-race condition over the past 15 years.

This is a rare car with a significant race history, making it very suitable and highly desirable for vintage racing or show events. This sale provides an opportunity to own an important part of racing history. An extensive "spares package" is available but is not included in this listing for the car. If you have an interest in the spares we will consider negotiating a combination deal but make that intention clear in an email message.

The VIN # is WP0ZZZ95ZJN165096 and the odometer shows 10,038 kilometers (6,235 miles). Please note that the VIN number does not conform to standard passenger car format and is therefore not recognized in eBay's system. Photos of the VIN number plate are included under the photo links at the bottom of the listing.

The Customs Receipt (from Canada into the US) includes the notation "This car meets US EPA & US DOT Specifications."

Also known as the Weissach Racing Turbos, these cars were designed to look identical to the street version of the 944 Turbo with the exception of the specially-designed white magnesium racing wheels (which were the only wheels allowed for the Rothmans Porsche Turbo Cup series).

In an effort to keep all of the cars in the Rothmans Turbo Cup series "on a level playing field" the engines were sealed at several locations with safety wire and lead seals having "Turbo Cup" embossed into them. The engine was "freshened" during the restoration process and then new "Turbo Cup Seals" were put in place using an original embossing tool that was borrowed from a collector… thus the original seals appear to still be in place on this engine. Click this link to view the seals at the cam tower, balance shaft and oil pan. These cars sold for $100,000 Canadian, without any spares, back in 1998.

Included in the vehicle sale are:

§ Vehicle Log Book for the Rothmans Porsche Turbo Cup series sanctioned by the Canadian Automobile Sport Club (CASC).
§ Title Certificate signed by original owner but never transferred (buyer will in effect be the second owner).
§ Workshop Manual for Car #35.
§ Poster for Series featuring Car #35 in green paint and Fuji Sponsorship as raced in 1988-1989 seasons.
§ Rothmans Porsche Monitor (RPM) for July 1990 featuring Car #35 with Ron Fellows at the wheel.
§ Rothmans Porsche Monitor (RPM) for October 1990 featuring a photo of Car #35 with Ron Fellows leading Richard Spenard for the checkered flag at Vancouver. There is also a photo from earlier in the race with Car #35/Ron Fellows second in of a five-car pack.
§ Copy of Final Adjusted Standings and Earnings for 1990 Season.
§ Copy of Season Summary for 1990.
§ Copy of FAX sent to competitors dated 8/25/1987.
§ Copy of FAX from Canadian Pragmatics Ltd dated competitors dated 12/28/1990.

The following list represents the factory modifications to the standard car:

1. Magnesium racing wheels
2. Magnesium intake manifold
3. Magnesium oil pan
4. 928S4 brakes
5. Racing brake pads
6. Brake cooling kit
7. Strut tower brace bar over engine
8. Fiberglass hood/engine cover with race locks
9. Exterior power kill switch
10. Interior power kill switch
11. Larger high-output turbo unit
12. Larger sway bars, rear adjustable
13. High performance engine electronics
14. Surakrit safety windshield
15. Safety roll cage
16. Recaro racing seat
17. Driver racing harness
18. Lightweight side mirrors
19. Special Bilstein front struts
20. Special rear shocks with extra springs
21. Strengthened rear torsion bars
22. Heavy duty racing clutch
23. Quick ratio steering
24. Higher degree limited slip axle
25. Strengthened differential and axle gears
26. Strengthened transmission gears
27. Close-ratio 5th gear
28. Transmission oil cooler
29. ABS brakes
30. Stiffened main chassis
31. Strengthened strut towers
32. Hard rubber suspension mounts
33. Lightweight battery
34. Single engine cooling radiator
35. Underbody drag reduction panels
36. Lightweight noise insulation
37. Delete –Power steering
38. Delete –Fender liners
39. Delete –Radio, speakers
40. Delete –Headlight washers
41. Delete –Air conditioning
42. Delete –Power windows
43. Delete –Rear wiper
44. Delete –Engine shield
45. Delete –Undercoating
46. Delete –Sunroof
47. Delete –Power seat
48. Delete –Leather interior
49. Delete –Rear trunk release
50. Delete –Power mirrors
51. Delete –Door storage pockets
52. Delete –Cassette storage

A large inventory of spare parts is available for separate purchase, all of them being Porsche-supplied for the series. If you are interested in vintage racing, the spares package will prove invaluable and a very wise investment at an approximate cost of $20,000. The spares will not be sold separately unless the buyer of the car has no interest. If interested in the spares as well as the car please indicate this option in an eBay email message so that a combined sale price might be negotiated. The spares package consists of:

§ 4 Magnesium racing wheels, 8"
§ 4 Magnesium racing wheels, 9"
§ Stainless steel exhaust (turbo-back)
§ Pin-removable muffler to meet track noise restrictions
§ Factory-supplied Recaro driver race seat with distinctive suede shoulder patches
§ Ron Fellows' preferred Recaro race seat
§ Two spare transmissions as modified for the Turbo Cup Series.
§ Magnesium oil pan
§ Turbo waste gate
§ Extension coupling for torque tube
§ Spring set, progressively-wound
§ Original steering wheel (as issued)
§ Fuel rail for injection
§ Five center caps for spec wheels
§ Left quarter-panel window
§ Three wheel bearings
§ Oil pickup with primary strainer
§ Torsion bar set (two bars)
§ Quick Lock hood pin with insert
§ Approximately 30 pairs of brake pads (seated)
§ Steering shaft
§ Two top strut mounts
§ Coil
§ Strut/spring perch adjuster
§ Three Lucas fuel injectors
§ Please note that the above parts are not for sale separate from the vehicle unless the vehicle is already sold.
The asking price of $89,000 is certainly outside of the range of normal 944s of any vintage, but it reflects how much extra development is involved with factory racecars. Factory lightweight Porsches have never been produced en masse and this 944 is no exception to the rule. From the magnesium wheels to the integrated roll cage, a lot of effort went into manufacturing these vehicles. Given that the 944 is already regarded as one of the best handling modern classics money can buy, the factory prepped race version must be as close to chassis nirvana as us mere mortals can get.
-Paul