Here we run across the common problem of the undocumented tuner car. This BMW appears to have been modified by Hartge, but comes with no official documentation. Fortunately in this case it doesn't look like a simple later badge only car. The owner claims the car has a 3.3/3.5 engine pulled from a 5 series and tuned by Hartge. It also has had a Getrag 5 speed manual tucked underneath. That nifty combination surely makes this a bit sportier to drive.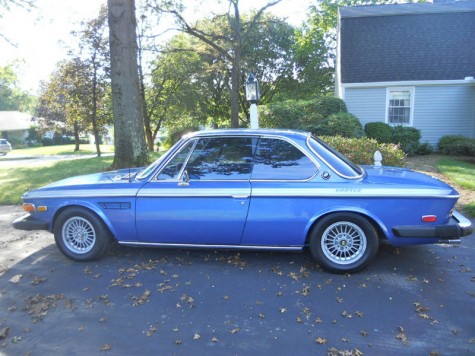 The car looks nice in the blue color inside and out. The interior looks great with proper wood steering wheel and shift knob. The outside looks quite clean with some minor signs of age. The 130,000 miles shows the car has been enjoyed.
The car has had aftermarket springs and sway bars added. With the car already not being original I think those horrible U.S. bumpers need to come off ASAP. This could be a real fun car to spend some time sprucing up. The price puts it out of the range of the average project car hunter. The opening price is $18,500 with a reserve. It will be interesting to see if this gets any bites.
~Evan