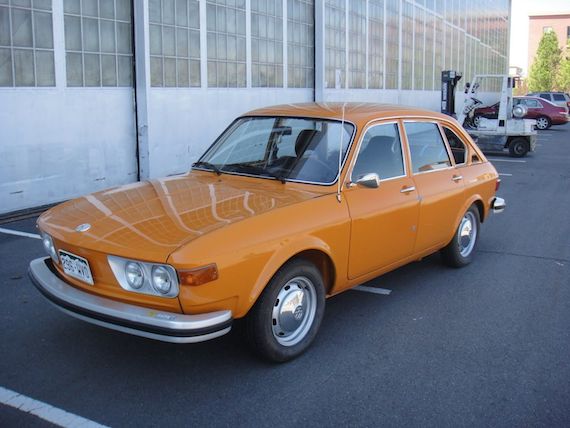 We featured this car all the way back in 2012, but when this Volkswagen 412 appeared on eBay again, I knew I had seen this car before. It's a low mileage example of a not often seen seventies VW, and still needs a bit of finishing touches. For the air-cooled enthusiast looking for a smaller project, this would be a great candidate.
The below post originally appeared on our site May 7, 2012:
The direct descendant to the Volkswagen Passat was the VW Type 4, otherwise known as the 411 and 412. These were a rather oddball vehicles to compete in the mid-sized sedan segment with their flat four engine and Pininfarina influenced styling. At the same time, Volkswagen was marketing the K70, a close relative of a similar NSU design with a front mounted, water cooled inline four cylinder engine. In the end, front-engine, water cooled sedans were the ones which would carry on the VW torch, and 412 production was wound down in 1974. Finding a 412 in good condition is near impossible in this day and age, especially in the US. Occasionally you'll come across one or two at a VW meet, if you are lucky. The owner of this low mileage car has owned several 412s, and is a true enthusiast, having sold an Audi Fox wagon to the Audi Museum in Ingolstadt.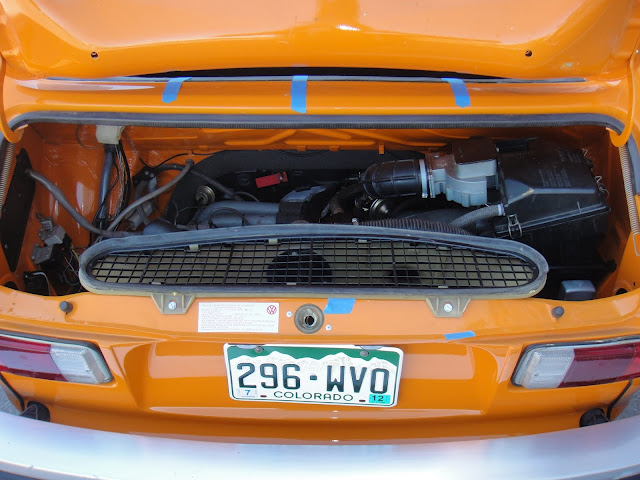 Year: 1974
Model: 412
Engine: 1.8 liter flat-4
Transmission: 3-speed automatic
Mileage: 8,991 mi
Price: $6,500 Buy It Now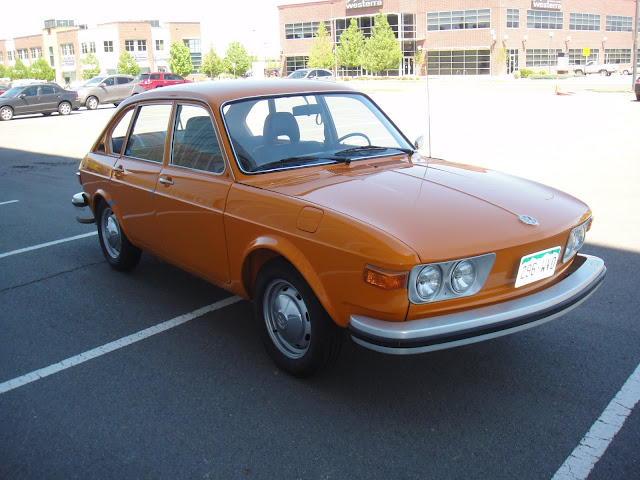 This is a 1974 VW 412 sedan with 8,991 original miles. I located this car in 2002 in rural Indiana parked in a barn, where it had been since 1976. Over the last 13 years I have stripped the car to its shell, which was then dipped and the color of the car changed to its current orange. The photos online clearly show the condition of the car, so I won't go into too much detail here. Message me for a link to more photos. If you have questions, please ask and I will be happy to go into more detail. The restoration is about 95% complete. I have all the remaining pieces, such as chrome trim, rear window and rear-side window glass, etc.

The following items will be completed prior to sale: Chrome trim will be attached to doors and fenders; Body shop will align and adjust all doors.

The following may be completed prior to sale: A number of small paint chips that occurred during reassembly may be fixed by my body shop, depending on cost. I do have a can of the new orange paint.

The following will not be completed prior to sale: The rear window will not be installed. The glass is original and I have a new rubber seal, and the chrome trim. The rear-side windows will not be installed. The glass is original. I do have new rubber seals and the chrome trim, although I may have been sent the wrong rubber. I will pass along the name of the company in Germany where it was purchased. The carpet will not be installed. I have a new custom-cut set (see picture) but am not happy with the pile. I intended to purchase a loop pile but was sent a plush. The company in Germany that made it still has loop available.

The engine is not the original, but it is from another 1974 412 that I parted out. The original engine blew in 1976 and was removed when the car was parked. The engine has been rebuilt and has slightly larger 93 x 66 mm pistons/cylinders and matching Scat camshaft and lifters. This modification did not require alteration of the heads or case in any way. The modified displacement is 1920cc from the original 1800cc.

The automatic transmission was completely disassembled, cleaned and reassembled with new brake bands and seals. The entire power train is very tight and smooth.

The rear shocks and front strut cartridges are new. The front cartridges are not the original length, as they were not available. They are Audi 4000 cartridges with a specially machined extension. The suspension is very tight, and the car actually sits level, which it never did from the factory (the front is too light.)

Everything else works as well: auxiliary gas-fired heater booster, doors, locks, windows, wipers, anything electric, original radio, etc. The windshield is new from Italy, although I am not happy with the installation and there is a small water leak. The company that still has the rear window rubber available also has the front windshield rubber, and I had intended to redo it. The vinyl upholstery is original and immaculate except for one tear upper passenger front seat that happened while the front seats were being rebuilt with foam padding (see picture).

The dash top has a number of cracks. Sadly, it did not in 2002 when I found the car. They happened over the last 13 years.

Any parts that are not currently installed, such as the rubber around the fuel filler, I do have. I also have many shelves of spare parts. Depending on interest, they may be included. The VW Type 4 is a rare and special car. I am happy to answer any questions you may have.

Message me for a link to many more photos since I can't insert a link here. The car is listed for sale on several other sites.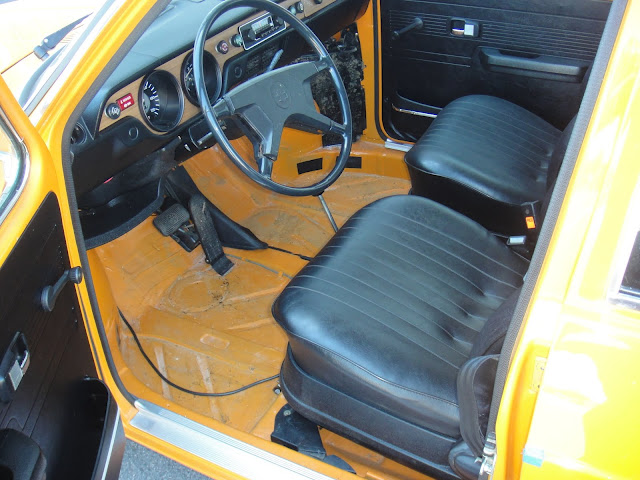 While not complete, it wouldn't take much to get this car to 100% restored. Even though it isn't the original color, bright primary colors work well on 1970s designs like this and the overbored engine is a nice touch. While there is no advertised price, with the amount of work done, I would estimate a fair value of anywhere from $7,000 to $10,000. I recently saw a very mint, one owner Variant (estate) version for sale at $14,900, which may be a bit optimistic. Still, for those 412 fans, there isn't a lot to choose from, regardless of condition.
-Paul