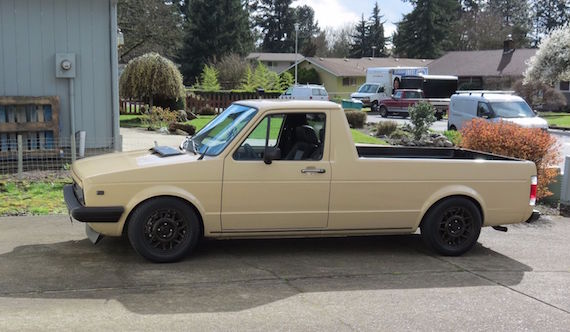 When I saw the first picture and almost $16k asking price for this beige Rabbit Pickup auction, I thought it was yet another grossly optimistic seller shooting the moon for a wealthy '80s VW fan that doesn't exist. It just looked like another slammed Caddy on black wheels, and the weird and vaguely inappropriate intro in the description doesn't really help. A closer look at the extensive work and the quality inside and out – if you can sort through the horribly formatted ad – starts to paint a very different picture. A rebuilt stock 1.8 and 5-speed are from 1986 Golf (my Rabbit Pickup had the same swap), and the whole undercarriage looks better than new. Recaro Trophys from a MkII and door cards and carpet from a MkI Jetta highlight the very clean interior. Refurbished black Snowflakes and a duckbill spoiler bring some OEM+ to the party, and LED head and tail lights are surprisingly attractive and unobtrusive.
From 20 feet away it looks like a budget slammer, but up close it looks like the "showstopper jaw dropper" that the seller describes. If it was white or black on silver rims, it might look like the classic clean German style. Maybe that's the point, a play on the Caddy slammer scene while actually keeping most of it restrained and well-chosen. I'm still not sure if that makes it worth $16k.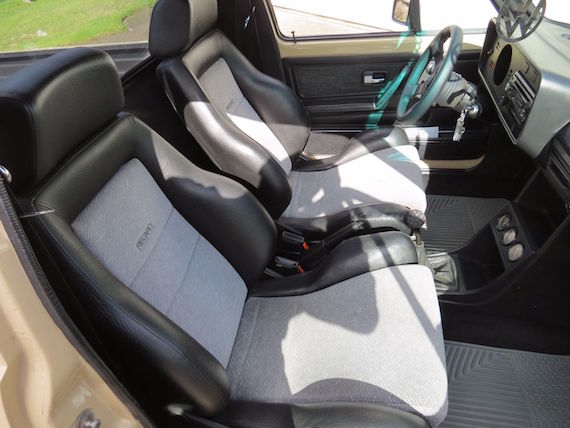 Year: 1980
Model: Rabbit Pickup
Engine: 1.8 liter inline-4
Transmission: 5-speed manual
Mileage: Unknown
Price: $15,900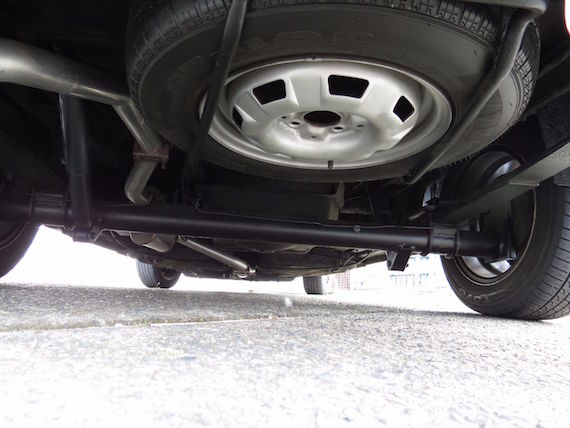 _____KREAM__KOME__TRUE_____ – KLEAN – TITLE – KOLLECTORS – ITEM – SHOW READY, MAGAZINES READY, SHOW STOPPER, JAW DROPPER. LOTS OF BLOOD SWEAT & TEARS WENT INTO THIS MK1 CADDY NOT TO MENTION HOW MUCH MONEY WENT INTO IT TO GET IT WHERE IT'S AT THE MOMENT. If this caddy looks really good in pictures you can only imagine how much better it looks in person. The value is only going up on this gorgeous 1980 vw caddy with a fully rebuilt (stock) 1.8L 5 speed motor and tranny from an 1986 vw golf done by the previous owner which is a diesel mechanic. He did a great job this caddy runs smoother then a top its amazing. Everything works on this truck since previous owner also restored this beauty inside out. So here's a list of things done to this jewel that I can remember. I'd love to keep this beautiful vw caddy but my wife and I just had a kid and I simply don't really have time for project toys anymore. My boy needs all my attention. I rather not ship this scratch free jewel because there's a big chance it might get scratched or dented who knows so I rather have you pick up your new toy after I receive cleared payment. If you do not make immediate payment after clicking buy now I choose the right to cancel the sale at anytime so please make sure you have funds available for a smooth easy transaction. Thank You. —————————————————–NO—-TRADES—————————————————– Goodies List: – absolutely rust free – new paint- scirocco front disc brakes- aftermarket front grill (new)- black projector headlights (new)- LED front bumper signals (new)- 1 piece polyurethane big duckbill spoiler (new)- oem kamei hood scoop (new)- front license plate holder bracket from europe (new)- interstate battery- fully restored snowflakes into (chocolate flakes) professionally done @ (wheel Kraft)- blue LED driving lights – LED dome light (new)- LED taillights= brakes, signals and reverse (new)- semi clear tail lamps from south africa (new)- custom pop-out rear window (flexy glass)- door cards from mk1 jetta – carpet from mk1 jetta- rear view mirrors (new)- all WeatherTech floor mats (new) – 13″ MOMO steering wheel (new)- single disc kenwood cd player (new)- 3″ carbon fiber antenna (new)- 10″ kicker comp rt (new)- kicker amp (new)- kicker system wired- oem power recaro trophy seats from mk2 jetta gli (clean) – crack free mint condition dash- checkered bed mat- 2.5″ drop plates in the rear so it still has the factory ride its not all bouncy (new)- full 2″ stainless steel magnaflow exhaust (new) – smoked Audi side markers up front (new)- custom rear bumper made out of a euro bumper- front euro bumper- tailgate volkswagen sticker decal (new) there might be more to this list so I'll keep adding as it comes to me.

Things just added that I forgot of the first time around:

I also want to say that I want this VW caddy to go to a good home with a garage and mainly to a
(VW CADDY FANATIC) that knows how precious these little caddy's are.
The rebuild I don't think it even has 5000 k, Miles are not actual I'm sure the cluster has rolled over once
– brand new evolution Bosch wiper blades
– Kamei golf ball shift knob
– brand new eyebrow (painted to match)
– All 4 security lug nuts per wheel
– Raceland coilovers in the front fully adjustable
– New toyo eclipse tires

Extra's that I have not got around to installing:
– brand new aftermarket fender flares
– brand new BMW M3 style spoiler that mounts on the tailgate

The 1980 VW caddy only came with one speaker on the dash but since these door panels came off the mk1 Jetta it has the door speaks which is really nice with more sound.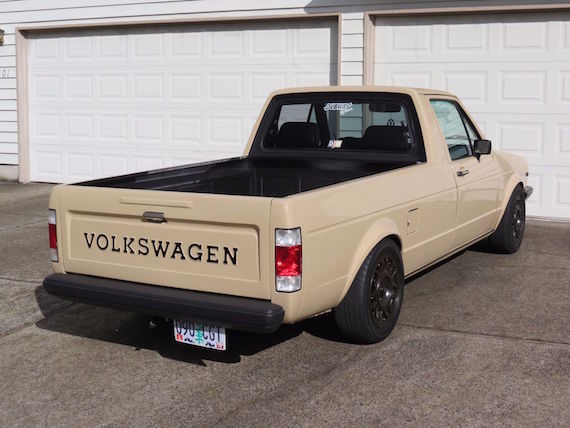 The pop-out windows are sweet, and overall I really like the total package. For this kind of money, however, I'd be expecting a lot more info than "rebuild probably has 5k miles" – in fact, I'd expect a lot more than a rebuilt stock 1.8. As it stands, it should command strong Rabbit Pickup money, but I'm thinking around $10k, not mid-to-high teens.
-NR