I was looking over Hagerty Insurance's Threatened, Dangered and Extinct list for 2012 this evening. The carrier examines how many insurance policies it has for a certain vehicle which gives a bit of color on just how rare certain collector cars are becoming. Alarmingly, the 1975-1981 Volkswagen Scirocco made it on the endangered list. While Brian found an impossibly original Mk1 Scirocco on The Samba last week, I thought it would be a while before seeing another Scirocco that would catch my attention quite like that one had. While not original, this Scirocco for sale in California has been treated to some tasteful upgrades and was featured in Eurotuner Magazine back in 2005.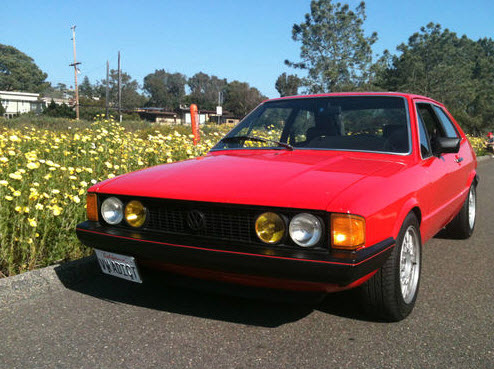 Super clean and well cared for mk1 Scirocco originally set up to be a track car. Featured in April 2005 issue of Eurotuner Magazine, which I have and will give to new owner. Selling because I just got a promotion and will now be commuting 50 miles a day roundtrip. Have an old Mercedes as well, and need to get a basic commuter instead of a fun toy like the Scirocco. It is a very comfortable car though. Rides smooth and nice, and pulls hard in every gear! Does not have cat on at present but the car would pass smog with a stock cat and if you want to have the car BAR'd you'd just need the stock exhaust manifold for a MKIII VW with a 2.0L ABA and the stock airbox.

1980 Scirocco I 2.0 8V (A1 2 Door)

Mileage: 82,000 and change
Body/Paint: 8/10
Engine/Transmission: 9/10
Reliability: 10/10 (Has never let me down. Driven daily, and up and down CA on several 600+ mile trips)

Exterior:

-Euro bumpers
-H4 headlights w/ French spec high beams
-Zender Rear Wing
-Rabbit small duckbill
-TT antenna
-Smoothed rear wiper, antenna hole, and mouldings
-Glass moon roof
-Red tinted rear blinkers

Interior:

-Corrado Leather Seats w/ matching re-covered rear bench
-Golf/Jetta A2 fuse box, dash harness, switches, and instrument cluster w/ functional MFA
-Mk1 Scirocco steering wheel and horn button (black)
-Momo pedals
-Custom black vinyl Headliner w/sunroof
-VW snowmats
-Rabbit 'L' center console
-Optima battery relocated to trunk with cut off switch
-TMI carpet kit w. dash cover
-Kenwood CD/stereo w. front aux input & Boston Acoustic 5.25″ 2-way speakers

Engine, Trans & Exhaust:

-CE2 engine wire harness
-Bosch EFI (Motronic 5) with GIAC chip
-50k miles on refreshed, balanced and blueprinted ABA block w/ SCCH stage 2 ABA head, TT High lift valve springs, Titanium retainers, Mk4 lifters, Adjustable Cam Sprocket, Custom intake manifold with ABA Throttle body, external oil cooler.
-Eurosport 4-2-1header and exhaust
-Diesel motor mounts w/ poly front snub mount
-New clutch cable 06/2012
-9A tranny w/100m Axles, Missing Links shift linkage, ACT Pressure Plate, ATE Vented/Slotted rotors w/ EBC green stuff pads, New brake vaccum booster

Suspension, Wheel & Tire:

-KW Variant 2 damping adjustable coilovers (needs 2 stripped collars replaced – ride height not adjustable in rear at this time)
-Autotech Solid Rear Swaybar (28mm) (comes with front 19mm off car)
-Eurosport Upper Front and Rear stress bars
-16V Lower Tie Bar
-Poly Rear Axle and Front A-arm bushings
-14×6.5 BBS Basketweaves with 185/60R/14 tires

Needs:

-Brakes need new pads at some point soon. Not urgent, but at some point in the near future.
-Paint looks very good, but does have rock chips in a few sections. Mainly at front of hood and behind front wheels.
I like the way this Scirocco is done up. Period items such as the Zender spoiler and BBS wheels combined with the Euro bumpers and other interesting touches give this car a fresh look. Oftentimes tuner rides are way overdone and this car is tasteful while different enough to stand out from the crowd. If I had to take a stab, I'd say somewhere between $6,000 to $8,000 is where the final bid will land. Overall, a very nice example of a Volkswagen model that is becoming less and less common.
-Paul